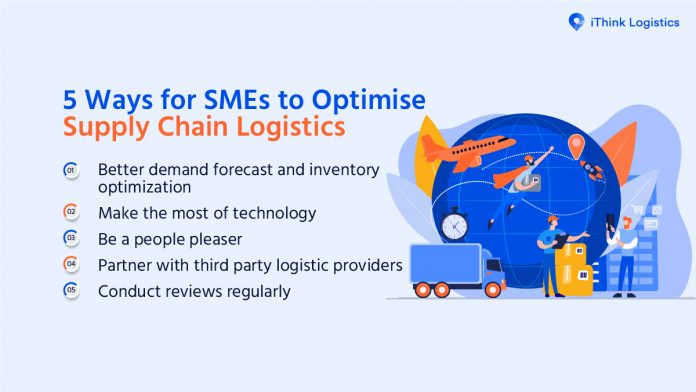 Anxiously waiting for your package to arrive? Trust me, and the company is excited to deliver your package to you more than you.
And why so?
Because you happily receiving your order at your doorstep is the last step in their supply chain performance. 
No matter how well planned your logistics network is Running, discovering new approaches to enhance your supply chain is something you must constantly be doing.
Efficient supply chain logistics is a series of steps that begins with the Raw materials being assembled, the products being manufactured, the orders being placed and packed, and finally, the package being successfully shipped to the customer.
And very often, you won't have to worry about ensuring that every step of the supply chain performance goes as planned, and you can outsource it to trusted third-party logistics providers. 
In short, Implementing the Right strategy for an efficient supply chain is as lean and Economical as possible. Here are  some suggestions that will help you maximize the overall performance of the delivery chain logistics
5 Ways to Boost your supply chain performance
Better Demand forecast and Inventory optimization
Storing bulk supplies in our kitchen inventories is excellent for the house. But in a business? Not so much. One of the most cost-reducing ways to ensure efficient supply chain performance is not over-manufacture/under-manufacture.
The cost of making will be higher if The inventory is stored for a longer time. Aftermarket observations, it's crucial to predict demand and manufacture/store just the quantity you need. Demand planning is essential in terms of perishable commodities. 
Make the most use of technology
Gone are the days of sole dependency on humans. Machines and software, e.g., tracking software's are here to expedite the supply chain performance and have little human intervention. Also, Determine the scope where imposing technology could improve the processes.
It gives you more accurate answers and saves you from constantly worrying about your work. 
Build a healthy Relation
At the end of the day, you did involve in the business of dealing with people. A supply chain includes many steps where your product exchanges hands. And more hands means more people involved.
People with expectations and emotions who will take one day or another come to your aid when things go wrong. It is best to maintain healthy relationships with your suppliers, delivery personnel, and even third-party logistics suppliers, for that matter. 
Partner with third-party logistic providers 
From pepper inventory management to packing the order, transferring it to the shipping partner to finally delivering it to the customer. All of these processes makes an efficient supply chain smoothly, And for continued smooth supply chain performance, it is best to leave it to the experts – third-party logistics providers.
They have trusted contacts and have the right resources and an extensive network often across the country to optimize your supply chain performance and save cost. 
Conduct Performance reviews Regularly
From plugging stop gaps to finding discrepancies to identifying problem areas, a regular review helps streamline operations and reduce risk.
It also helps you save money in the long run by making your supply chain model prepared for emergencies and minimizing inefficiencies.
iThink Logistics, the best third-party logistics provider for your business
Choosing a third-party logistics provider will save you many hassles, money, time, and most importantly, give you a seamlessly running supply chain performance. And we can give more than one reason to choose iThink Logistics as your partner.
In this business, dependability and reliability is everything. You should need a partner you can trust who can keep you updated at all times and take responsibility when a non-delivery of shipment takes place. In such times iThink Logistics serves as the perfect shipping partner that helps you track your package, identify the reason behind the non-delivery, reattempt the delivery, And manage to deliver the order, all with their AI-based system correctly.
Managing a supply chain is a long process. And when your customers get impatient, your first thing is to call your third party logistics providers for answers. iThink Logistics saves you panic by connecting you with a dedicated team in such a situation. A team that is hands-on and efficient with quick response-giving.
A comprehensive dashboard keeps track of the package no matter what stage of the supply chain and auto-generates real-time reports. From 4-step verification through IVR, Whatsapp, SMS, and manual processes to automated reattempt of delivery in 48 hours, iThink Logistics offers hassle-free and risk-reducing solutions.