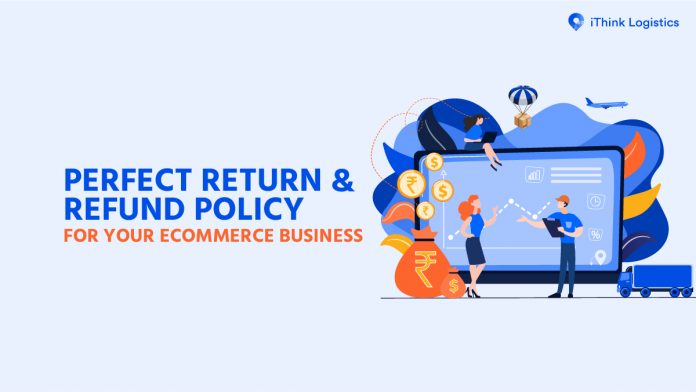 Being an ecommerce business owner has many perks like working remotely, not having to maintain a physical store, and much more. However, it also comes with its own set of limitations. Just like with physical stores, a customer might not be satisfied with your products. A customer could change their mind, there could be sizing or quality issues or the product could be damaged during transit – these are some reasons for which customers may choose to return the product.  

To protect your business and your customer from fraud and unnecessary stress, you need a proper ecommerce return policy in place. As an ecommerce business owner, you are legally required to have a shipping policy and an ecommerce return policy. 
Things to include in your ecommerce business return policy

The time frame for returns
It is crucial to disclose in your shipping policy until when you will be accepting returns. This has to be mentioned so that customers can be fully aware while making a purchase. While most companies offer a 30-day window as an industry standard, you can customize your return policy according to your business model. There could be instances when people do not read the fine print and could try to force a return much after the return window has closed. Hence it's best to frame a detailed and airtight ecommerce return policy before going into business. 
Terms and conditions for Returns and exchanges
As an ecommerce business owner, you have to take the responsibility of accepting returns for damaged or faulty items provided the incident took place from your end i.e. during packaging/shipping/transit. However, you have strict guidelines as to when a product is eligible for returns. If the tag/label is intact, the product hasn't been used/worn and is completely undamaged, it can be eligible for return.
If the customer has devalued the product in any way, your ecommerce return policy has to define exact conditions with respect to returns. Also mention whether all products have to be returned or can be exchanged as well. In case collecting a return incurs an extra cost from your end, disclose the same to the customer beforehand so as to not disappoint them with extra charges.

Refund Options
For disgruntled customers, returning their money is crucial to retaining business from them in the long run. In some cases, you might have to return the full amount to the customer, while in some you can also provide in-store credit. This can either be predefined by you or your policy can be flexible enough to give your customers options to choose from. Also, it is advised to mention the tentative refund window beforehand so as to not keep the customers waiting for their own money. 
eCommerce return policy template
Follow the steps listed below to create a sample return/exchange policy template

Include the full name of your website and parent company/business. 
Mention the date on which it was last updated. The more recent, the better 
Mention the interpretations. A detailed policy will have a lot of acronyms or capitalized letters that denote something else, mention is beforehand
Mention the definitions of all the recurring words. For eg: "Goods" refers to any product purchased from your website
Mention the order returning time window and rights 
Mention the steps required to return an order and if at all any extra cost is required for the same  
Mention the acceptable condition of the goods eligible for returns 
Mention the return address or any pick-up options 
Mention the special provisions for goods that were gifted 
Mention proper contact information and email 
Partner with iThink Logistics for all your ecomm shipping solutions needs
E-commerce teaches you patience because there is nothing more time consuming than going through the various stages of shipping. But what is even more tedious is the task of accepting a return, getting the product shipped back to you safely, and processing the money-back/exchange/replacement.

This is when choosing a reliable third-party logistics provider like iThink Logistics will save you many hassles, money, time, and most importantly, a headache-inducing operations nightmare. 

You can trust us to keep you updated 24×7 especially when a non-delivery of shipment takes place. We not only track your package but also identify the reason behind the non-delivery. Then we reattempt the delivery without your intervention and manage to successfully deliver the order, all with the power of their AI-based system.  In case the product is marked for returns, we ensure the safe and secure delivery of the package back to the warehouse/fulfilment centre. Our clients are able to track and trace their applications with our NDR management tool. 

Managing a supply chain can get tedious and when your customers get impatient, your first instinct is to call your third party logistics providers for answers. In such moments iThink Logistics saves you panic by connecting you with a dedicated NDR team. A team that is hands-on and efficient with quick response-giving. 
A comprehensive dashboard keeps a track of the package no matter at what stage of the supply chain it is and auto-generates real-time reports. From 4-step verification through IVR, Whatsapp, SMS, and manual processes to automated reattempt of delivery in 48 hours, iThink Logistics offers hassle-free and risk-reducing solutions.