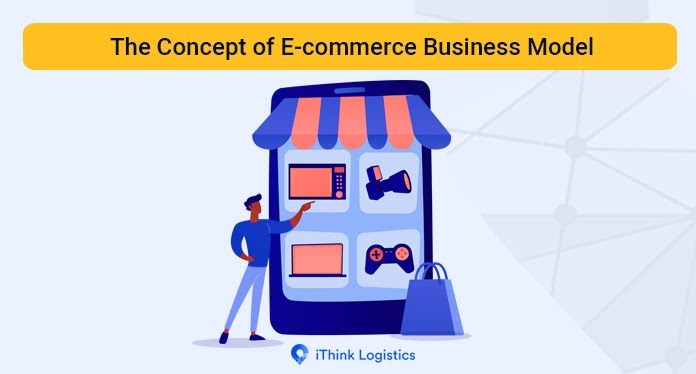 What is an e-commerce business?
Imagine coming home to a ton of parcels that you've ordered from giant stores like Amazon and Flipkart. Happiness level? 100! After all, who doesn't love unboxing?

Now just imagine that instead of spending money on all those parcels, you've made money on them. And that is the magic of e-commerce or e-business models.

It's a store. Just like any other store. But instead of the four walls and a shopkeeper, you have a website where you showcase all your products. Instead of displaying your products on shelves, you list them on your website. To put it in simpler terms, you're creating an online marketplace. And the biggest advantage is that people can shop from your eCommerce store anytime and anywhere!

As a matter of fact, even payments can be made securely. And with the likes of Amazon establishing trust in the minds of people, getting customers to start shopping on your eCommerce website is easier than ever. All you need are unique products, a website to sell and a good payment gateway to get started.

As an eCommerce businessman, you can sell just about anything. Clothes, shoes, food, plants, stationery, novelty pieces, spectacles, and the list goes on. Your customers will place an order, you will accept the order, package it and ship it to the customer. You can provide them the option of paying online at the time of purchasing/checkout or even collecting cash on delivery.

The best part is that e-commerce is not just related to physical products. You can also sell services. Urban Company is a notable example of a successful eCommerce platform that sells professional services. You just have to select a service, enter your address, make the payment and have the professional visit your home.

Some popular e-commerce websites for you to visit include Nykaa, Myntra, AJIO, etc.
Types of e-commerce Business model
While e-commerce is one of the most promising business opportunities in the Indian business market, you have to decide which of the four models you would like to opt for.
Let's learn more about them below.

B2C – Business to Consumer Model
This model involves a business selling their goods/services directly to the consumers, without any middleman.

Amazon is a classic example of the business-to-consumer model. It's a marketplace where various businesses list their products along with their prices. Customers can browse through a wide catalogue, read about the products, and make a uniform decision of buying.

In the same way, you too can make your marketplace and start selling your products. However, the benefit of having your own e-business is that it will only list your products. No competitors to steal your customers. Whereas on giant marketplaces like Amazon, there are chances of your product not getting the limelight because of excessive competition.
But keep in mind, that marketing costs can vary depending on where you choose to list your products.

A B2C model is generally preferable for customers because the price is relatively low. It's also perfect for homegrown brands/home businesses to expand their boundaries and reach more customers across the city, country, and even the world.
So whether you're a growing brand or an established one, the results of having an e-commerce website/listing on an e-commerce website are rewarding!
B2B – Business to Business Model
This business model involves a business selling their products/services directly to another business without any middleman. Essentially it's a place where a business from your business and resells the products to their customers.

IndiaMart serves as the perfect example of one such marketplace. It's not a place where you will go to buy 10 disposable plates for your kid's birthday party at home. It's a place where a caterer will go to buy 1000 disposable plates for organizing multiple parties for their clients.

However, just like Amazon, IndiaMart is a marketplace where multiple businesses list themselves to come in contact with other businesses. If you wish, based on your business model, you can have your e-commerce B2B website. For businesses like marketing, media, plumbing, repairing, manufacturing of raw material, etc you can have a B2B website where other businesses can check out your products/services/packages and avail you.

One must remember that a B2B website doesn't show super-fast results like a B2C website. Mainly because of the high ticket price. When you sell to a consumer, it's limited money for a limited product. When you sell to a business, it's usually in wholesale or involves some expensive manufacturing/reselling products, which is why it takes a little longer to convert.
C2C – Consumer to Consumer Model
Ever heard of selling something that you own directly to a friend or a family member? Well, we've probably seen it. From second-hand phones to cars to even being a micro-seller, consumers often turn into small-time or one-time businessmen and get a sale. One of the biggest examples of this business model is the popular selling platform OLX. Its entire business model revolves around consumers listing pre-owned products for resale.

Consumers often purchase gadgets and get over them just as quickly as a new one comes along. Being in proper functioning mode, they are eager to get a good resale amount. OLX serves as the perfect platform to do so. For the owner of a reasonably good laptop, it provides a marketplace to display his product. And for those looking to buy a low-cost/pre-owned laptop, it serves as a place to meet the right resellers. A win-win situation for one and all!

Not just gadgets, platforms like OLX enable people to practically sell anything! Books, cars, utensils, clothes, accessories, etc.

C2B – Consumer to Business Model
We've always heard of a company selling things to us. But in this business model, the tables turn. We, the people sell our services to the company. To put things in a simpler manner, let us give you an example.
A man with great designing skills cannot find employment in his neighbourhood due to a lack of opportunities. But that doesn't mean that his talent will be wasted. By registering himself on various online portals, he can not only sell his services to one but multiple businesses across the country and even the world! Popular websites like Fiverr and Upwork host lacs of people who wish to make a living by selling their services on the site. From voice-over artists to writers to filmmakers to just about anyone, the consumer-to-business model gives the common man a chance to earn on his terms.
Portals like Fiverr and Upwork are so professional and secure that they not only have their own payment gateway but they also protect the financial interests of both parties in order to ensure trust and fairness in business. You've heard of freelancers. And the C2B model is the best thing to happen to them. One of the biggest advantages includes massive exposure so that one doesn't have to wait around for their next project. More so, it also connects you to other freelancers and builds your network.
From the point of view of a business owner, it's great too! Because for one-off projects or niche requirements you will not be required to find and hire full-time staff. Connect with a freelancer on these gig economy portals and get your project completed without much hassle!
Every business has its upside and downside. So before you begin one, let's learn all about it.

Advantages of E-commerce Business Model
Open 24×7
Unlike a typical shop that you need to open and shut time and again, an e-commerce store is always open! Because you don't have to be physically present to guard or attend to the store. All you need is for your website to be up and running. Consumers have developed the habit of working all day and unwinding later on an e-commerce website and shop their hearts out. Being able to shop from the comfort of their homes at odd hours enables them to make a better buying decision and sometimes even a bulkier one. After all, waking up to 300 new orders received overnight while you were sleeping sounds like a great way for a business owner to start the day!
Low operating cost
Maintaining a website in most cases is less costly than maintaining a store. From electricity to rent to staff, your cost of operation can range from minimal to zero. Even the hassle of setting up a store is eliminated. Because you may not get the best-selling window store in the street, but there's always ample space on the world wide web for your store. So finding an 'appropriate spot' will never be a problem.
Hassle-free operation
your customers can enjoy the comfort of shopping from home, so can you enjoy the benefit of operating from home…or just about anywhere! Whether you're travelling, moving, switching to a complete work-from-home model, e-commerce is one of the best businesses you can run. All you need to do is access the internet.
Effective measurability
How often have you noticed customers walk into your store, stare at a few products and leave without any explanation? Many times to say that it's very annoying. Ever wondered what went wrong? Well, that is something you won't have to wonder about when you're running an e-commerce business. Once a customer comes on your website, you can easily see exactly what they typed in the search bar, how much time they spent on your product's page, what they added to their wishlist and what it made to their cart. The best part is that you can use the customer's wishlist to remarket the same products to them until you make a sale. Based on customers' buying decisions and testimonials, you can upscale the listing of particular products and downsize the listing of underperforming ones.
Higher profits
Yes, we said that. The very first cost that eats into your margin is always the cost of the shop. With a physical shop completely out of the picture, your margin is automatically expanded. Additionally, an e-commerce website is fairly easy to maintain unless it's a mammoth marketplace like Amazon. As a business owner, multiple platforms will help you make and maintain your e-commerce website for a far less fee. The best part is that you can encourage online pre-payment, enabling you to get your hands on the cash even before the order has been shipped.
The advantages are lovely. However, one must not turn their backs on the disadvantages.

Disadvantages of E-commerce Business
Lack of personal touch
You can't deny that there is some sense of loyalty between you and the local grocery store that has been supplying your kitchen for the past 25 years. From the uncle's smile to the fact that you're so used to shopping from there, making a switch to shopping from an e-commerce website can seem difficult. With the art of selling and salesmen completely eliminated from the picture, all that a customer will react with is a product page and its descriptions. For customers used to online shopping, this may not pose a big challenge. But for first-timers, it indeed is. It can lead to customers wanting to buy but not purchasing.
Fear of expectation v/s reality
While the world of e-commerce has built a credible reputation over the years, we know at least one person who claimed to have been cheated after shopping online. When something is too low-priced, people have the fear of getting a product that doesn't look/feel like the one they've ordered in the first place. With a lot of such incidents being true, it is difficult to gain people's trust. And the worst part is trying to retain a customer who has received a sub-par product/service. Rest assured, they will never shop with you again.
Lack of security
While established payment gateways ensure the complete security of our bank details, people are still hesitant to enter them. The reason being online fraud. Not everyone is aware of cybersecurity. But everyone is scared of their bank details being used against them. If you rely only on pre-paid orders, you might lose out on customers who are willing to buy your products but only ready to pay via Cash on Delivery. Moreover, if your target is people who are unaware of making online payments, they may never trust your business enough to shop from.
Shipping and delivery hassles
While you can partner with third-party logistics businesses to get your order shipped, your customer will hold you responsible for anything that goes wrong. Because they have shopped from your website and have trusted your helpline to contact in case of any queries. So while it may not be your fault behind the delivery truck being stalled on the highway, you've to be ready to put up with not one but many customer queries. And more often than not, from angry customers. Additionally, you have to be ready to compensate for damaged parcels even though that may have happened because of bad packaging. To ensure that you bear no unnecessary costs, choose packaging and shipping partners diligently.
Delayed gratification
One of the biggest reasons that make people choose physical stores over e-commerce stores is the lack of immediate happiness. The sheer happiness of paying for a product and getting it on the spot in your hands is immense. E-commerce doesn't provide that. It may upset people when the delivery is delayed especially if they have paid for the order in advance. A classic example can be that of clothes. E-commerce doesn't let people try clothes even though AI is helping solve this issue soon. So if a customer receives a piece of clothing that doesn't fit right, be prepared to return the money and bear return/exchange costs. To ensure that delayed gratification doesn't lead to angry customers, partner with companies that provide sturdy packaging and super fast delivery.
Marketing Costs
At the end of the day, whether online or offline, a business is a business. And a business needs effective advertising and marketing. The upside to having an e-commerce business is that you have considerably more budgets spared for marketing. Another big plus is that you can run ads on social media platforms, target a specific audience, check hits and misses and drive them directly to your page. However, one must not forget that even if a customer buys or doesn't buy your product, you get charged for them simply interacting with the ad.
How to select your eCommerce business?
Before you begin your e-commerce journey, it's best to consider the length that you're willing to go.

Unique Selling Point/Expertise
Indeed one of the most important things to consider when it comes to e-commerce business is what you are going to sell. On one hand, you have marketplaces like Amazon where lakhs of sellers sell their products. On the other hand, you have smaller businesses with their exclusive e-commerce websites. These businesses often offer something unique like handmade bags, jewellery, custom ceramics, etc. So make sure what you sell is something unique and not easily available on a mainstream marketplace.
Time
While e-commerce entrepreneurs can efficiently operate remotely/from home, that doesn't mean that the hours get less. They're not as rigid as that of a shopkeeper who has to open and close the shop. However, since your business will be online 24×7, problems can also arise at absolutely anytime. Be ready to notice your website down in the middle of the night ever so often. Customers can often be seen addressing their complaints at night when they are done with their day's work. That means that either you'll have to be available 24×7 to address calls or higher a team to do so.
Backend Support
While you don't have to clean and sanitize a website, you definitely have to look after it. Companies like Amazon thrive because of a strong backend that never lets their website crash or hang. It requires a team of experts that regularly manage the website, payment gateway, and more in order to give your users a seamless experience.
Shipping
Running an e-commerce store sounds fun and exciting. But you have to make sure as to how you will be fulfilling the orders. You can either become a dropshipper (hyperlink) or tie up with third-party logistics/courier companies to get your orders delivered. Based on the scale of the business, lock in your delivery radius. It will also help you target ads to customers who only live in those areas, thereby helping you limit marketing costs.
FAQs for eCommerce
How many types of e-commerce models are there in the market?
There are currently four e-commerce models only. Business-to-Consumer, Consumer-to-Business, Business-to-Business, and Consumer-to-Consumer. However, these are simply the categories. Your business model can be a combination of two categories with different sections on your website.

How can I decide what e-commerce model suits my business?
Well, that depends on your business. If you are in the business of manufacturing industrial goods, the Business-to-Business model will help you find resellers for your products. If you're into reselling or manufacturing and selling, the Business-to-Consumer model is perfect. All in all, the nature of your business will determine the best model for you.

Which is the most profitable e-commerce model?
The answer is, each one! Because each model is unique and depending on your business, you can find success. For example, if your goal is to be a reseller of second-hand products then the Consumer-to-Consumer business model is apt and will attract your audience. If you wish to get more exposure for your shop/outlet, the Business-to-Consumer model is perfect to get you started. Either you can launch your own e-commerce portal or register on the likes of Amazon and Flipkart. With the right strategy and marketing, all models are profitable.

How expensive is it to start my own e-commerce business?
For setting up your own online store, you have to incur expenses for end-to-end operations. From the backend development to website maintenance to incorporating a payment gateway to marketing to solving customer doubts, everything will be your concern. However, if the budget and the time is limited, we recommend listing your products on an existing marketplace. It will not only save you the hassle of setting up things on your own (and a ton of money!) but also help you focus on your product offerings and keep a constant eye on the competition.

How difficult is it to set up an e-commerce store?
While it is not extremely costly to set up a simple store, it is not advisable. With technology and big budgets of companies, e-commerce websites are becoming increasingly advanced to give customers a seamless and addictive shopping experience. For smaller enterprises, it is recommended to list on existing marketplaces and make the most of their huge customer base.