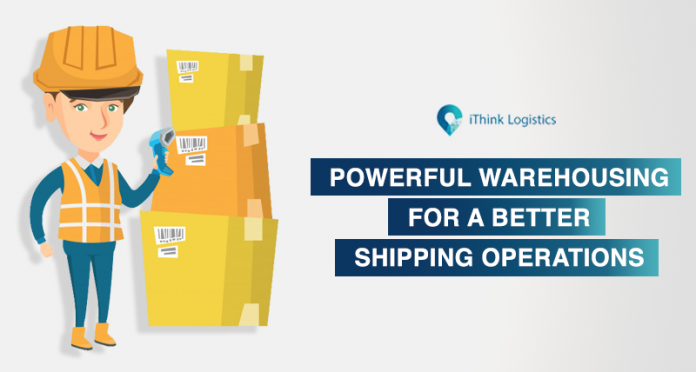 Based on verified reports, companies, or brands that are driving hard to offer responsive and brilliant customer experiences have gained 60% of the more profit share than the ones who completely missed out on the same. When the focus is on eCommerce business it becomes even more crucial to delivering accordingly to that of the customers' expectations.
Many of the actions mostly involve meeting consumers' needs and thus has to be performed accordingly. One of the most vital activities is the possession of a powerful order fulfillment center. It sometimes creates a stir of doubts that how a fulfillment center aids in boosting smooth customer interactions and engagement. As a time-tested fact, a perfectly well-equipped fulfillment center contributes to ruining the business smoothly and adding happy customers.
A strong, tech-enabled and powerful fulfilment centre brings in easy and hassle-free pre and post shipping operations. Going ahead this further helps you in building stronger customer relationships. If you are considering outsourcing to a third-party for order fulfilment, you have to first0hand information on the kind of activities that are taking place inside the fulfilment centres. Being well aware of the activities taking place in the third-party's fulfilment centre helps you to make a well-informed decision of whether tieing with them or not.
Before going any further, first, let's understand the concept of a fulfilment centre in a much more detailed manner.
What is the Fulfilment Centre?
In simple words, fulfilment centre is a huge space which is used for storing inventories for a business. What makes a warehouse different from a fulfilment centre is its potential to rise above the single-use for storing inventory only. Apart from being highly useful and effective for storage uses, fulfilment centres also serve other purposes. One such important purpose is facilitating the entire order fulfilment process. A fulfilment centre deals in the storage of items for a limited period of time prior to the product goes out for shopping. This strikes a difference with warehouse in which items are stored for a longer time. eCommerce companies, retailers all run their business with fulfilment centre and aid them in fulfilling B2C or B2B orders.
Fulfilment centres operate in processing orders, packaging them, and sending them for shipping to the final customer for 24×7. There are so many things to mention when it comes to answering the question of what kinds of activities happen in a fulfilment centre.
Throughout the day, the activities keep buzzing in a fulfillment center where inventories are received by people, goods are being pocked, shipping labels are generated, and fulfilled orders are shipped out. Along with these, handlings of return orders are also taken care of in a fulfillment center. 

Understanding what a fulfillment center is and what kinds of activities goes on inside it on a daily basis, let us dig deeper into how a highly functional and equipped fulfillment center helps in a seamless flow of pre and post shipping operations.
Functions of a Warehouse
Receiving Inventory
The first step of a fulfilment centre is to receive the inventory from an eCommerce brand or the seller. Quite naturally, there shall be a couple of inventory errors like miscounts when it is first being received. A functional and robust fulfilment centre will be having a dedicated and separate dock area where it would be receiving the respective inventory. The dock area is a large space and used for properly sorting the inventories while preparing them for storage in their respective specified locations.
Additionally, a well-equipped fulfilment centre has an inventory tracking system that tracks the inventories in real-time. This helps in avoiding any miscalculations which might take place while the inventories are received or evading missing inventory. To guarantee utmost accuracy in the inventory process, it is highly recommended to have a quality control manager. A quality control manager will be of extreme help if for some reason there are technical faults or some mistakes have occurs by the employee.
Smart Order Picking
According to a survey, almost 50% of the labour cost goes for order picking in a fulfilment centre and it is quite appalling indeed. An impactful fulfilment centre will always come with the right facilities which account for the most of order picking process. Growing eCommerce businesses across the world have made order picking prices even more critical. This gets vital because of the fact that the majority of the actions taking place inside a fulfilment centre can run on automation but not order picking which inevitably has to be done manually.
The results which are procured directly from order picking directly affects customer satisfactory levels. Quite obviously, it won't be desirable for any customer to receive wrong products or less quantity from what they have purchased from your site.
Furthermore, there are various ways of picking orders efficiently within a fulfilment centre. To name a few are zone picking, wave picking, batch picking and pick to order. As per your business needs, you can choose the best order picking method accordingly.
Handling of Quick Returns
In an eCommerce business, facing return orders is very common and accounts to be an inevitable part of the business. However, if you have chosen the right fulfilment partner who is equipped with a reverse logistics system, it makes the handling of return orders seamless. A highly-function fulfilment centre can take care of handling returns, recalling and disposals in a much faster way in comparison to executing an in-house fulfilment.
When you have a returns management system in place, fulfilment centres gain absolute control over the complete process. You are empowered to choose how returned items would be sent for inspection or replacement.
Smooth Shipping
When it comes to discussing about the most important aspects of an order fulfilment process, shipping accounts to be one of the most crucial ones. Quite authentically, shipping to a respective destination makes a fulfilment centre unique from the rest. The site where the fulfilment centre is situated plays an important role which is critical in determining the shipping charges and the estimated time of delivery promised to the end customer.
Let's understand this better with the help of an example. If a fulfilment centre is located near highways it enables the shipping or logistics companies in delivering the item in the time since most of the goods are released for transit via trucks. Additionally, if a fulfilment centre is situated closely to your consumers, it becomes a great choice for you. Invariably this will bring a reduction in the transit time and you can offer your consumers an on-time delivery which again elevates their shopping experiences.
Normally, a fulfilment business owner will tie up with several shipping carriers. Fulfilment centre executes their operational activities in order to satisfy direct-to-consumer orders once they are placed and thus require shipping carriers for daily shipment picking actions. This further ensures that orders are received by consumers in a faster and timely manner as committed.
Proficient Products Packaging
Soon after the items are received inside a fulfilment centre, the next major step is to pack them up securely. A multifunctional fulfilment centre will be having high standards for eCommerce packaging materials. Such good quality packaging materials will safeguard the product from any kind of damage that threatens the entire order fulfilment process.
Packaging with good quality materials also helps in bringing a significant reduction in product's dimensional weight. Few of the most important and high-quality packaging materials are corrugated cardboard boxes, flyers, courier bags, packing tapes, bubble wraps, air fillers, etc.
Fulfilment centres are always extra cautious and careful when it comes to product packaging. It ensures that the product is properly packaged with all safety materials while also taking care of saving up on costs.
Few fulfilment centres are pretty much advance and provide custom packaging. It will be having your brand's logo on the top of the box along with other relevant information you plan on wishing to offer to your consumers. Since a product's packaging qualifies for being the first impression of your business brand for your consumers, it is important to consider this.
Final Words
Now that you have a complete idea about how fulfillment center can facilitate smooth pre and post shipping operations, make sure to partner up with an efficient and effective 3PL. Since the eCommerce industry is getting truly competitive and countless existing and onboarding businesses are getting into the same, only your seamless delivery and out of the box strategies to impress your consumers will keep your sales funnel sustained.