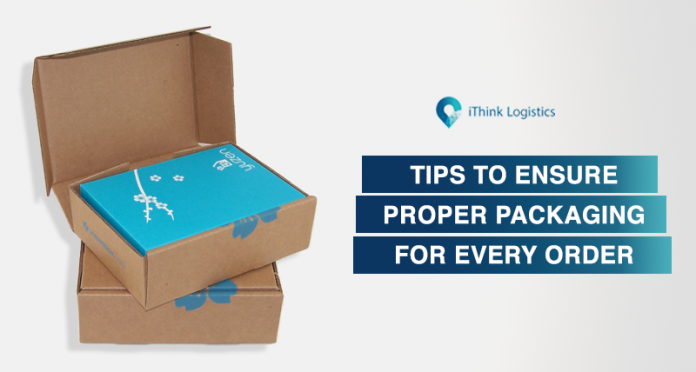 According to research surveyed, it was revealed that consumers have considered the packaging of a product to be equally crucial as the brand. This clearly shows that the packaging of a product has to be good and on-point when it comes to enhancing customer experience, avoiding operational delays, and reducing shipping damage. 
Why focus on Proper Packaging?
As they say, the first impression is the last impression! Consumers receive their ordered item within packing and this creates the first impression of the logistics partner. If you deliver their product in a clumsy packaging it not only tarnishes your brand but also pushes you towards losing out on one potential customer.
Imagine a scenario, where you are selling out a smartphone, and packaged in a very undesirable manner in a ridged box without much of layers that add to the protective packaging. In such a scenario, it is quite possible that the phone will face threats of cracked screen, broken body or many other issues. Imagine how the delivery will have an impact on the buyer's experience; quite disheartening right.
Thus, the packaging is a very important part of order fulfilment and becomes imperative for logistics partners to take care of this factor appropriately if the buyer receives their product in perfect condition with no-spill, leakage or damage hey would always retain in your customer base.
Here another factor becomes important too. Packages are handpicked from respective courier hubs and thus delivered to various destinations. If the product you are delivering has not been packaged properly, it is very likely that it can damage other shipments too carried by the delivery agent.
Additionally, the importance of order packaging does not limit itself to consumer experience and safety norms. It furthermore helps in reducing weight discrepancies. It has been often found out that in a shipping company; most of the time is wasted on tackling weight discrepancies which stem out of improper packaging.
These kinds of errors can cause real-time trouble and bring a setback to your operations. They can be extremely annoying to deal with. However, when order is packaged properly and checked weight measurements, such challenges can be avoided effectively.
Best Ways to Ensure Proper Packaging for Every Order
By now, there remains to be no room for doubt on why proper packaging is important. Now the question arises of how to ensure proper packaging for every order there are a lot of ways that have been time tested can be applied. Here are a few of the most important ways to ensure proper packaging for every order:
Selecting the Right Size
Never choose to pack the product in oversized packaging. You have to endure extra costs for space based on the volumetric weight which (Length x Breadth x Height) / 5000. Therefore, always make sure that you are choosing an appropriate size when it comes to packaging the order and place the product inside the packaging in a firm manner.
If you want to get the perfect fit, you may prefer testing with multiple boxes and evaluate which fits appropriately for your SKUs. It will definitely provide you with much more clarity on the packaging and also aid you in having set a standard for the process.
Standardizing the Fulfilment Chain
It is advised better not to add too much of steps and touchpoints which might end up in confusing your staff. Additionally, that will harm your process by increased consumption of time which in turn will lead to delayed delivery. According to research, slow shipping reduces consumers from buying by 40%. Thus, having a streamlined process which includes specific spots only which are assigned to different materials is vital. Specifying packaging material with respect to every SKUs is very important along with providing adequate packaging training to your employees.
To make this even better, you can formulate checklists and SOPs to ensure that each of your members is following the specified guideline. This will not be just beneficial for carrying out the packaging process faster but will also speed up the overall delivery and fulfillment processes.
Advanced Storage of Packaging Material
Start analyzing your forecast sales and inventory and start ordering the required packaging material in advance. This will assist you in staying prepared and deal with processing incoming orders rapidly. The action you carry for out for evaluating the levels and repurchases of your products, follow the same or packing materials too. 
Conduct inventory checks and buy packaging materials accordingly from your respective vendors. It is highly recommended to carry out this exercise prior to any major occasion or sale window where there is a significant rise in orders. To enhance this, adopt a practice of setting up a calendar and marking the dates in around which you would be requiring more packaging materials than the usual requirements. This will aid you in being equipped with a strategy much ahead in advance and have updated knowledge on the incoming orders.
Sourcing from Multiple Vendors
When you are having multiple shipments to fulfill, it is highlight advisable to not just rely on a single vendor. To manage bulk orders and shipments, it is ideal to have multiple vendors. However, two different schools of thought have their respective opinions about the same. The first school proposes that limiting to a single vendor might be useful since packing shall be uniformed which gives you the opportunity to skip the hackles of constantly coordinating with several vendors for the same thing. Additionally to this, having a single vendor gets you the competitive prices for the material. But if your vendor is unable to provide you with the material, you will be facing some series of unfortunate circumstances that will be difficult to manage.
Meanwhile, the other school brings the idea to have multiple vendors. Although this might get a little cumbersome because of various people being in the action and synchronize accordingly, yet in times of emergencies, you will always have a safety backup to depend on.
Due to the packaging being a very crucial and integral part of the business, most experts recommend always go with several vendors to avoid undesirable and unfortunate circumstances.
Purchase of Good Quality Material
Packaging can become an intrinsic part of your total fulfillment costs and become an important factor when they rise. However, costs associated with packaging cannot be cut down. Even if good quality packaging material comes at high costs, it is still a mandate to invest in it. If the quality of packaging materials is compromised, the items can end up in being damaged state while in transit. Worse, it not just damages the respective product but can also cause damage to other products as well. Thus, it is always desirable and smart move to invest adequately in purchasing quality material for packaging.
Generally, to assess a packaging material to be good, it is extensively tested for various qualitative parameters. Such parameters include environmental and mechanical parameters that determine the quality standards of the package. Some of the vital parameters that decide packaging material to be good are: 
Flexibility
Compression properties
Tensile Strength
Barrier Properties
Adding Ample Safety Packaging Materials
Safety packaging materials safeguard the product and add to good practices of packaging. Such materials are, bubble wrap, foam caps, pellets, polystyrene peanuts, etc. and helps in sustaining friction while in the transit and absorbs any kind of shocks that might affect the package during the delivery process. Fragile items like bottles, glass, jewellery always need to be handled carefully and must be ensured that they are carefully packaged.
Having a lot of safety packaging will ensure the product to remain safe against any kind of damage which will furthermore save on the additional costs of embarrassment from delivering the item to the consumers in a damaged condition.
It is most often recommended these days to use biodegradable products that encircle your responsibility to make use of sustainable materials for packaging. For instance, the use of polystyrene peanuts should be discarded and instead, biodegradable ones must be used that are made from composting material or starch. Many packaging brands are using corrugated bubble wrap in place of the conventional plastic bubble wrap.
Customized Packaging
Although customization in the process of packaging has been considered to be not that impactful for shipping; however it can be very useful to elevate your consumer's delivery experiences. Customizations like having respective consumer's name on the package with their specialized products always create a special effect. To make this even better, consider adding a handwritten card or give coupons to encourage them for their next purchase.
Final Thoughts
In simple words, eCommerce packaging can be considered to be an extension of an order fulfillment process. Thus, it is essential to carry out actions like analysis, packaging selection, and ensure it matches your shipping goals. If the packaging is done accordingly and properly, it will automatically help you to speed up the process of the fulfillment supply chain.