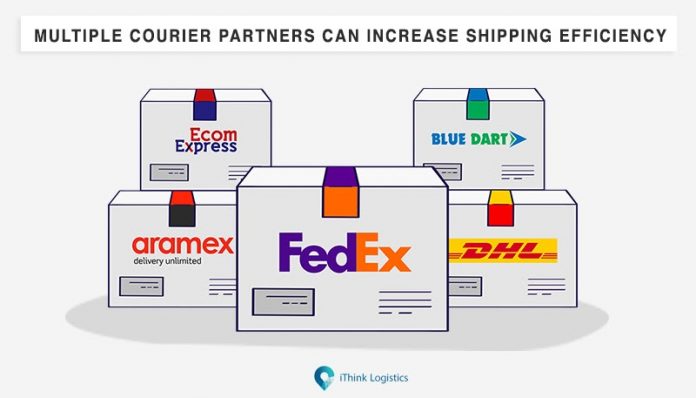 In the retail industry, the most important factor that serves as the major pointer to showcase your company's efficiency is the shipping timings you provide to your customers. The time when Amazon came up with this amazing one-day delivery idea, they saw a high rise in their customer base. Customers are very fond of quick deliveries. Customers feel benefited through quicker deliveries. One of the major reasons companies as such are seeing the light of success in no time is quicker deliveries. Companies are aiming at providing one-day or same-day deliveries. Customers are quite fascinated when it comes to this one-day shipping.
Items or products that are perishable like medicines, various food items, need to be delivered in the quickest way possible. There is no other way to go around these deliveries. The best way to complete such deliveries is to do it via the courier system. Courier services provide the opportunity of the door to door facilities where the products are picked up from the doorstep and is delivered to the concerned customer on the very same day. Of course, distance plays a major role in it.
These services are very beneficial when it comes to ordering flowers, or birthday cakes, or any other gift items that demand to be delivered on that particular day. If you take account of today's competition where the customer base of the country is huge, you need to opt for some technique that can assure you with the efficient and smooth deliveries of items to every particular customer. The answer is quite simple, that is you need to have "multiple courier partners". The reason is very simple; you cannot reach thousands of customers if you just have a single courier partner up your sleeves. The customer base so huge, that at the end of the day you will have many disappointed clients if you have a single courier service provider.
Courier services are mostly local and have a reach limit. However, within this limit, they can offer you efficient and hassle-free delivery to thousands of customers. The limited reach is a visible limitation of the system, and that is why you need to do business with multiple courier service providers.
Benefits of multiple courier partners
It is similar to mathematics. If you combine multiple courier services in different countries, you can increase your delivery efficiency at a high rate.
Increased reach
If you have multiple courier partners, you can expand your business to different countries. You can make deliveries to a different country which will, in turn, help your business to grow wide with each day. Thus, you do not have to turn down customers that are far from your business or have a distant pin code. If you have multiple courier services, then you can make delivery possible at any place within a limited period. If you have local partners, then you increase the overall reach of your business by having potential customers at every corner of the country. Besides, this expanded reach can create an overall strong base of your valued customers.
The convenience of delivery services during festivals
During the festivals, the struggle and rush for deliveries are real. Whether it is a small start-up company or a big e-commerce giant, every company faces trouble in delivering a huge number of packages. Customers nowadays tend to shop online, so they find the festive seasons the perfect opportunity to buy online which is much more convenient than the retail stores. People now tend to avoid the huge crowds in clothing stores and prefer shopping online. Thus, the festive seasons get the busiest with thousands of delivery requests. At this point, companies can't keep up with the delivery deadlines. If you have multiple courier partners, then this can be well handled and your customers stay satisfied with your company. Many courier services will deliver your items at your customer's convenience.
Provides for a convenient backup
It is similar to having an extra pair of glasses, so that if you lose or damage the current glasses. Multiple courier partners will ensure you that you never have to give any kind of excuses to your customers. They will ensure that you never disappoint your customers when it comes to deliveries. There are thousands of possible difficulties that can arise in a day to day business, but if you have multiple courier service providers you can stay assured that your products and administrations will be delivered to your customers even if one of the partners is unavailable. 
Best prices
A different carrier offers different prices for their services. This is how the competitive market works. Some carrier keeps a cheaper price point while some other carrier keeps a higher price point when it comes to shipping mid-sized packages. Some carriers straight-up refuse to carry oversized packages, whereas some carriers specialize in the same.
You can deliver every customer
Some carriers have preferred routes, and some carriers have preferred customer types too. All the carriers will not deliver items or products to Business to Consumer packages (B2C), while some carriers specialize in it and make a living through delivering this particular type of packages. Some courier services will assist the only business to business clients (B2B). As your delivery needs change, multiple couriers can provide suitable assistance for different consignments. You can choose a specialist from different partners for the exact type of delivery you want to commence.
Affordable shipping surcharges
It is a fact that every individual hates paying extra amounts for the shipping. When certain carriers add extra charges for delivering certain items or products, it negatively affects the business. Often carriers add this as an inconvenience cost, while other carriers don't add an extra charge. If you have multiple carriers you will have better clarity for the end prices, and thus you can make the best decision for delivering packages to your customers.
You can have access to different shipping ranges
If you have access to different shipping modes, you can give the best assistance to your customers irrespective of their distances. Every customer is fascinated with the idea of one-day shipping. Multiple courier service can provide for all types of shipping modes from domestic services, same-day deliveries within 3 to 4 hours. International services, overnight air, road express, road economy, etc.
The All in One Solution
Considering all the above points in mind, the courier aggregators came into functioning. A single organization tied up with multiple courier companies. They acted as a catalyst to increase the efficient product delivery and reduce logistics returns.
Considering how fast this sector is growing, it is important to get a good understanding of exactly what a logistics aggregator company does and what its roles are in the e-commerce space. Typically, a logistics aggregator provides e-commerce shipping solutions in India and around the world.
A group of agents from this company might be responsible for processing all the operational components such as storage and transportation. They might be required to sort the products into categories, store and warehouse them as needed, and then to package and ship the goods safely when an order is placed.
here is why every ecommerce needs a logistics aggregator.
Conclusion
If you opt for the right shipping policies, it can help your business grow wide. However, the wrong choice can break your business too. The main goal you need to focus on is to satisfy your customers and the other aspects can be aligned accordingly. If you start charging high shipping prices, you can be chopped off the market. On the other hand, if you are charging too little for shipping facilities, you cut out your profit margins. Maintaining the right balance is the key to success and that is why it is so important to have multiple carrier partners. Multiple carrier partners not only allow having the benefit of choosing the most suitable partners for particular deliveries but also help in increasing the overall organizational efficiency of your company. Through multiple courier services, you reach out to thousands of customers around the globe.