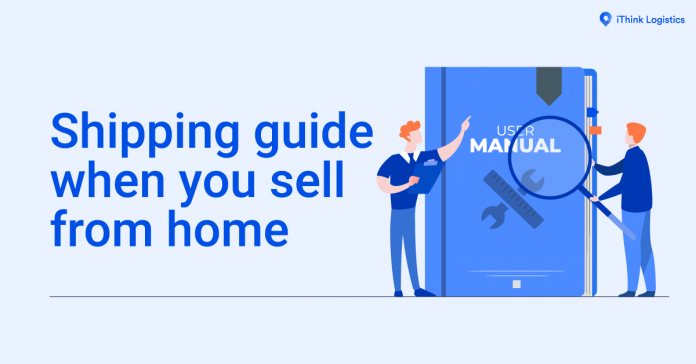 Imagine getting a call from the client that you always wanted to work with. Imagine all the details going well. And the best part? Imagine that they have no issues in paying you.
But here comes the twist….
You ask for a deadline and the response is, "The deadline was yesterday." 
This is no longer just a phrase you will hear in a corporate office. In the era of express shipping and next-day delivery, customers expect their orders to reach them faster than ever.

If it were up to you, you would teleport to the place personally. And if it were up to them, at a snap of their fingers, their orders would come to them from the screen to their homes. How we wish it was that easy to ship from home!

However, since both these scenarios are nothing but silly daydreams, there is a little something called shipping that is here to save the day.

And for your small business that wishes to ship from your home, we have the perfect guide for you.

 Perfect guide for you  to ship from Home

Calculate your shipping cost
In order to know how to ship your own products from home, first, you need to determine the total cost of shipping. Your shipping cost is essentially based on 4 crucial elements – the weight and size of your product, the delivery radius, the shipment volume, and the speed of the delivery.
It kind of goes without saying that the larger and heavier a product, the more elaborate and expensive packaging and shipping will be. However, often for smaller and fragile products, the shipping cost may be extra owing to the packaging and delicate care in transit. Secondly, the farther you offer delivery, the more money shipping will cost you.
Thirdly, economies of scale often let shipping companies make a better profit as well as charge you less if you ship a consignment in bulk. However, there are options for individual package shipping as well. Lastly, and most importantly, it all comes down to speed. Anything 'express', 'expedited', and 'super fast' is going to cost you more than standardized shipping. 
Pro tip: When you start to ship from your home experiment by going for not one but multiple shipping carriers to gauge who delivers the fastest, has the best customer service, and the most cost-effective shipping rates.

Save on packaging
When you are learning how to ship your own products from home, your fulfilment centre is your own personal space. And in most cases, instead of trained personnel, it's up to you to package the order in the best way possible. With the whole 'unboxing' trend viral on social media, users are looking for not just good products but products that are packaged well.
So ideally, there are two steps to pack. The first one is the packing of the product. The second one is the packaging of the product in the shipment bag/box. Based on the nature of the product and the weather conditions, you will have to choose from paper-based or plastic-based packaging. While there are many options available from corrugated paper to plastic wraps to cardboard boxes, choose your packaging based on the transit speed, time, and fragility of the product. Prefer mass-produced boxes over personalized packaging to save cost.
In order to avoid in-transit damage, products often need to be wrapped with bubble wrap, airbags, and extra stuffing, all of which has to be carefully packaged by you. Make sure that you don't skimp on the tape. The better packaged a product is, the more valuable a customer feels. 
Define your shipping charges
Partnering with a shipping courier is one thing, charging your customers for shipping is another. 'Free shipping is a definite way to lure in customers. However, there are times when you need to charge a shipping rate as well. Giants like Amazon have gotten people used to free shipping, which is the reason why people often 'add to cart' and disappear when they see a shipping charge.
And while there are customers who are ready to pay an expedited shipping cost, more often than not, customers choose free shipping even if the delivery date is farther than expected. To reach a middle ground, you can also do what Amazon offers to its non-prime customers. In order to reduce costs, customers are obliged to fill their cart up to a minimum value to get the benefit of free shipping. If they don't do so, Amazon charges a shipping fee based on the 4 elements of shipping costs stated above.  
Manage your insurance and return policy
Online shipping is a gamble for most customers since they are not physically in contact with the product. Therefore, even the most popular products are often subject to returns. As a matter of fact, many customers judge the credibility of the business based on the return policy. While returns are still manageable, damages are tough to navigate. No matter how small your home business is, it is always at risk from unforeseen circumstances and natural calamities. Many shipping partners often provide insurance cover. In case they don't, make sure to get one before going into business. 
Opt for multiple channels and carriers
Widespread reach and visibility is the long-term key to converting viewers into customers. It is a proven fact that the more places you list your products on, the more they sell. While many companies have their own e-commerce websites, they also choose to list on Amazon, knowing very well about profit sharing. However, it is a win-win deal for both parties because Amazon's reach inevitably gets the business more and more orders.
Also, one of the biggest bonuses' of listing on established marketplaces is the convenience of shipping. A majority of marketplaces have their own fulfilment centres and their own shipping policy which saves you the trouble of setting up your own packaging and shipping process. Speaking of shipping, never settle for simply one shipping carrier. Each shipping company brings its own set of benefits to the table. While some offer a wide reach, some offer delivery to less connected areas.
Some are the best at express shipping while some are the most cost-effective for regular shipping. Diversification in terms of selling channels and shipping carriers is a must to get a steady grip on your shipping.  
Consider outsourcing
If you simply don't want to go through the issue of shipping, try outsourcing it. Here you have two options – dropshipping and third-party logistic players. Dropshipping simply means passing on the order on your website directly to the manufacturer. Then the manufacturer deals with the packing, packaging, and shipping of the order.
Third-party logistics are simply shipping companies that have their own fulfilment centres and their own fleet of vehicles. All you have to do is pay them a fee to store, pick, pack, and ship your orders to the customers. They also offer you the service of order tracking which makes the whole process stress-free. 
Conclusion
Starting a home business is no doubt a challenging venture. And going wrong with shipping can often be a deal-breaker. Therefore, research on multiple shipping carriers before launching the business. From dropshipping to third-party logistics, choose what works best for you. And always remember that a happy customer is one who gets their order on time and in top condition. Two things you must keep as your top priority before finalizing your shipping policy.