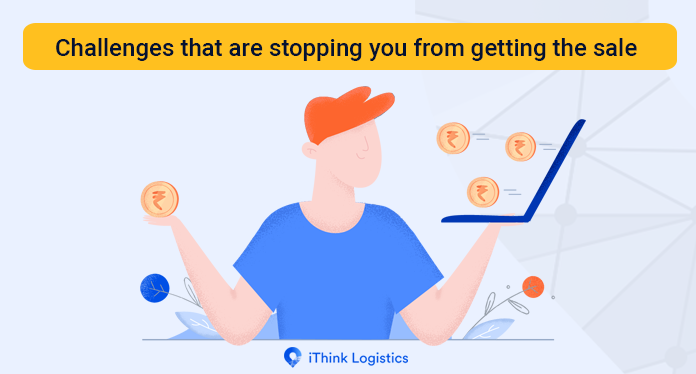 Irrespective of whether you are an experienced seller or a newbie in the market, you might have to face numerous challenges in a sales role. There are multiple challenges that you need to overcome with smart actions. Some decisions, strategies, etc. will help you overcome these challenges very easily.
But for that, you need to be patient so that you can reach your sales goals without any hindrance. There are so many issues, such as extended hours, working on weekends to meet targets, staying up to follow up with prospects in different time zones, etc.
The list can continue. But there are major obstacles in the path of reaching your targets, which you can easily overcome despite the aforementioned inconvenience.
In this blog, we will be talking about some common and solid sales challenges and their solutions.
Competing with lower-priced peers
In your sales career, you will see that you have to compete with lower-priced competitors and you have no clue how to beat them. Beating them can be difficult but it isn't impossible with the right strategy.
Solutions
You have to understand that customers (most) do not mind spending money if every penny is worth it. Make sure you are giving them value for money. Display your value of products and show them how your product is better than the rest through case studies and customer reviews. Show them your credentials as well. They should be able to access seminar, bogs, and demonstration of products that are appealing to them.
Identify and convey your USP (unique selling proposition) to the prospects.
Generating leads
Secondly, let us talk about a major problem – generating quality leads so that you can turn them into customers. Generating good quality leads is not that easy and is a huge issue in a sales role. It can drastically have an impact on your targets. If you are unable to generate fresh leads, then there could be an issue and you might fail to reach your target. However, there are several approaches via which you can generate leads that can turn into sales.
Solution
There are several ways in order to get good leads on which we have written a separate blog altogether. Learn about your company and develop a system that allows you to understand how sales-ready a process is. Focus on getting good quality leads but do not spam prospective customers.
The Follow-Up
This is one of the major issues that a salesperson generally faces. If you have made an initial approach and have seen any kind of disinterest in the customer, then you might hesitate to follow him or her up. If you are not in touch with the right person, you might delay doing the same.
Solution
Make sure you talk to them and convince them about the qualities of the product you are offering and how the same can help in streamlining their business. Also, call them at appropriate hours so that they are not annoyed. Know when and how to advertise your services or products so that you will have successful follow-ups.
Not having enough product knowledge
You have to realize that you can't convince your clients if you aren't convinced yourself. You have to be familiar with the product and have to know about its benefits in depth.
Solution
Invest time in knowing the history, background, advantages, and even disadvantages of the product so that you are not clueless when the client asks you a question. Re-train yourself or ask your senior to help you learn more about the item you are selling. This will help you reach your goals on time as well as boost your confidence.
Waning Ambition
Maintaining ambition can also seem like a challenge in the industry. You might lose your desire after failing to meet your target consecutively! This is quite common and it is not easy to stay motivated. There are ups and downs in the path but always remember that with higher risks, come higher returns.
Solution
Recognize that there are a few things in this industry that are not in your hand. You have to realize that no matter how hard you try, it will depend on several economic factors, the demand for the product, et al. Find ways to improve and set attainable goals. Reward yourself when you reach a target and proceed slowly. Nothing will happen overnight. It takes time to be a great seller.
Lack of Trust of Clients
This is yet another huge constraint in the path of attaining several goals. Customers are generally suspicious of salespeople and you have nothing to do about it other than communicating well and gaining their confidence over time.
Solution
As long as you show general ethics, you are good to go. Earn their respect by communicating, listening to them, and being punctual. Try to build a customer's trust in you. Once you do that, you can even spread your existence through word of mouth or reference.
Working with whimsical customers
There are several customers who do not want to commit and you will come across hundreds of them throughout your career. It can be very frustrating when a client doesn't continue or rethink their decision when you are almost close to closing a sale.
Solution
Do not cold call them or force them. Making statements like "Yes take your time as it is an important decision" is what we suggest. You can also ask a few questions in order to understand how much the prospect is really interested in your product. If you don't see much hope, we suggest you curtail your time on that particular client. Is there sincerity in the answer? Is he or she serious? Is he or she picking up your calls?
Long sales cycle
Another challenge for sales executives is when they feel frustrated with a long sales cycle. Some sales can stay stuck for a long time in the pipeline. It can affect your monthly goals.
Solution
You should make an impactful selling proposition and boost your contacts. You should also follow up on time and track your sales data on a regular basis.
Incapability to track prospect activities
Sometimes, sales representatives are unable to see prospect activities, which in turn leads to loss of opportunities.
Solutions
For this, you should implement CRM software. It will provide insights about mail engagement as well as keep you updated about the deal.
Meeting management's expectation
The journey of a salesperson is not that easy. They get pressurized by the management every now and then to meet numbers, which can make them anxious.
Solutions
Stay calm and try to convey your point to the management. Anxiety will worsen things and hence, you need to take it slow. Make reports on why you are unable to meet the numbers. Track your own performance and try to figure out where you went wrong.
Conclusion
A sale is a challenging job but comes with abundant opportunities. Identifying the obstacles and dealing with them the right way can fetch you figures. Tackle sales barriers and achieve heights.