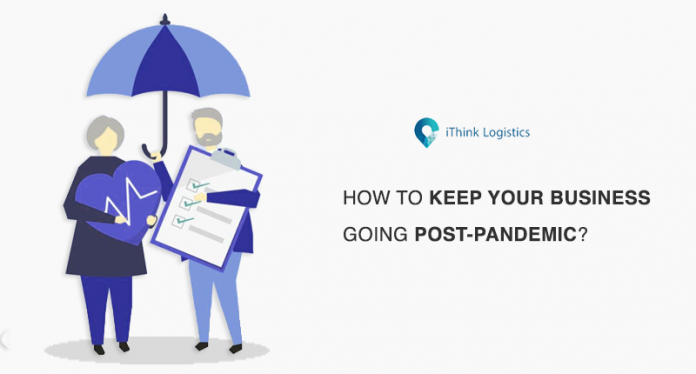 The Coronavirus pandemic has caused a massive ruckus that nobody could have predicted to have gone in such shocking deterioration. More than the immense and severe impact on humans across the globe, it has taken a serious toll on businesses. From small scale to large scale, each organization has been hit by a threatening alarm and challenged everybody's survival chances in the market.
The demand and supply chain was tossed with the entire collapse being witnessed within a few months of the pandemic breakout. Customer demand fell, regulatory modifications were disrupted, interruptions in the supply chain were seen, along with the horrors of economic recession, unemployment, and increased uncertainty.
Business Survival Post-Pandemic
When an analysis is carried out on how the supply chain was affected by the Covid-19 pandemic, it was found that most of the businesses witnessed a shuddering impact because of the lack of a contingency plan. As a consequence, when the crisis hit, the business model crumbled into pieces. Here business faced two critical problems, one being the overcoming the huge impact that was built in suddenly and the other one is finding ways to recover.
However, the worst part of the post-pandemic effect on business is that it won't revive from basic or elementary styled methods. There have to be effective, stringent, and operative methods of making businesses revive again with less or negligible loss. This works just like a human body; a human being affected with Covid-19 needs some time and an observatory quarantine period to recover fully and check whether the body has gotten rid of the disease completely.
Likewise, businesses too need to go under an extensive check-up session and treated with immediate recovery methods that are critically emergent. Each organization must focus on a strong groundwork for their revivals.
Management theorist Henry Mintzberg had famously talked about the 5Ps plan which had a plan, ploy, pattern, position, and perspective. Walking along with the same framework, reviving a business post-pandemic can be done by following the same model that outlines position, plan, perspective, projects, and preparedness.
Understanding POSITION
Thinking in a smart and strategic manner, it is essential to understand at which position is your business standing and what is the surrounding environment like. It's almost like starting afresh, only with added power and potential to foresee and analyze your market position, your role in the ecosystem, and identifying customers. Also, during this stage, you must envision the route you are following to go ahead.
There are so many firms that are doubting their viability and sustainability in a post-pandemic situation; especially, the critically worst-hit industries like hospitality, events, and travel. Also, on the other hand, there are companies that are accelerating their growth due to high demands in their value proposition that can align with home office set-up, internet-enabled communication, and home-delivery services. Due to such changes in the nature of business and how it is compatible with a post-pandemic situation matter a lot.
Map your steps accordingly, and if your business goes in against of the current demands in the market, try to keep it low-profile without hampering the existing funds that can help you sustain till things normalize in a much bigger scale.
The Bounce-Back PLAN
A plan takes you through the list of actions that are cumulatively formulated for attaining the goals that are set to achieve. It clearly gives you the action blueprint to elucidate the immediate tasks that need to be delegated today so that it makes us closer to the objective set.
When talking about business revivals in a post-pandemic era, an extensive plan has to be laid out with a SWOT (Strength, Weakness, Opportunities, and Threats) analysis to understand how your business must travel through the aftermath of the crisis and what goals to keep in target in respect to the current situation.
The lack of a plan worsens the situation and brings along more disorientation. Thus, to stabilize your business in turmoil situations you need to think broadly and deeply based on which a plan that is chalked out will help you to foresee the further set of actions.
Altering the PERSPECTIVE
In a business context, perspective stands for the way a company looks at the world. After the pandemic, it is very obvious that the perspective with which your business used to look upon the business will go through major transformation thereby altering the culture and identity you used to represent. In such a state, it is pivotal to observe how a perspective evolves. A crisis situation can either bring people close with a collaborative spirit of endurance or pull them away from each other.
Such an analysis of perspective is an eye-opener for your organization that shows how well prepared are your staff and what culture is being dealt with so far. The better study you do, the more revelations shall it unearth. Such revelations will not help you to either fix or enhance the culture of your organization but will also highlight the critical areas of the problem persisting till date.
New PROJECTS to be launched?
The answers that you would be seeking for the question stated above should base on a compilation of projects that can be launched for tackling the issues faced by the pandemic in business. The most difficult part of this situation is to understand what the priorities are and how to coordinate the initiates that must be taken to secure the future of the organization.
To do this, don't rush into launching ad running numerous projects. Strategize and initiate projects that do not exhaust all of your critical resources. Such resources can be your top managers, specific individuals, specific departments and so on.
If you add on too many new initiatives it can welcome new troubles. Always think wisely and use the existing resources in a judicious and smart way. Make sure that the projects you are starting, do not derail or delay your strategic responses. Manage them with efficiency; initiating even one project counts.
The PREPAREDNESS to Execute
At the final stage, you need to assess your business's preparedness towards the current situation and how well equipped you are to work on the plan and execute the project effectively. Do you think you are able enough to accomplish the outlines projects? Answering such direct and the critical question will help you to figure how much prepared you are.
Most often, big differences are spotted in preparedness at the organization, individual, team, and sometimes national levels. The present resources that are in-hand coupled with the quality and speed of decision-making processes, matters and vary greatly. Such differences go on further determining who achieves it and who fails it.
Summing Up
Undoubtedly, the pandemic has taken the world to its brink; and the unpredictable nature of its existence in human lives makes it even more threatening. However, businesses need to run and the economy has to grow. In such a situation only a robust strategy in place can make you overcome the business challenges of the pandemic.
If you are overwhelmed with the challenges, chances of reviving back are pretty less. Thus, to bounce back you cannot do it all together at the same time; it has to be a step-wise process.