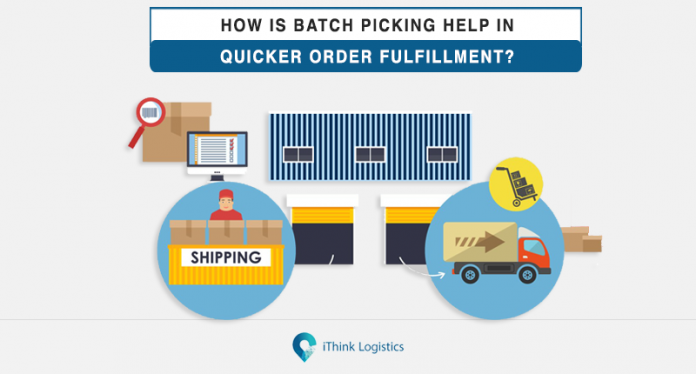 Grouping multiple orders into small batches are what you call as batch picking. In this process, the inventory is collected for identical orders at once, rather than picking items one order at a time.
For example, say that you are going to pick your daily essentials and groceries for yourself. Either you can make 3-4 short trips in a month and buy the items you need, or you can make a full list of one whole month and pick everything in one go.
Buying products in small batches not only causes you to pick extra products that you don't need but also postpones your saving resolution for the next month. In such a scenario getting all products at once saves your time and also saves the extra bucks that you would have otherwise ended up spending.
This is exactly how the process of batch picking works as well. In a warehouse whenever the order is shipped and goes out for delivery, the products of the similar locations are clubbed together and sent out at once. This improves operational efficiency and reduces the repeated trips to the same location.

How does batch picking work?
At the point when your client or customer places an order, the things must be moved from a pick and pack distribution center. Instead of allotting one order at a time to the picker, the bulk of similar orders are allocated to a solitary picker. Here's how cluster or batch picking functions:
Gathering common orders
For fixing a batch picking strategy, you have to club the orders that incorporate the equivalent and similar things into a bunch. An effective order management system can help you automate the clubbing process so that you don't have to do it manually. You can club the products that are deliverable to the same area and ship them all at once.
Handing over the orders in batches to the picker
Your warehouse management system can automatically create batches to make it easier for the picker to assign the products in the most efficient way. However, if you are doing it manually, make sure you efficiently sort out all the SKU and allot the correct route for your order.
Produce picking records for each order
A picking list is a report that conveys the things that should be transported to a customer, including the SKU(s), amounts, and stock stockpiling location(s). Batch picking works best for orders that have similar picking records. In this way, it is easier for the picker to have a rundown of requests/orders lined up, and that needs to be sent to various clients.
It's very rare to utilize printed records nowadays. Present-day warehouses have pickers who use and utilize wearable gadgets and technology to understand appoint and complete each order fulfillment in an efficient way.
Pick all items in the order list
Every picker must follow the picking rundown to pick the correct things and upgrade the route so they don't sit around idly or make pointless strides. When the SKUs have been picked for the clump orders, the requests can be given off to a packer and the picker can begin on the following bunch.
3 Major Benefits of Batch Picking
One of the primary advantages of batch picking is that it requires the picker to visit each area just once while taking multiple order deliveries at a time. By eliminating multiple trips and optimizing efficient shipping routes not only lessens travel time but also helps in quicker order fulfillment and bringing down work costs.
Here is an elaborated explanation
Decreased travel time
Any practical-minded warehouse manager would know and realizes that one of the greatest losses that can happen during the shipment is travel time, regardless of whether it be with respect to people, AI-driven robots, or a mix of the two. Decreases in movement time emphatically impact profitability and picked units every hour (UPH). The coordinated work process that happens through batch fixing, figures the ideal pick way and coordinates with the picker through the distribution center, and optimizing the route and therefore further guaranteeing that movement time to reduce in half.
Picking shifts and rates are more enhanced
Since group or batch picking, for the most part, involves order profiles that have only a couple SKUs, hence all requests need to have the option to be picked and stuffed for delivery in one go.
This allows your business to cater to the orders of huge groups of people one after another. The most urgent or essential orders can be scheduled first, depending on your fulfillment needs and promises.

Batch picking trains the picker better
Without a doubt, with cluster picking, your pickers may not be getting as much exercise as they used to when they routinely ran over the stockroom floor, frequently returning to a similar area on various occasions. However, in light of the fact that pickers are intended to remain on each SKU in turn, the preparation is commonly a lot simpler and more direct than other picking procedures.  This trains the picker to get familiar with the design of the whole warehouse.
Normally, few out of every odd warehouse or organization is best-prepared for bunch picking. Ensure that you evaluate all other request picking procedures and frameworks before you focus on one.
Conclusion
It is true that improves operational efficiency and reduces the repeated trips to the same location, but not every warehouse or company is best-equipped for batch picking. However, there are still other options left. Make sure that you assess all other order picking strategies and systems before you commit to one.