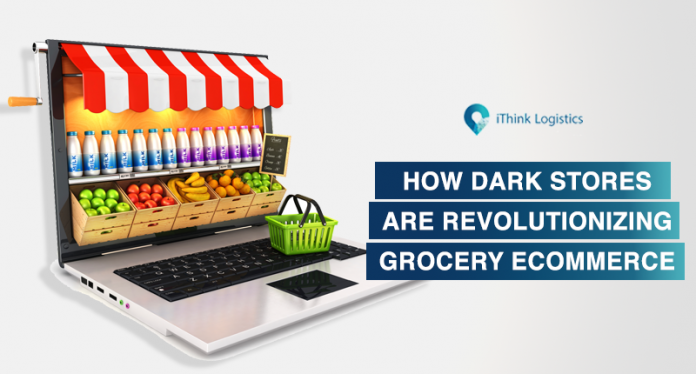 Modern suppliers have to consider various things for preparing themselves to pace up with the rapid growth happening in the digital world. The rise of the online grocery market is eventually mounting up. From a comparative view, rather than joining hands with brick-and-mortar retailers, the preference towards a newer form of the supply chain like darks stores is very much evident. This is due to the offerings provided by the dark stores from having a model that is way more advanced and focused to fulfil online grocery orders.
Before diving into much deeper contexts, let's simplify the concept of dark stores.
What are Dark Stores?
The definition of dark stores can be elucidated in very simple language and is referred to as the retail distribution outlet or center catering itself dedicatedly to online shopping. It is characterized as a large warehouse that can be leveraged to use it for facilitating a collect-and-click service in which a consumer or a picker collects their respective item ordered online. 
Dark stores are not commercially open forth public; the interior look of a dark store appears to be similar to a conventional market with separate aisles of shelves containing various groceries items. However, unlike being located in big shopping malls, dark stores are generally established in a remote place that is well connected with a good network of roads.  
The buildings are quite and non-descript from the outside. Assistants are present inside the store to help consumers with point of sale displays, product advice and check-out counters. Once the orders have been processed online, they are sent to the shop floor next.
The digitally generated orders are routed properly and sent for processing based on the store's layout that helps in optimal picking. In a traditional store, a consumer or a picker walks around the aisles with a shopping cart and finds him or herself with the necessary items they wished to buy. However, in a dark store picking system, the picker remains in the single same spot and collects the item. A goods-to-person or mechanized system pick station deals with sending products that are lesser sold such as spices and cordials. These kinds of products are sent out from the storage to the picker via a conveyor belt. 
Fast selling out products such as cold beverages or fruits are kept on shelves in aisles which is in another segment of the dark store. In a dark store, multiple orders can be collected frequently at a simultaneous pace. Fulfilled orders are then taken out for delivering them to the consumers via the use of vans.
Picking shifts generally occurs in two respective shifts; first shift starts from 8 PM to 4 AM and the second shift takes place from 4 AM to until midday. Mostly the shelves are restocked during the afternoon.
The concept of dark stores was first developed and initiated in the UK and with much more advanced implementations the rise of popularity is undeniable.
Why are dark stores getting popular for grocery eCommerce?
The grocery industry, specific to its category has various difficulties; such challenges are the requirement for a high number of SKUs and the constant threat of item perishability. Online grocery stores stand out effectively because of its being much more dispensable and offer doorstep delivery to their consumers.
The real fight in grocery eCommerce is not just about getting online orders but also fulfilling it. This is directly linked to customer retention as well; the better will be the item delivery and fulfillment, the more the consumers will keep coming back.
As a scenario, eCommerce giants like Amazon and Flipkart have also got down in the game and takes a nice shot at an online grocery. Moreover, hypermarket eCommerce has become more competitive due to the involvement of key players like Reliance Smart and Spar.
When the question of dark stores popularity comes under the spotlight, there are many associative challenges with online fulfilment that comes up. Not just speaking from a consumer's benefitting point of view but also from a seller's angle as well, dark stores addresses a few of the critical challenges very effectively. The popularity of dark stores, therefore, can be better understood by seeing deeper into how these critical challenges are being addressed.
Overcoming SKU Challenge
Imagine someone needs various kinds of bread which belong to different specified categories like multi-grain, gluten-free etc. In a grocery, there is a high chance or probability of having many SKUs which coincides with the same item as the count of consumers. This cannot be evaded since consumers would obviously prefer to have their choice of food.
Dark stores can play a vital here, by optimizing SKU management thereby having a focus on click-and-collect functionality and storage. Not just that they help in saving real-estate costs by clearing high traffic zones but also deal in catering to several online grocery stores in one go. Therefore, dark stores have accommodative features which allow them to have variety in items at low space costs.
Additionally, SKU management elevates fulfilment accuracy and brings a significant reduction in mix-ups.
Overcoming Perishability Challenge
Items like dairy, pulses, vegetables, fruits, all come under perishable items and come with their respective expiry windows. In most cases, the majority of such items are packed and delivered together and expected to do so in their ideal fresh states. One of the basic thumb rules of fulfillment is to deliver the items to the consumer's doorstep in their right and ideal state. When dealing with high numbers, this can become cumbersome. Special preservation and storage systems need to be brought in place to achieve the perfection of serving the perishable items to the customers in its right state. In a broader sense, when we talk about fulfilling online grocery orders it isn't that simple as it looks to be. 
When speaking in respect to how dark stores overcome challenges of grocery eCommerce fulfilment, it comes to the rescue with its contribution of space, time and visibility for pickers and stock managers. Dark stores assist in managing order fulfilment along with maintaining the ideal freshness levels for the respective perishable items in the order.
Overcoming Fulfilment Window Challenge
Especially pertaining to eCommerce orders, shoppers don't expect or find it desirable to wait more days to receive their purchased items. In most cases, delivery is expected on the very same day or the consecutive day at the most.
This considerably brings in a delivery speed challenge and makes things competitive. If there is a bulk of orders, things can get even more difficult for fulfilment. Here, dark stores can address in a much more better way due to an advanced and systematic of receiving and picking of items.
What are the Benefits of Dark Stores?
From having an advanced model to being characterized as highly beneficial, dark stores truly stand out to be exceptional. It does not just address critical challenges that are typical to grocery eCommerce but also shows positive prospects for the end consumers and the online stores. 
Here are a few of the legit benefits brought upon in the grocery eCommerce industry by dark stores:
Serves Large Areas
Dark stores have the potential of serving in several locations with high order capacities and thus it beats grocery retail stores undeniably that comes with volume and space limitations.
Greater Product Availability
One of the best features of dark stores is that it dedicates itself completely to online order fulfillment. Due to this, what becomes very beneficial is its ability to provide enhanced visibility into stock availability. This further helps e-tailers to strategize smartly and execute accordingly. 
Reduction in Operational Costs
To witness a visible reduction in operational costs, one must have associative benefits. The reason why dark stores are considered as a wise choice from an economical point of view is because of its offerings in time optimization, the efficiency of supply chain and real-time visibility.
Enhancement of Customer Service
When it comes to fulfilling online orders one of the most elementary things to keep in mind is customer satisfaction. Unless you prove your worth to consumers, the entire structure of your business crumbles. Dark stores are equipped with better facilities and management systems which makes it so effective for eCommerce fulfilments. Be it picking accuracy, 24*7 order fulfillment, or maintaining quality promises, dark stores can be immensely beneficial. 
The Future
As per economy experts, it is predicted that there shall be more influx of dark stores in the future. Also additionally, it would empower retailers with the capability to establish new operations in various regions. They can dominate newer markets without being restricted to the challenges of having limited to physical operations.
Thus, the revolutionizing of grocery eCommerce via dark stores is quite evident and strongly commands future excellence as well.