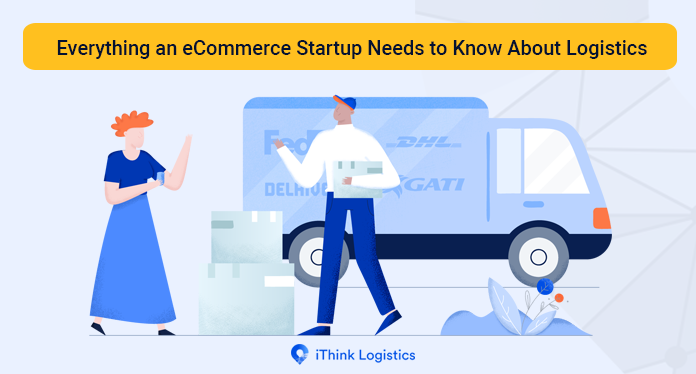 A startup has its own set of thrills as well as challenges. When you are new to the market, you have lower experience and it would take time for people to trust you and like you. One of the major things that you need to handle when you open an eCommerce startup is logistics.
Most of the time, business owners do not plan their logistics strategy, which can get in their way to generate profit. Logistics can be costly and it is better if you plan it. It is important that you pack and ship orders according to rules and take care of the entire process. This would also help you build a reputation in the market.
There are various things that you want to do to make it work better for you. But for this, you need to put in some direct action. As eCommerce is growing, you have to make sure that every aspect of your business is perfect, logistics being one of them.
Tips to help you deal with everyday logistics operations for e-commerce
Size and weight of the parcel matter
The first thing that you need to understand is that fulfillment costs are not stable. The prices of boxes can go up or down. A few things in the world of eCommerce are quite tricky and you will understand that with time. Also, the shipping costs will fluctuate with the weight and size of the product you are sending.
Some of the leading courier companies use dimensional weight calculations or DIM weight to determine the expenses. If you own a new eCommerce business, then you should look for DIM weight calculators to better understand the shipping costs. Just make sure that the calculator uses more recent data and rates.
One of the good news is that now you can easily adopt eCommerce platforms and website tools, which will provide some calculators and will even suggest to you the carriers for fast delivery. How great is that?
Track Your Volume
Businesses love customers who are loyal and make a lot of orders. Carrier loves them too. If you track volume and ship high volumes, then carrier companies would offer to make deals with you. This is common for most businesses! They want you to repeat business with them and want you to be loyal to them.
If your business is doing well, then reach out to carriers and ask them to consider your rates. Make volume-based rate reduction contracts and this way, you can see your margin expand. You should communicate with the carrier account managers to understand the volume you need to ship, how much will you save if you go ahead with this, et al. Since you are a newbie, you should think of outsourcing eCommerce fulfillment and saving some bucks. But it doesn't mean that you must reach that level if you work with a 3PL fulfillment company.
However, make sure you understand how to go about, how to reach the level, how to save, etc. They would also guide you through the process. You might want to take a look at the additional insurance coverage as well.
It's Not Delivery – It's about the Returns
ECommerce can be tricky. It can take a toll on you and you have to be patient. Customers have various kinds of demands and often, they are not satisfied with the products. Thus, there are return policies.
You will manage to ship the products to your customers on time. But what can be a little difficult is managing the returns. While maintaining inventory and tracking orders might seem to be easy, managing returns are not that easy. If one customer returns a product, then it is okay.
But as more and more customers return, it can be quite stressful! While you are trying to get products shipped from the warehouse, have you thought of how you8 will manage the reverse? Also, do you have shelf space for keeping the returns? Who is responsible for taking the steps? How to manage them? There could be multiple questions in your mind right now! You have to be specific, strategize, and make sure you are taking care of the inventory well. You have to make sure that the products you sell meet certain criteria.
Getting retunes can actually save your business on additional costs. This will enhance the customer's experience as well. Make returns easy for your clients and they would also be impressed with the same. This would ensure that they continue buying from you. You should have clear communication and be transparent with your customers. Have a clear idea about how eCommerce and logistics work and you are good to go.
Big data and smart analytics
Big data can change the whole logistics scenario. Big data can allow you to understand demand patterns and trends. It also optimized product transit by making real-time data analytics possible.
Automation
Automation is also important when it comes to logistics for e-commerce. It can help in notifying consumers when there is any kind of delay in the supply chain. Robotic warehouses can place orders in an automatic way when inventory reduces, which in turn prevents lost sales. It ensures better efficiency and long-term ROI for firms with good volume.
Decentralized warehousing
This is a recent trend which the world of eCommerce has taken up. They are suing smaller facilities to ensure that the product moves closer to the consumer. They are not using distribution centers that are far away from the main delivery area. The smaller ones are better as they deliver fast and respond promptly to consumers. These facilities are mini-warehouses or specific fulfillment centers.
Know Your Costs and Charges
Different e-commerce sites charge different prices! The reason could be eCommerce logistics. The results can vary a lot due to the same. Some of the companies will bake the shipping expenses and logistics activities into all goods' pricing so that clients only have to take care of a shipping charge if they want something expedited.
Other companies set flat rates for shipping the products that ensure you cover costs. The main aim is to have small orders' fees make up for bugger buys! Some use free shipping as a tool to make consumers buy more. We all know this tactic, right? This way, product costs cover all the warehouse and other costs.
Persuading your customers to buy more so that the costs are covered is a good and smart decision. You have to learn this trick to make it big. You need to dig deep and see how the overall market is operating. You have to find out ways to be the customer's first choice while staying affordable and competitive. Check what your peers do. You have to research well about the industry and even the related industries. It is also about time.
With time, you will learn new things and become a master of it. logistics for eCommerce is tricky and you have to understand hose warehousing storage space, labor, et al work for you all. Make sure that you are not running on a loss. Figuring all these out early will ensure that you deal with it in the right way as well as manage customer expectations. You should learn about an ideal eCommerce logistics model.
Logistics Is Branding
When a customer orders and if any issue arises, he or she will contact you and not the carrier company. You have to solve his or her problem. Customers rely on you from the time they choose you and place an order. You have to keep in touch with them rill the product is delivered. It doesn't who makes a mistake. What matters is that you have to deal with it and make things right.
The role of logistics in eCommerce is huge and you have to work with partners so that the orders are punctual and accurate. You have to behave like a team and take responsibility for anything that goes wrong.
Conclusion
To wrap it up, here are a few things to keep in mind.
You should have a solid strategy.
You should offer free shipping over a certain amount.
You should take advantage of big data – welcome new technology.
You should manage returns well.
You must go for decentralized warehousing.
You have to improvise from time to time.
These are a few things to know about eCommerce logistics. We hope that you enjoyed reading this blog and gained some knowledge.