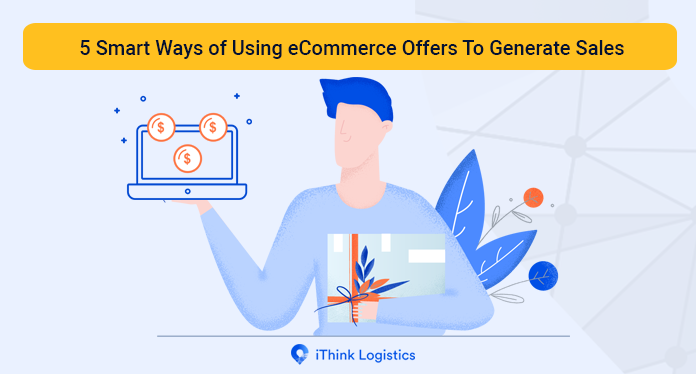 The world of eCommerce is evolving by the day and thus, it is quite difficult to thrive in the market. To make sure that you are on par with your peers, you have to put in efforts and know the trending tactics. Brands are coming up with new ways to grab the attention of prospective customers and it is extremely hard to keep pace if you don't work on it daily.
Companies are brushing up their skills everyday to succeed in the battleground. They are finding out new ways to optimize their revenue.
If you have been trying to boost your topline for quite some time now but to no avail, then you have to know how to go about it. You will go nowhere if you are not serious about it and are not willing to put in efforts.
The first thing that you need to concentrate on is a solid eCommerce promotion strategy. Here are some great strategies that would help you kick-start your eCommerce business.
Types of ecommerce promotions
Cross-sell and open-up your product inventory
When you are cross-selling, you are actually recommending products that complement the client's primary purchase despite being from another genre. Cross-selling deals are easy to close even though the products are not similar. For instance, suggesting a Bluetooth speaker to someone who has bought a camera is a smart tactic.
This is one of the most important online sales promotion ideas. Ikea is a great website for cross-selling products. You will be able to gain traction from it. There is an inspiration tab on their site where they recommend décor ideas as well as have their list of related items. It is a great platform with ample opportunities.
Run Flash Sale Campaigns
Secondly, you can run a flash sale to grab the eyeballs of customers. It is one of the best e-commerce promotion ideas. You can easily create a sense of urgency amongst your customers so that they click and buy without thinking much. Give them FOMO or fear of missing out! Moreover, they won't be able to resist due to the amazing prices.
It is a convenient way of clearing excess inventory, attracting customers, getting new customers, etc. If you run a survey, you will find that most of your competitors also agree with this. In fact, we think flash sale campaigns perform better than regular promotion campaigns. If you are willing to go ahead with the same, then make sure you list the practical tips and research well so that you can witness meaty profits.
Go Interactive
With the rising competition in the market, you cannot really afford to make your pages boring! You have to fill them with interesting content, which would keep them on the page for a long. This would also ensure a faster checkout. Investing in interactive tools on the site might also help. There are tools that provide recommendations just like a useful in-store salesperson. This is one of the leading eCommerce sales promotion ideas.
Brands like Brickfielder have set examples by using interactive elements for their products. They explain the functional design and technical fabric that is created for golf enthusiasts. If you have noticed, then you would realize that most of these solutions come with the touch of personalization. When a customer is approached with a customized solution, he or she has the tendency to avail of the product. They love it when you say that it is tailor-made for them. These are some of the tactics you have to master for gaining traction from these platforms. 
Offer free shipping, easy returns, and exchanges
As we all know, customers also trust brands that have easy and convenient return and exchange policies. If they are unsatisfied with particular products, they should be given the option to return or exchange it. You should also provide free shipping so that they get a feeling of savings. There are so many sites that won't do this deal if they don't provide free shipping. 
So ensure that you have free returns, exchanges, etc. However, you have to keep in mind that you have to provide these facilities at a cost. But a few smart tactics will save you from bearing additional expenses. Give free shipping to just members that most sites do. This means that they have to pay a certain amount for availing of the membership. Provide free shipping only if the individual order's products worth a specific amount. This will purse the customers to buy more. 
You should also include the shipping cost in the product cost. This is yet another star6egy to witness better profits. You can also decrease the shipping expenses by selecting the right packaging carton. Offer this on products where the shipping expense is low!
Collaborate with famous influencers
If you own a website or have done the basic research regarding the same, then you must know that the world of eCommerce world is running on collaborations. And it is totally worth it. This is one of the most effective promotion ideas. 
These Insta-famous influencers have a wide reach of audience and thus, if you want to make it big and create a buzz about your products, then you need to reach out to them. Promote your products in a glamorous way, which sells and appeals to the audience. The return on investment will shock you! It is a great way of eCommerce promotion.
For instance, if you are selling beauty products, reach out to a fashion influencer or beauty blogger (micro-influencer) who have niche expertise, and are known for their in-depth knowledge in the industry. However, make sure that the influencer you are choosing fits your brand and its idea. While some brands ask influencers to host giveaways, write long promotional posts, make videos, do LIVE sessions with the audience, etc. on Instagram, others do the same on YouTube or Facebook.
Personalized Targeting
You have to put in some time so that you can hit the bull's eye by offering things and offers that are made according to their personalities. Do not bore people or just get blacklisted by suggesting items they have no interest in. this will not work for you! Shower them with content, ads, promos, etc. that are of their interest.
So you have to work on segregating your leads and send them offers that match their personality, region, past purchases, preferences, income group, etc. Stuff their on-site behavior to target in a personalized way. For instance, a new lead signed up for a discount code – you send them a reminder email or you can even show them social media ads to encourage them to return and complete their transaction.
This way, you will be able to convert your leads very easily. Do not stop motivating them from making the purchases.
So these are the primary ways to target an audience and make the most of the eCommerce promotion strategy.
Here are some more examples of online strategies.

Reward loyal customers
Customers are more loyal to sales promotions when compared to brands. This doesn't mean that you would stop worrying about your current customer base. This doesn't mean the same. But yes, you have to understand that it is more cost-effective than getting a new one. It is much easier as well. So, you must put in efforts to retain them. Provide offers that are exclusively meant for them. You can also do more than just free shipping. You need to research so that you can come up with fresh ideas for certain existing customers. This is how you increase sales on an ecommerce website.
This should be a part of your eCommerce sales strategy. You can send them freebies to complement their previous purchases. You can also take the game to another level by providing and an additional discount on their purchases. There are so many ways to impress and retain them. Always remember that the market is highly competitive.
Allowing early access to new products or during sales is again an added advantage which you can give. Create the buzz and make sure that you impress them really well so that they refer you to other people in their respective circles. Your loyal customers are an asset. Don't let them go!
Get as many reviews as possible
Getting customer testimonials on your site is extremely important! Go the organic way and ask your customers to leave a review. This is one of the main things that new customers will check while availing of your products for the first time. This affects their purchasing decisions to a huge extent. Per a survey by Podium, it was found that 93% of customers say that online reviews and rating affect their purchasing decisions. Notably, 82% of customers read reviews before purchasing something and around 2/3rd of consumers say that they are eager to pay up to 15% more if they are assured. Get testimonials from loyal customers so that new ones can rely on your products without thinking twice. It is great social proof.
You can ask them to review the purchased product by sending them an email. You can also send them emails where they can review the item without going to the website. You can reward them with points or mystery coupons if they do the same. All these tips would help you with your ecommerce discount strategy. You should also ask them to write reviews of your products on other platforms other than your website. You can also ask your consumers to fill surveys which will also help you with information about their choices.
You can post the same on your blog or social media handles. You can also ask them to fill your Google Review forms to rank higher in local search.
Conclusion
Now that you know it all, we hope that you will be able to form a solid strategy. You should respect your customer's time, reward them with special rebates and discounts every now and then, give incentives, provide "buy more and save more" offers, etc. for online promotion.
You have to make sure that you are above your peers and the only way to do that is smart planning. You should leverage referral programs. Also, such contests are a great way to spread the word about your company. The sky is the limit – introduce hashtags, make the most of your social media, etc.
To boost your brand, even more, expand your reach by collaborating with other organizations. Lastly, leave no stone unturned.