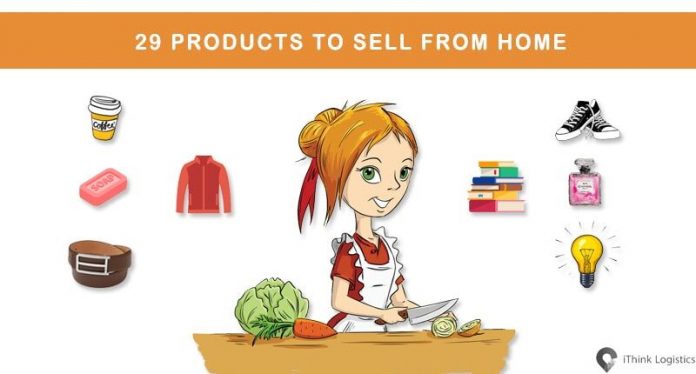 The world of digital has revolutionized the entire concept of marketing. From selling to buying, the world of marketing stands alone on strong pillars of the web world. Not just big enterprises but including the small and the medium businesses too are all submitting their business on the digital platform to reach out to their prospective customers.
Speaking from a global perspective, the rise of digital selling and buying is estimated to grow into multifold in the coming future. Quite relevantly under this context comes the tropic of doing businesses from home. Selling products from home in 2019 has become pretty much advanced with countless business owners and entrepreneurs launching and selling their products and services online.
Today the numbers and data are enough to make this statement a justified argument. The concepts of traditional buying and selling with brick and mortar outlets nonetheless still exist prospectively. However, in the race with the digital world these traditional marketing lags much behind. Looking at the future through digital lenses, this race gets even more intense.
Speaking in terms of mere competition levels, digital selling and buying have huge growth and revenue estimation when compared to the traditional ones that are apprehended to get almost obsolete or negligible. The factor of advanced logistics makes online selling and buying even more prospective. The constraints of sending online products and services to prospective customers on a wide scale are no more to become hindrances for business owners and entrepreneurs.
The easy and smooth flow of shipping products or services adds as a bonus factor to the marketing concept o the web platform. If you search the best logistics services online you will have plenty of good options with positive reviews from worldwide customers and clients. With such a supportive factor of logistics, selling products or services online becomes an easy and profitable option. As the kernel point of this discussion is selling products online from home, let's cast the focus on the concept.
How Selling Products Online from Home Is Beneficial?
As one of the most popular forms of business today, the concept of eCommerce is a thriving option worldwide. With the multiple ways and offers to help you earn in good amounts at a single click of a mouse, it also compliments your business owner's potentials. Today, home-based online businesses have become a popular choice and are comparatively much easier than setting up a store in traditional modes.
Flexible hours, easy streamlining of marketing, low capital, no new business setting up hassles, are all few of the most notable benefits of doing online business from home. Home-based online business is most suitable for students, retired professionals, homemakers, and aged people. Encouraging statistics have proven over time that people from the above-mentioned categories have gained good ROIs by starting their to sell their products from home.

Here is an extensive list of products that you can opt for selling from home:
Fashion Items
As one of the most popular and in-demand products to be found on the internet and caters to a mass scale range of audiences, including both males and females, fashion items are a great choice for selling online. Not just it includes a wide variety of products that can be sold, but also fashion items are never prone to market fluctuations or change of audiences' preferences. What is even more exciting about selling fashion products online that it ranks among the top-selling products on the online portal officially.
Baby Products
Right after the fashion items, selling baby products is similarly high and encouraging from an eCommerce perspective. Running parallel to the same kind of audiences' demands as fashion items, baby products will always have a substantial amount of search online. Baby bathing essentials, grooming accessories, beauty accessories, food products, and day-to-day care items are all great options to sell online. Prospective online business owners stand out eminently in selling baby products from their homes and have earned encouraging ROIs for the same.
Sweaters and knitting products
If you were thinking of starting an online clothing store from home, it would be a great idea to go for sweaters and knitting products. In recent times online businesses need a newer regiment to have great success. Every day new online business and shopping websites are opening up and most of the websites are doing pretty well when it comes to clothing. There are many sweaters and knitting products like cardigans, scarfs, woolens bags, even handmade woolen home decors, and many more, can be sold online with a huge profit on the business part.
Candles
Handmade scented candles or pattern candles are very popular now and it can sell off well online from the comfort of your home. These candles are easy to make and you can get creative when it comes to decorating the candles. There are also handmade gel candles that could be handy too. These kinds of candles are up for sale all around the year. Scented candles are quite famous when it comes to the ultimate profit sell. The ecstasy of these candles sells itself. Other than this special category, you can also make a great profit by selling normal wax candles too. Festive seasons proves to be the best for this business.
Books
Books are an amazing option when it comes to selling them online. Thousands of people still hover over storybooks. Therefore, if you are a writer then you can sell your words through online medium. Moreover, if you are not a writer you can make this work by selling your old books at a minimal price. In this way, you can set up an online business that will never fail you. You can easily expand your business with books with a proper online hub. There are thousands of websites like BookFinder, eCampus, TextBook Rush, where you can sell books.
Footwears
You can never go wrong with shoes when it comes to selling them online. You will always have enough demand all over the globe for shoes. If you want to set up an online business from home for shoes, you don't need to have a second guess. All you need for your shoe business to work is innovative and cool creative ideas that are not very similar to the existing styles. You can sell all types of shoes online like Heels, men's casuals and formals, women casuals and formals, party wears, and many more. Personalizing your online store with a cool and creative logo can be great too.
Coffee Mugs
Coffee mugs are always popular as a gift and even you can get very creative when it comes to designing one. The internet can get never enough of these cute coffee mugs. When it comes to coffee mugs, we never have enough. So if you at designing or clay art or glass painting, you customize your mug. Coffee mug business can be a big hit during the winter seasons and festive seasons like Christmas and thanksgivings. There are a few types of coffee mugs that sell well that are: Far side mugs, Orgy mugs, Disney mugs, Odagiri mugs, graffiti mugs.
Bedding items
Thousands of people go online when it comes to bedding items like pillowcases, bedsheets, cushions, mattresses, etc. Selling bedding items online from home can be profitable because it is convenient to choose from different styles and the demand for such items never ends. You can sell creative handmade pillowcases, customized cushions, and many more if you are good at knitting and handmade stuff. In this business line, it is more important that you market well rather than just sell. Lastly, it is also important to know what are the different available materials that can make you bedding items more comfortable, so that they comply well with the customer's needs.
Scarves
Scarves never go out of fashion, it never will, and the same goes for its business. If you are good at knitting beautiful woolen scarves then you can set up your own online business from your home to sell some. Scarves are pretty and it makes quite a decent gift for Christmas eves. Handmade scarves will sell well.
Soaps
Soaps can be a good business item especially when you are willing to set up aa home-based online business. There are many kinds of soaps that can be sold online like scented soaps, gel soaps, and the best ones that are selling like hotcakes now are the bath bombs. If you can sell bath bombs online, your business will be a total hit and you will have much profit. Bath bombs are easy to make. All it needs is little time and effort and some creativity if that is your specialty. Bath bombs are very popular in recent times and even celebrities are very fond of it. Moreover, if you are doing a business related to soaps the demand for supplies will never end, the reason being obvious.
Belts and ties
These items fall under the "must-have" categories for both males and females. Whether it is for office use or casual parties, you always need a belt. These are very common accessories and it will always have demand. Even the homemade belts and ties are also in trend now. Therefore, if you set up a home-based business of these items, it is bound to succeed if you market them well.
Homemade perfumes
Who doesn't like perfumes? Perfumes are never enough. Perfumes sell widely in every part of the world. Perfumes add to the aesthetic essence. Opting to start a perfume business online from home is indeed a great option. There are many categories of perfume. Handmade perfumes are also in great demands and if your brand gains some popularity then you can sell perfumes at huge profits too.
Phone cases
This is a huge business item that sells like anything. Everybody needs a phone case and there are thousands of DIY ideas to make a phone case. You can be creative when it comes to making phone cases. This business can get huge if it is marketed well. The reason is simple, as the demands for phones increase so will the demand for phone cases. And in this digitalized world, the demand for phone cases will only grow. Therefore, if you are good at DIY, you can start your own business of selling handmade phone cases.
Headbands
Headbands are one of those accessories that will never go out of style neither out of demand. It is quite popular among young girls as most of them wear it to school or anywhere else. There are categories of headbands that you can sell online. They are formal headbands that children wear to school, party headbands, Disney headbands, makeup headbands, etc. Therefore, the demand for headbands will remain constant, but the success of your business depends on the way your strategies your marketing fundamentals.
Handmade Socks
Customization is real tea when it comes to any sort of clothing. If you can customize clothing with any aspect that is been trending, you are bound to sell. Customizing socks can work wonders. The demand for socks is never-ending. Therefore, if you can come up with really cool ideas like customizing a sock according to a trending series, or a Disney character, it would be great and will be a hit.
Greeting cards
Greeting cards are the best old school stuff that is still in trend. It is very sweet to give greeting cards to someone special. Thousands of people still want greeting cards. Greeting cards are always in fashion and can be used for any occasion. Whether you need to congratulate a person on his/her success or even wish or even need to apologize to someone, you can always do it with a greeting card. Moreover, customized greeting cards are very special and will always have customers to buy them.
Beach Blankets
This item is perfect for all those beach lovers and those who love to stay outdoors or go on vacation. You can always sell beach blankets and make huge profits, this item has always been in demand for decades now and it will stay in demand for decades to come. You can become funky and creative when it comes to designing beach blankets. Selling it online from your home-based business will engage quite an audience.
Lights and bulbs
Lights and bulbs are the most essential items whether it is for an occasion or even normally. You can customize your lights and bulbs or even can contact your local seller and source them online. This is a kind of business where the demand for supplies never ends and make a huge profit from it. People will always need lights and bulbs, no matter what. So, if you thinking of setting up an online business of lights and bulbs from home, you should just go for it without any second thoughts.
Spices and edible items
If you are an India, you will know the value of spices. The demand for spices is huge in India. So, if you are thinking of setting up a business in this regiment, then it will be a definite hit, of you market it well keeping all the guidelines in mind.
Handmade toys
Handmade toys are the cutest thing ever. It has been one of the oldest traditions in India. Online businesses associated with such items are very less. Therefore, if you set up a home-based online business with handmade toys, your business can be a hit.
Pet care products
People can never buy enough of their pet care products. Many people have pets and they look for an online platform to buy all the pet care products. It is not very convenient for many people to the run-up to the store because of their tight schedules. Therefore, if you are planning to set up an online regiment for such, then you are up the ante.
Fitness trackers
In these times, where everyone is obsessed with fitness or at least trying to get in shape, business related to fitness trackers can be a real bestseller. There are thousands of unhealthy people that are trying hard to get in shape and they look for fitness trackers online. There are many categories of products that involve fitness tracking like watches, bands, belts, etc. they are quite in demand, so selling them will be quite easier too.
Watches
Watches can never go out of styles. There is a huge demand when it comes to watches. If you are thinking of selling watches, then stop second-guessing and go for it. You just need to make sure that you have enough variety and stock.
Enamel pins
Enamel pins give that aesthetic look to your outfits. Now because of these high fashion trends, enamel pins are not only for formal attires but also can be used in casual wear too. So, it will be quite profitable if you sell enamel pins online.
Electronic Products
With the over-crowding demand for electronic gadgets and products, in such a brimming generation of digital dominance, selling electronic products from home in 2019 has become more than easy. From mobile accessories to beauty electronic appliances, anything and everything can be counted for selling it from home. One of the most favorable factors selling electronic items is that at every single stroke you gain the potential and scope of reaching out to more than millions of customer base. For business owners who have a healthy capital at their starting ventures, can opt for advanced digital electronic items like Bluetooth enabled devices, digital cameras, and laptops and such as.
Mobile Phones
The age is of digital super-dominance and smartphones has undoubtedly become an integral part of our lives. The demand in the market is so high that the targeted audiences' age range starts from as early as 14+ and goes up to 60+. When it comes to buying smartphones, the recent trend shows a high ranking towards people being inclined to buying them online rather than walking into physical-digital stores. With home-based business selling mobile phones, you can reach to the masses and can incur great profits within a very short time. The escalating demands and digital dependency in modern lives have made selling smartphones an imperative business immune from any impending market fluctuations.
Bags
As one of the most highly saleable products under the category of fashion accessories, bags have been always customers" favorites. Not just for utility purposes, but bags have now made it to a point where it is being purchased to use it as a style statement. Irrespective of gender divisions of males and females, bags can be catered to a wide range of people with encouraging demands to sell it off to them. Recent stats show that people selling bags from their home-based businesses have also implemented innovative ideas of designing and customizing the bags and selling them to their targeted customers.
Jewelry
Jewelry is no wonder being referred to as women's best friends and as a fashion accessory, it is no further limited to the female category but also extends to the male customer base as well. The trend of making and selling junk jewelry has been proved tremendously successful for countless home-based business owners. Be it costume jewelry, light wear jewelry, plush jewelry, ethnic jewelry, the demands for the above-mentioned categories are not just high and encouraging, but also existent throughout the year.
One of the most prospective parts of selling jewelry online from home is that business owners get a pretty much revenue hike around festive and wedding sprees. From Facebook live to sell it from their respective websites, selling jewelry online is one of the coolest trends in recent times and can be opted as a great choice for making easy profits from home.
Art Items
If you belong from an artistic background and have creative instincts incubating within you, selling art items online can be your next chance to earning nice profits from the comfort of your home! Art items like paintings collages, posters, customized artifacts, prized possessions, postcards, are all subjected to good demands in the market and people are seen to be purchasing them quite often. Not just you get to connect and reach out to art aficionados for selling your products but also you tap the set of audiences who are frequent art buyers to decorate their homes. At the same time, from home-based selling of art items, you earn back recognition for your creative work and also gain profits by labeling them with a price at which they are subjected to sell.
The Final Words
Thus, selling products online from home is not just the trend of the hour but also serves as a great way of earning money for countless people who face the constraint of doing a 9-5 job or starting a heavy capital business. Now that you have gained a transparent idea on the hottest products that are profitable for selling it form online, the next thing you should keep in mind is to know about the best logistics online. Once you are sorted on the shipping factors, your business gets even more streamlined. So, don't wait anymore to start something good and profitable, go ahead with selling products online today!