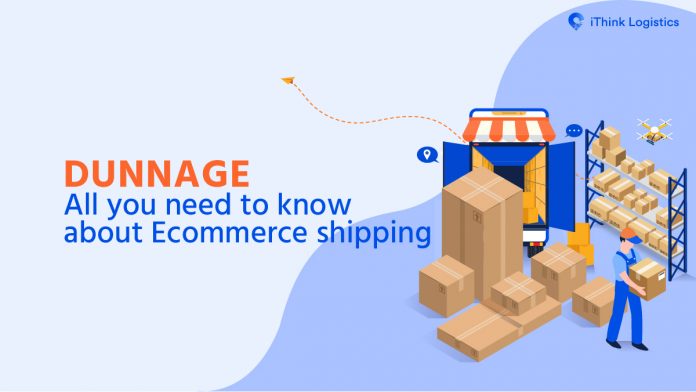 One of the most significant aspects of Ecommerce shipping is the packaging. It is the first step in ensuring that your customer's stuff arrives securely at their door.
However, as simple as it may appear, packing is a scientific process in and of itself. A lot goes into keeping the parcel safe, from dunnage in eCommerce packing to selecting the primary and tertiary components. That is why, as an online vendor, you must be aware of it.
Many vendors frequently make the error of not properly wrapping their merchandise. As a result, the product is delivered to the consumer in a terrible state. Fragile goods are broken, and beauty products begin to leak from their original packaging. Most importantly, you may be delivering an expensive product that is damaged.
It's normal to wonder what dunnage in eCommerce packaging is and why it's necessary at this point. Don't worry, we'll answer all of your questions right here! Continue reading to learn everything you need to know about eCommerce shipping, eCommerce packaging, and dunnage.
Before reading this blog let's have a look at the Importance Of Packaging And Labeling In eCommerce Marketing

What is dunnage
Dunnage is the cushioning material that you add to your packaging to ensure optimal safety. It is long-lasting and usually constructed of a material that protects and cushions the object.
In cargo ships, the term "dunnage" is more commonly used. They use flooring dunnage to protect the products being shipped over great distances. Dunnage in eCommerce packaging might take the form of plastic films, jute wraps, wood, air pockets, and so on.
Of course, dunnage performs best when it is accompanied by the right box or poly bag. Shippers should neither stuff a little item into a huge box with dunnage, nor should they stuff a fragile item into a bubble mailer and call it a day. Dunnage is commonly used as filler between the product and the packaging material. A package is only successfully packed if it contains the appropriate packaging material as well as adequate dunnage.

Different types of Dunnage
There are numerous types of dunnage materials on the market. Depending on the products you sell, you can use a lightweight material like bubble wrap to cover smaller items, whereas steel can be used to protect pricey and hefty objects. The following are examples of common dunnage materials used for delivering packages:

Plastics

Plastics are commonly utilized in high-value shipping materials such as fragile things or pricey products that require secure transportation and packing. They are often utilized to add secondary packing to the goods in order to keep them safe while in transit.

Bubble Wrap

Bubble wrap is a popular method of shipping glass and other fragile items. It can be reused indefinitely as long as the bubbles do not pop. Bubble wrap is one of the most common types of dunnage and is ideal for preserving fragile objects.
One of the fantastic things about bubble wrap is that you can reuse it as long as the bubbles are in good shape, making it environmentally friendly.

Wood

Wood is used to make minor barriers between items. If you're shipping things that require more than one key element of assembly, you can use wood to keep them apart. This strengthens the entire product and keeps it from toppling or shifting inside the box.
Foam Nuts

Dunnage materials are frequently made of foam nuts. They are placed in courier bags to increase their capacity. Electronics, sensitive equipment, shop components, and other items are typically packed with foam nuts.

Cardboard Paper

When heavy materials are involved, cardboard or corrugated paper is used. It can carry a significant amount of weight while also protecting against dampness. Due to the fact that cardboard is comprised of paper, it may also be utilized as a sustainable packaging solution for your products.
Craft Paper

Craft paper is one of the most cost-effective and environmentally beneficial solutions for your company. It is often crinkled and then placed in-between the spaces of your package to guard against shock and to provide effective dunnage.

Air Pillows

Air pillows are nothing more than little plastic bags filled with air. They are extensively used for shipping tiny objects and give a cushioning effect on the cargo. They are also widely utilized when there is a requirement to fill space within a box.
Thermocol

Thermocol is not often used dunnage because it is only ideal for shipping large objects such as televisions, refrigerators, and so on. It is typically used in conjunction with foam sheets to offer additional cushioning between the package and the product.

Steel

Steel is one of the most expensive types of dunnage, and it is often utilized for high-value cargo. Steel is a good dunnage option if your products are hefty since it can keep larger products from injuring lighter products.
Corrugated paper

Another typical dunnage material is corrugated paper. Its high-tech structure ensures that the material can withstand a wide range of weights, protects against moisture, and offers environmentally friendly packaging alternatives.

On-Demand Dunnage

Another popular type of dunnage in e-commerce packaging is custom-made dunnage. When shippers have particular requirements, custom dunnage solutions are required. As a result, you can have these personalized. This is a worry when the material is fragile and has specific dimensions. As a result, you can find dunnage providers who can supply you with the type of dunnage required for eCommerce packing.
Why is dunnage important in eCommerce packaging and shipping
While some may perceive dunnage to be a waste of weight, space, and money, it is an essential part of any eCommerce packing. Dunnage has a plethora of advantages.
Your items may be subjected to harsh environmental conditions while in sorting facilities, trucks, ships, and other vehicles throughout transit. Dunnage is beneficial because it keeps goods from moving and absorbs impact. The following are the three primary advantages of using dunnage:

Absorption of Moisture
Moisture absorption is the primary function of dunnage in eCommerce packaging. If your product is readily harmed by moisture, you must include some material to absorb or block the moisture. We are a hygroscopic material that absorbs water quickly and might cause harm if not packaged properly.
The fundamental and most crucial rule of eCommerce dunnage is moisture absorption. If your product is susceptible to moisture damage, you must cushion it with a material that blocks or absorbs moisture. A hygroscopic material is one that absorbs moisture easily.

Shock Resistance
One of the most common worries when transporting products by road is the shocks the product experiences along the way. This is why, when shipping a fragile object, it is critical to include dunnage in the shipment to preserve it and ensure it arrives safely at its destination.
When transporting products by road, the biggest issue is the son blasts and shocks that the product encounters while en route. As a result, if you are shipping a fragile item, even tiny shocks can easily harm it. Dunnage must tolerate such shocks while transporting the product to its final destination.

Tamper-proof Packaging

Dunnage facilitates the protection of the box from harm while also reducing the tension on the packaging. As a result, when the customer receives the finished product, it is properly packed and there is no tampering with the packaging material.
Dunnage balances external and internal forces and absorbs large shocks to protect both the packaging and the product.

Theft protection

Anti-tamper dunnage makes it harder for thieves to open packages and take merchandise fast, effectively discouraging them.
Air-Circulation

When packing certain materials, enough air circulation is required. Otherwise, when opened, they may emit a bad stench. Some textile materials, for example, require adequate air circulation within the box to keep their fresh smell. Dunnage allows you to pack the shipment loosely while keeping it safe and allowing for air movement.
You may quickly pack the package with both safety and air circulation with the help of dunnage.
Packing materials are used by shippers to segregate products in closed compartments such as refrigerated holds and guarantee that cold air circulates freely to reach every hold area.
When shipping items, shippers utilize dunnage to guarantee proper air circulation in large closed compartments such as washing machines or refrigerator holds. It also aids in keeping the packages separate.

Weight Distribution
When the packaging boxes are larger than the product, you may need to add stuffing to the package to evenly distribute the weight; otherwise, the product would continue to topple while being delivered. Dunnage also enables you to segregate and disperse package contents to guarantee an even weight burden, which makes packages stronger and easier to handle.

Inexpensive
Dunnage in eCommerce packing is cheap but can be quite effective in securing fragile and valuable objects that tend to slide around in the shipment.

Heavy Items Can Be Handled With Ease
Items that are heavy, such as a couch or beanbag, can be difficult to travel. Shippers utilize hardwood dunnage to distribute their weight evenly, making them easy to handle.

Dunnage, in a brief, protects your products, protecting your revenue and reputation from the risks of damaged deliveries and product returns.

Packages experience many ups and downs while in transit. These include environmental conditions in trucks, cars, and ships, among other things.
Furthermore, courier agents may be rough with your package. This signifies that there is a good chance your product will be harmed.
Furthermore, if your delivery is left outside due to unforeseen circumstances, environmental factors such as rain or dust can cause harm to your merchandise.

When the order is delivered to your customer's door by a courier, the entire experience is ruined. It makes no difference whether it was your courier company's fault. This is due to the fact that the customer purchased the product from your brand. As a result, you are solely responsible for the experience.
Dunnage is critical for shippers and eCommerce sellers to ensure the safety of their items. It is preferable to select dunnage based on the shipped type. There are various forms of dunnage that can be used to ensure that the product reaches the customers securely.
Consider the type of goods, their weight, packing options, and shipment mode when selecting the best dunnage option. If you intend to outsource logistics to a third-party logistics business, make sure to inquire about their dunnage choices.
The proper dunnage can assist you in delivering your products safely and without damage to your clients.

Pack and ship without any worries with iThink Logistics

Dunnage is essential for large freight shippers and eCommerce stores who wrap their packaging in dunnage such as bubble wrap, crinkle paper, air cushions, and recycled paper (aka kraft paper).

Depending on the things you're delivering, the various dunnage solutions can assist you ship products so they arrive at clients undamaged. You may also avoid consumer returns with the correct dunnage because no one wants damaged goods.

We utilize the best dunnage at iThink Logistics to ensure the safe delivery of your products. We take pleasure in being the best and most dependable fulfilment provider. Our primary goal is to provide best-in-class fulfilment services to make warehousing, packing, and shipping as simple as possible for you.

Ensure that the dunnage you use is of high quality and provides adequate protection for your packages. Use the appropriate packaging material in conjunction with the best dunnage to ensure that your item arrives tamper-free at your customer's door.
We take pleasure in being the best fulfilment company for eCommerce retailers at iThink Logistics. Your inventory and orders are in excellent hands with our best-in-class technology, integrations with eCommerce platforms, fulfilment services, and fulfilment centres across the world.
To provide additional protection to products, we employ a variety of dunnage methods. In addition, we provide custom packaging and dunnage alternatives to match your needs. Please contact us if you require any other information.