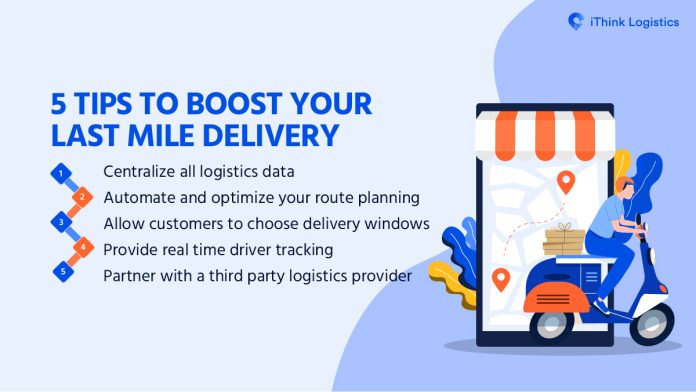 Last-mile delivery is the last stage in the supply chain, when a product is delivered from a warehouse to the customer's doorstep safely, efficiently, and cost-effectively, finishing its journey.

Last-mile logistics, last-mile distribution, and final mile delivery are the other terms used to describe this process. Last-mile delivery is typically the most expensive phase in the supply chain. Corporations generally compare various eCommerce shipping costs to give their clients speedy and sometimes even free eCommerce shipping choices.

Why is Last mile delivery important?

The last mile is the most significant step, regardless of the type of product, the journey, or the number of stops it takes on its route to your door because it is the mile where consumer expectations are met or shattered.

Nothing destroys a customer's experience like a botched shipment delivery. Last-mile delivery errors are widespread and frustratingly challenging to forecast and avoid. Worse, any last-mile delivery annoyance might elicit a visceral emotional response from the customer, leading to a negative review and a reputation for poor customer care. As a result, achieving client expectations is the primary reason why last-mile delivery is essential in scaling your organisation.

5 Tips to boost your Last mile delivery
Centralize all logistics data
If it's not organised, there's only so much you can do with data coming in from your website, aggregator sites, external carriers, and other sources.

By centralising all of this data, organisations can better understand the details of their last-mile delivery process and make adjustments as needed to improve it continuously. Centralised fulfilment solutions aim to simplify the entire e-commerce fulfilment process (from getting the placed order to finally delivering it) while also ensuring that inventory is constantly available across all channels.

This approach allows customers to have a consistent experience across all channels, including last-mile delivery. It also aids returns, often a significant hurdle for online retailers.
Automate and optimize your route planning
The most successful online merchants use a system that constantly optimises transport schedules of the new orders throughout the day. These systems collect new orders, consider the Pincode serviceability available resources, and determine if additional orders can be delivered within the requested time limit.

E-commerce enterprises can improve their operational efficiency and provide consistent, reliable service to their clients by continuously optimising transportation and home delivery service in the same system. Delivery management software can act wonders for last-mile ecommerce. 

Allow customers to choose delivery windows
Allowing consumers to choose their delivery dates is part of a delivery management software strategy that puts the customer in charge of delivery. By providing a variety of delivery time windows on your website, you provide customers with the option of selecting the most convenient time for them, ensuring that someone will be home to accept the item when it arrives.

Provide real time driver tracking
You've just discovered a potential problem in your logistics process, i.e. what's your solution if items are lost or misplaced during last-mile delivery? Before the goods leave the warehouse, set up an effective tracking system. You should be able to follow an order from placement through delivery swiftly and efficiently throughout the supply chain. This will allow you to keep track of how long it takes the package to complete its journey to the customer.

Gathering this information and comparing it to established standard operating procedures provides insight into the supply chain's performance, particularly in final mile logistics. To ensure customer satisfaction, packages must reach the consumer's doorstep quickly.

Partner with a third party logistics provider

A third-party logistics vendor, or 3PL, is a company's order fulfilment partner. The corporation will ship the product in bulk to the vendor, then store it in a warehouse that serves a specific region of clients.

iThink Logistics is one such 3PL that can help improve your final transportation and last-mile delivery. Working with iThink logistics provider has several advantages like –

Reduced the cost of shipping
Lower overhead costs
Client satisfaction
With iThink Logistics, you can utilise the inherent last-mile strengths of a 3PL's nationwide network of carriers, warehouses, and fulfilment centres by outsourcing last-mile delivery to them.

That means you can distribute various inventory volumes to different warehouses across the country and choose the best, most cost-effective delivery method for your consumer, regardless of their location.