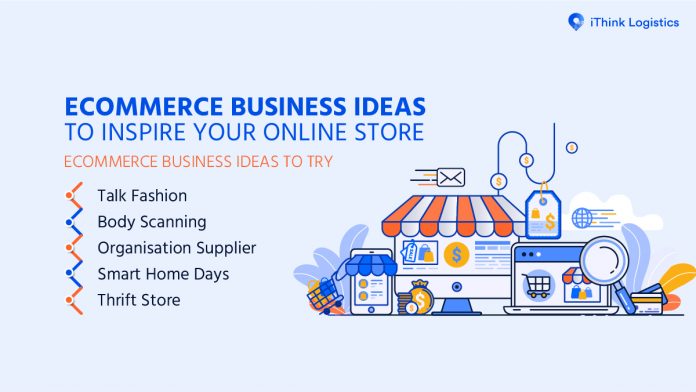 Starting a new business and its ecommerce website sounds exciting, but how to get started may leave you with doubts. In the competitive era, curating profitable online business ideas in India means a lot of brainstorming.
What are some lucrative (and fun!) ecommerce business ideas that you can try? Will some ecommerce websites be easier to create than others? Keep reading for answers to these questions, and more!

E-Commerce Business Ideas To Try
Choose one of these ecommerce store ideas, put in your entrepreneurial skills and get selling!
Let's get started:
Talk Fashion

It might sound like the most overheard idea, but what's new for you in this ecommerce website idea? Fast-moving fashion is outdated, but ecommerce business ideas like sustainable clothing are taking over the fashion industry. If you're looking for a business where you can be eco-friendly and innovative, you can opt to start with a sustainable fashion brand.
Body Scanning
Sounds weird, but hold on. In this business model, customers can scan their bodies from head to toe using their mobile to figure out a clothing piece to style. Consider partnering with companies that specialise in body scanning technology so you can create an ecommerce website that fits well for everybody and shape.
Organisation Supplier

You can start with the business idea of dropshipping, where you can pick products from the manufacturer and directly sell them to the customer. In case you're starting as a small business owner, here's how you can begin:
Custom made sticker: If you have enough resources, be creative and add personalisation to stickers.
Add creativity to necessity products: People often get bored of seeing the jars around, which is simple; add an innovative touch.
Offer an extra service: We say, take a step further and the go-ahead to offer an extra service in your organisation. Shoppers will be grateful, which will build brand loyalty.
Smart Home Days
Back in time, people were a bit reluctant to get Alexa home, but those days are gone. Technology has come with more power to help you stand out in business. Here are a few ways you can go about it:
Lighting: Colour-changing bulbs are a new thing; you can consider this by specialising in lights.
Security: Walk on the way to secure your customers. You can start with a camera and then expand for your eCommerce niche.
Music: Tune in with their everyday life by adding music.
Wellness: A new big thing, where you can reap significant profits.
Thrift Store
A concept where you resell used items. Especially with fashion, thrift stores have picked up an area of great ecommerce store or website ideas. Simply create an online marketplace to sell or rent used clothes and accessories.
Health and Beauty
If you're looking for a profitable business, health and beauty could be the next idea you can route for. People are usually looking out for health through exercise, diet or mindfulness; your ecommerce website could be the next big thing.
Types of ecommerce Business


B2C (Business To Customer): refers to commerce between a business and an individual consumer.
B2B ( Business To Business): If you want to turn your talent into a full-time ecommerce business, you can start selling it to other businesses. Business to business, which also means a business selling the products/ service directly to other businesses.
Affiliate Influencer Marketing: This means selling your products to other businesses or influencers only.
Learn the magic of e-commerce or e-commerce business
Grow Your ECommerce Business With iThink Logistics
After you come up with an ecommerce business idea, now is the time to get the business rolling. And when you say that, there's one step you need to take, for our team to go ahead with all the tasks. Join hands with iThink Logistics for end-to-end logistics services like shipping, tracking, NDR, post shipping service and much more…
We're just a call away…

Apart from these, there are many options to make choices from. But the core remains the same; you need to add uniqueness for people to consider your product.
Let us know – what business idea have you chosen?