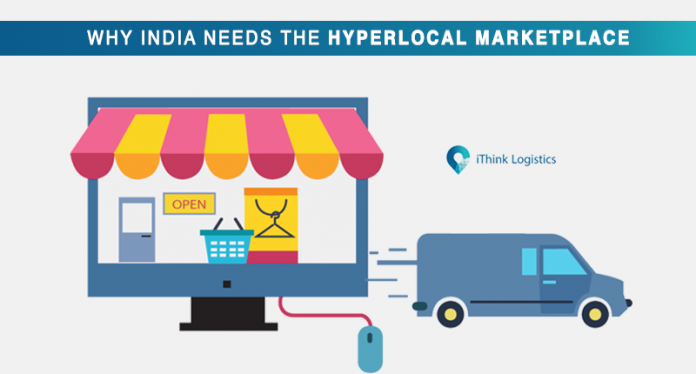 The best way to describe the hyperlocal market is that it helps in connecting the consumers with the local retailers of a certain specific area. Communities and localities have a desperate need for on-demand delivery services. These deliveries are mainly hyperlocal by nature and thus they can be catered to during immediate needs. The transaction process is also very compatible and easily accessible in these deliveries. A single transaction can be completed with just an hour in on-demand hyperlocal businesses. The other primary reason for trusting the hyperlocal on-demand delivery services than the non-hyperlocal ones is its actual physical presence. The physical attire of the stores makes it quite easier to attend to the customer's grievances.
It is a new and revolutionary way of doing business and the industry is craving for it. It is bringing new ideas and opportunities to the surface. This pandemic has changed the entire economic system. It has shaken the entire operative structures and retailers have finally changed their perception of the on-demand delivery system. In these difficult times, it is very important to grab on to any opportunity that opens up the door to any sort of growth or development. Logistics and deliveries do not mean the same thing for non-hyperlocal and hyperlocal businesses. Hyperlocal businesses don't worry about things like long-distance transportation, warehousing, or logistics fragments. The only logistics that affects the hyperlocal businesses is the last-mile delivery.
Around the locality, their businesses ride on the retailers. The reverse logistics is not that of a big deal for the hyperlocal on-demand business as they only operate within limited areas. Retailers are not adopting the on-demand delivery system, they are suffering are a huge loss in their businesses. They are desperately looking for alternative ways to stabilize their business and the best option that seems so far is the option of on-demand hyperlocal deliveries.
Hyperlocal delivery is a delivery process where packages are delivered directly from the seller to the consumer. In these delivery processes, a particular courier agent picks up the specific product from the accurate seller and then delivers the package directly at the consumer's doorstep. The whole delivery process is limited to a specific geographical area and the deliveries are usually completed within a few hours. There is some product category in these deliveries. Any item that weighs more than ten to twelve KG cannot be delivered. You have to maintain a weight restriction in this type of delivery.
Moreover, in this mad technology era, there is a lot of engagement in the eCommerce business that can provide you with online access to their items. Customers expect their items to be delivered as quickly as possible. You can call it a revolution or a diversion of time but technology has taken a huge leap. Therefore, people have adopted all the latest ways of lifestyle. Now customers prefer to purchase their item online rather than visiting the traditional stores and that is why both hyperlocal and last-mile delivery process holds a lot of relevance in recent times. Even though there are few challenges in Hyperlocal delivery, but it still holds a lot of importance. Find out.
Importance of hyperlocal marketplace model in recent times
The relevance of this particular market is huge in recent times. The industry is changing gradually, it is adapting to newer ideas and approaches, and the hyperlocal delivery system is one among them. If we look at the present situation, when the entire country is under the commencement of lockdown hyperlocal delivery has a pivotal role to play. Due to this outbreak, the entire buying pattern has changed. As the eCommerce industry is facing a major halt, only essential items like medicines, grocery items, healthcare equipment, food items, pet supplies, and many as such are made available for the people. In some areas are entirely shut down and people are strictly not allowed to step out from their houses. These are the areas where eCommerce is very essential.
Some of the courier companies have recently started delivery essentials across the nation. Therefore, in this case, the courier company's delivery process should be very good and should be top-notch to ensure that the delivery agent as well as the customer is completely safe. Protective equipment like surgical masks, surgical gloves, sanitizers, and other essential safety items should be provided and made available. After keeping everything in mind, the timing should also be maintained. The delivery should be conducted within time so that the customers do not have to wait for their items.
Some people are buying essential stuff from nearby local shops. In this situation, the hyperlocal delivery can also be a game-changer. After the commencement of complete lockdown, people are not allowed to go to shops or places where there is a possibility of social gathering. Looking at the present state of the country, we are running at a high risk of getting affected by the virus. In these times, it is better to stay completely quarantined. Thus, it has become impossible for individuals to purchase essential items like grocery or food items, healthcare, and medicinal requirements, etc. Sellers can adopt the hyperlocal delivery system for delivering essential items to their customer's doorstep. As the hyperlocal delivery system, is not that popular in India, a fast track method can be adopted.
Find out how to create an on-demand hyperlocal business model.
Benefits of Hyperlocal Marketplace Market place model
Providing with efficient delivery
Any sort of personal household or any sort of other home care services
The services include salon services, beauty regiments, spa services, etc. May be these services do not fall under the absolute necessary list, but it is very crucial especially during these times when people are going through a lot. These services can provide the common masses with some sort of comfort.
Providing Healthcare services right at your home
These services include baby care, caregiving, senior care, etc. During this time, it could be both difficult and overwhelming to take care of kids as well as senior members along with all the household work at hand. People will find it crucial to hire some sort of assistance during this time. Therefore, if they can hire personnel at the comfort of their home, it will not only be helpful for them but also be very beneficial for your business. Even if you charge some extra money on the services during this time, people won't hesitate much before taking it as they can hardly manage to find some other better service during the pandemic. 
Provide significant food ordering related services
This is one of the most needed and crucial services provided by the business. People tend to order food almost daily. During this pandemic, this service is more relevant and crucial than ever, as people cannot physically go around to stores and restaurants for grabbing food.
Working efficiently towards providing grocery delivery at home
Due to the commencement of social distancing, the common masses are avoiding the crowded traditional market places. As the stocks at their home are not lasting for long, they are ordering groceries online. This is one of the primary reasons that the online grocery delivery business is seeing immense growth in their profit margins. It is the best time to take your grocery business to an online platform.
Providing services related to household maintenance
These services include carpentry, plumbing, gardening, electrician, etc. These services can be beneficial both ways. Both the customer and the provider will be benefited. The customer will get its services and the person providing it can earn some money during these difficult times. During this pandemic, people cannot reach put to local service providers if they need any sort of handyman services. Therefore, it will be a great help for the customers if they can get a hand on plumbers or electricians at their fingertips.
Conclusion
This whole pandemic situation has been very hard not only on the common masses but also on the local industry. The entire economy has been brought down. In these difficult times, it is very necessary to come up with newer systems and ideas so that the industry can amidst the Covid-19 crisis. The success in logistic business lies in fulfilling customer needs and desires. The hyperlocal business industry is facing difficulty in fulfilling customer's expectations of rapid delivery at their doorsteps. Without technology, it is difficult for logistic companies to cope up with these on-demand deliveries and that is why they need a proper business model for it. The hyperlocal market model is very much essential in India not only for the consumers but also for the industry to get stabilized. Moreover, this delivery model can be a great help for common masses. The common people are stuck at their houses. They are finding it very difficult to carry out with their day to day shopping. Thus, a retail shop that is providing hyperlocal delivery service can work wonders for the common masses.