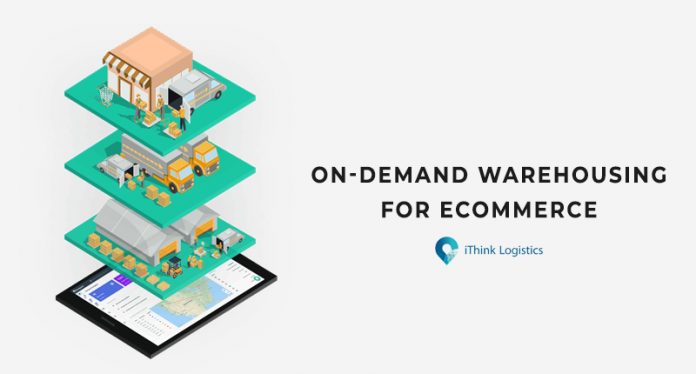 Recently there have been many reports about how on-demand warehousing has been benefiting several companies and helping them grow. This topic has been the highlight of discussion hand has been featured in many popular journals like the wall street journal, Bloomberg, and Geek wire. On-demand warehousing is a pivotal player in the game of shared economy and its impact on the logistics. However, the question is what exactly is on-demand warehousing and how it plays a significant role in the economy and how brands and retailers are approaching it for their benefit.
What do you mean by on-demand warehousing?
As the eCommerce came into force, it was clear enough that the traditional methods for fulfillment and warehouse management are not going to work and it is not going to be enough to support the rising industry. Thus, a completely new system was established for managing storage, retail distribution, and fulfillment, known as the on-demand warehousing. On-demand warehousing provides the retailers with a flexible and scalable warehousing solution. It depends upon the transactional pricing and marketplace model so that the brands and the retailers can contract and expand their connections as needed.
On-demand warehousing connects warehouse service providers who keep excess services and capacity with brands and retailers that require a flexible solution. The on-demand warehousing provides the pay-as-you-go model which helps the brands and the retailers to secure fulfillment and warehousing solutions at an ease and with no costly fee or long-term commitment.
How does it function?
On-demand warehousing allows the logistic centers and marketers to expand the network chain without thinking about the buying and building the space in the warehouse. This way they can easily get access to any warehouse space that is being given up by any company or owner in specific countries due to demand. Usually, companies tend to use the space only which is required for a specific period and do not stock up the extra space.
Om-demand warehousing also enables the marketer to expand their business over the course of time and that too at an affordable rate.
Demand for the on-demand warehousing
As the onset of the internet took a huge step, the way we shopped changed accordingly. However, the logistics that supported have not been able to catch up. The supply chain that was built was framed for the pre-internet era when products or goods sold in a traditional marketplace that was mostly centralized. The logistic network that was built was made for delivering the goods or products to the respective store shelves and not at the customer's doorsteps.
Therefore, when the Omni channel and the eCommerce retail came into force and entirely changed our ways of shopping, it not only changed the old traditional ways of product distribution to customers but also increased the demands of the brand and the retailers on a large scale. This completely shut down the old ways of product distribution as it became inefficient and outmoded with time.
On-demand warehousing can help the brands and retailers to build a logistic system that can significantly support the myriad of the new preferred ways of shopping of the customers. When it is online, pop-up stores, Omnichannel, BOPIS, or any other method that doesn't exist yet, on-demand warehousing can be a h=great help as it will help the business to adopt the new ways of satisfying their customer's needs.
Why on-demand warehousing over Traditional warehousing solution?
On-demand warehousing is a new and improved solution to all the traditional solutions that were used. Let us see what traditional options do the brands and the retailers had back in the day for warehouse management.

Traditional-warehouse solution:
You can create an in-network. You can own, operate, and outfit this facility in your suitable ways.
ou can bring out your very own facility, then outfit it in your suitable way, and then operate it accordingly.
You can bring out services and space from a specific third-party logistics provider, and make them work for a multi-year basis for a long time.
Some combination of these traditional solutions can benefit your business, but there will be some major drawback to it:
Expensive
Traditional solutions always come with a steep upfront on capital investments and very expensive setup fees. On the other hand, on-demand warehousing can be accessible at a much cheaper rate.
Limited
With the typical system of partner with specific warehouse partners, your business growth is limited as they fall quite short on capabilities compared to the on-demand warehousing systems and also because of the faraway network locations.
Slow
The changes cannot be applied in an instant to your owned network and bringing out space from the traditional sources takes a long time to commence. On the other hand, on-demand warehousing is a rapid process and not every procedure under it takes a longer time to commence.
How is the on-demand warehousing process different?
The on-demand warehousing system allows you to create dynamic distribution network strategies that are as competent as your business. Using this you can scale the capabilities and size of the fulfillment and warehouse networks to match up to various demands and unexpected situation that arises throughout the year. Instead of creating a business only along with the infrastructure that you already have, on-demand warehousing allows you to keep up with customer's rising needs and test out newer strategies. The model of variable cost negates the requirement of a fixed, short-term, or long-term contract with high premiums.
What on-demand warehousing is capable of?
On-demand warehousing allows you to support a large number of use cases. However, it has three major solutions that are eCommerce fulfillment, inventory overflow, and lastly retail distribution.
eCommerce fulfillment
The on-demand warehousing system for eCommerce fulfillment provides you the brands and the retailers the compatibility to scale the fulfillment networks or connections, as much as it is suitable to enhance the direct-to-consumer strategies. Brands and retailers can bring up fulfillment and warehousing networks to improvise their promises related to deliveries, testing new market places, and creating short-term promotions for the products.
Inventory overflow
On-demand warehousing enables brands and retailers to add extra capacity according to the requirement as quickly as possible, in case of an unexpected inventory situation or planned occasional peaks. This solution is a turning key for recurring problems related to warehouse storage.
Retail distribution
On-demand warehousing helps the brands to supply to their retail partners by offsetting inventory holding fees and by shortening transportation. This is done by storing products or goods closer to the location of the intake centers.
Logistic Parameter of India and the challenges it faced
The Indian logistic industry has been growing substantially within the years. The demand for it has been increased too. Here is an overview of the industry through the year 2016:
Parameter logistics India parameter index (LPI):
Score- 3.08 (where the rank was 54 globally)
Logistics cost (as a percentage of GDP) – 13%
Logistics cost-share for Transport- 8%
Warehousing -29%
Others — 63%
Major industries that are running the logistics sectors like pharmaceuticals, textiles, automobiles, cement industry, etc. the major problems that were faced during the setting up of the sector in India are Inadequate road and inadequate and bad transportation structures.
Storage and warehousing is the second pivotal element in the India logistic industry. As the supply chain developed and evolved, warehousing has become a major function for the economic development of the country. In recent times, the warehouse not only provides a secure place for the goods to be stored but also provides value-added services like packing, sorting, processing, blending, and transporting.
Depending upon the type of goods that is stored, warehouses can be differentiated into five major areas: retailor industry warehousing, warehousing for storage of liquids, warehousing for storing agricultural goods, warehousing for storing cold items, and warehousing fir storing the container items.

Advantages of on-demand warehousing
On-demand warehousing enables the companies to increase their profit margins by using the unused space and helps in building strong connections in the industry.
On-demand warehousing enables you to use the unused space to your benefit instead of bearing its expenses. It turns the non-used space into a revenue collecting asset.
As you will own the space, you can keep it available for your benefit as long as you want.
As a manager of a warehouse, you can form great on-demand warehousing trends in a specific city or country, which will, in turn, fetch your higher margins of profit.
Many retailers and whole sellers are gradually realizing the need for expanding their business and for that, they will require the on-demand warehousing system. This will not only help you expand your business but also fetch some newer customers for your brand.
Due to –on-demand warehousing, the brands and the retailers can locate and store their products closer to their customers. This will also enable you to compete with your rivals, and which in turn will help you create a strong and reliable Omnichannel strategy for your business operations.
This huge change with the on-demand warehousing systems being approaches and applied, the economy is being expanded and new warehousing connections or networks have been established.
Whenever you are thinking about on-demand warehousing, you must look for cities with a better utility like better port, great transportation options, and large warehouse properties. Metro cities like Mumbai, Bangalore, Delhi NCR, Chennai, Pune, Kolkata, etc. are the best countries as they have the largest hubs for shipping.
However, reaching larger cities can raise the profit volumes in terms of greater reach, but it also important to have centers in the rural and remote areas. Maybe you won't be profit well in terms of travel but then your warehouse will the center of attraction of the whole area. You can raise your profit volumes by being the only warehouse in the area.
The growth of Indian warehousing sectors and on-demand warehousing
According to the recent market reports, the top eight metro cities that are Bangalore, Ahmedabad, Chennai, Hyderabad, Delhi NCR, Pune, and Mumbai altogether contribute to at least 42 percent of India's total GDP. Therefore, they are also considered the country's major warehousing hubs. The logistics sector of India is having a gradual shift from being an unorganized sector to being an organized one. It is now evolved well and is dealing with the higher quality warehouse that is being considered to be as A and B grade warehouses. They require automation and security in the operations. All these are ornamented with load trucks, vertical racking, automated conveyors, hydrant systems, fire sprinkler, and many more.
In recent times, the substantial growth of the Indian logistics and warehousing sectors have lured the equity firms (private) and foreign investors. Furthermore, the conducive policies such as the allowance of complete 100 percent "foreign direct investments" (FDI) in the food storage and warehouses, have lured them more into the Indian industry. The on-demand warehousing system is coming to force gradually and its substantial growth is consecutively teaming up with the evolved internet technologies.
In the time, where online facilities and online mobile apps rule the economy, the cashless benefit is that trump cards that everyone is looking for hassle-free and smooth transactions.
On-demand warehousing has been playing a major role in benefiting the younger entrepreneurs and SMEs so that the business can be proceeded cost-effectively, which in turn is going to lead the growth and development of money savings and business connections. Due to the introduction of immense advancement of technology and smarter marketing techniques, India has bloomed within the years in supply chain and logistics industry.
Conclusion
As everything is now digital, everything is moving faster than anything is. This technological era has evolved and thus it is very important to stay updated when running a business through the year. On-demand warehousing is one of the most highlighted section of the eCommerce.it enables you to expand your business territory and gain more and more loyal customers on the journey. If you own a business, it is necessary to go for on-demand warehousing.