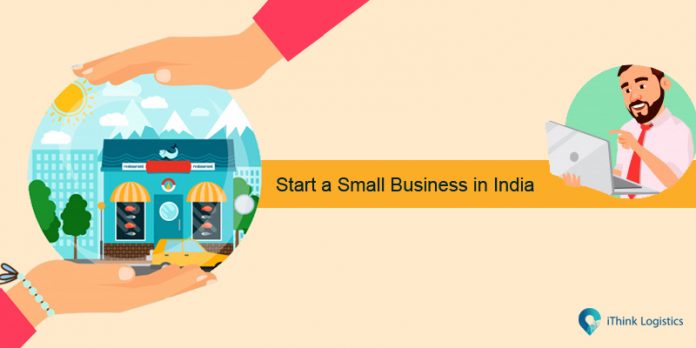 "Keep a little fire burning; however small, however, hidden." ― Cormac McCarthy, The Road
Hey there, excited to start a small business at home and become a successful entrepreneur? As well said, a little fire within us can burn millions of hurdles down to finally makes us achieve what we aim for. The top richest people in the world never started big! They were all a part of a small step that was joined and nourished by many different entities, values, and friends to become giants in today's world. These values, entities, and people add up as a catalyst to teach you, train you and help you gain more experience.

The booming market of India is a great platform to start up with your small business keeping few things in mind. As reported by NASSCOM, there is a 108% growth in funding for small businesses and startups as in 2018. The recent reports are evident in how drastically India is growing and has to lead a path of potential for small businesses. Various startup initiatives by the government of India is a well-planned step taken towards encouraging entrepreneurs and small business owners. This country offers a wide range of support for an entrepreneur to come with the most unique business idea or the potential to grow in the future. With the normal legal and regulatory protocols that need to be fulfilled before you can unroll the shutters of your new shop.

Though it's never easy for any business to expect for straight booming success in the beginning. A successful business needs to be built from years of dedication, persistence, strategic planning, preparing yourself with the necessary skills and expertise.

Cormac's words will be valued once that we go through this article until the end. It is assumed that you will surely know how to draw the roadmap to your success. So, lets dug deep into a few of the most necessary things that you must follow or keep in mind if you want to start small business at home.

How to put your steps towards entrepreneurship?
There are few basic facts that we need to learned, understood and kept strongly in your mind if you are ready with the idea of starting up your small business. For those who do not have a business background or have inherited a family business, it can be a bit difficult in the beginning. But with the right approach, dedication, research and gaining the right skills can make things go much easier.

Here is a step by step guide of things to be done to start with a small business in India.

Step 1: Deciding on the business idea
A great business starts with a great idea. Surely, you must be having an idea for your small business. The first steps that need to be sorted are this basic idea and confirming it. When you are ready with the idea for the business, try figuring out the most unique selling proposition or the unique value proposition that you are going to offer to the marketplace, that will drive your business to the next level.

When McDonald's started their journey, it was a small restaurant attracting many people with their prompt service, and easy to have food packaging. But the most unique selling proposition for them was the concept of opening more franchise across the state that boosted up their brand value for the future. This is common with every successful business.

Once that you know what business to start with, try nourishing and adding more to the idea. In India, the scope for hospitality, utility, transportation, IT, Digital Marketing and defense have great potential. It is eligible for any Indian resident to open a business and even for non-Indians, Overseas Citizens of India/ Person of Indian Origin and foreign nationals but with a partnership with someone local.

Except starting your firm in IT services, digital marketing or coaching and training institutions, you need to research more, keep an eye on the current trends, needs of your target audience and location of operation.

Step 2: Gaining experience and skills
The real need for your startup is your experience and skills that will assist you in making firm decisions.
"life is like a tango; fortunate are those who can master it." – A.J. Graces.
Yes, learning the tricks of the trade is crucial to building a roadmap for your budding business idea.
Take a couple of months; to learn, understand and master the skills, techniques, knowledge, and experience. This is could be quite as hard as Johnny English tried training to become a fine martial artist. But there's certainly nothing difficult if you have determination, persistence, and dedication.
There are several vocational training and certification courses available that can help you in gaining the right knowledge and skills to know about your trade. Learning from good institutes can even get better opportunities to work with good businesses. However, to gain additional skills and practical knowledge, it would be better of working along with established businesses. If you already have years of experience in the field, you need nothing else. But who would ming a little guidance on the latest topics and related issues to understand the current market scenario?

This process requires an ample amount of time, so nothing to hurry about. Enroll yourself into some skill gaining program and master the competencies required first. It would be a lot easier to manage and control the business once that you have enough knowledge of your trade.

Step 3: Preparing the project report
If these couple of months of your learning process was truly helpful, prepare a project report on it. When you have the depth of knowledge about the trade, it would be easier for you to understand the needs of the market and derive your unique value proposition. Once that you have that unique business concept, let's prepare a report that will be the roadmap for establishing your small business in India.

The skills and knowledge that you have gained in the previous step along with the experience will be of great help in the process. Now, sit down somewhere, grab your laptop, a fresh notebook, a pen, and a coffee. Start with making notes from what you have learned so far and some with the help of research. You should at least include the following points.

What is market demand for the product?
What are the investment/financial sources?
Which location will be best for operations?
Legal and regulations that are to be fulfilled.
Milestones for the initiative and the time frame required to achieve them.
Most important, don't forget to put in your gained skills, name, earlier designation and qualification as an owner. Draw the entire roadmap for establishing the business and note down all the requirements in a different section before the start of every milestone.

Great! Now that you are all set with your skills and know-how's, let set down for the next steps.

Step 4: Finalizing the investment and financial plan
One of the most important needs for starting with your small business startup is the financial backup that will decide the entire course of your establishment. It might not be easy if you do not have enough funding saved to start. If bootstrapping is not an option for you, try other available methods. This shouldn't be hard if you have all your documents ready for verification.

Here is the list of few ways from where you can raise the needed capital for your startup.
Acquiring Capital for the Start
Crowdfunding
A trending way of raising funds for new startups and small businesses where the owner posts details about his/her trade in a crowdfunding platform describing the goal, value proposition and plans to draw profit from the business idea. Those people in the platform will invest money in your idea based on your description.
You can event visit www.crowdfundingindia.org to know how crowdfunding in India works and get linked with renowned venture investors and funding corporations.
Private angel investors
Angel Investors are individuals who are ready to invest in your business idea in exchange for convertible debt or equity in ownership. They prove out to be a helpful and mutually beneficial part as they take the risk to invest higher, expecting a higher return from your business profit.
Getting hold of a venture capitalist
One of the most renowned ways of raising funds for your small business is through venture capitals. Venture capitals are a type of private equity funds that are given to high potential startups with projectable future growth.
Bank loans
No matter if you have tried asking for capital from the above methods. Indian banking system provides a legit and encouraging accord towards promoting the growth of new and small businesses. It is a lot easier to take business loans from banks but at a higher rate of interest.
Raising funds by winning contests
Yes, participating in contests and winning them is a great way of raising funds. The best part is that there is no payback for the sum you win. Many trade contests like Microsoft BizSparks and Hot100 Startup Award are a great platform for introducing your business idea, winning and taking away a lump sum amount to invest in your small business.
India and its economic growth have ensured a great path for the new businesses and startups helping them with financial aid to support the initial investments. However, this step is one of the most crucial ones where you need to select your investment method wisely and also the payback term. It often happens that a faulty or unplanned payback term brings roadblock during future growth.

Step 5: Deciding on the location
Okay! Now we have sorted out the basic steps for starting up with your new business. The roadmap and financial planning are a great backup that must be considered but the planning does not end here. The next step is to decide on your shop or office location. It is important to decide on the best location that will drive your customers. Buying a property will be the first big asset that your enterprise will hold.
Few basic factors that need to be kept in mind while selecting for your new office space are,
Competitors in the local market.
Availability of raw materials.
Land regulations and legit holding of the property.
Right valuation of the property.
To establish a small business it is always suggested to start with a budget-friendly small office space. Once that your business is registered with the local municipality, it becomes a lot easier to gain access to registered office spaces. Usually, many real estate organizations and local property dealers offer ready-made office spaces that are well designed for official uses with all the necessities like power, water connection, internet availability and better location with flexible transportation options.

Step 6: Making your business legal
Here we come down to our next important step for establishing your first business, i.e., to register your business and make it legal. This can be annoying, hectic and a bit confusing as you have to go through a lot of legal procedures that need to be fulfilled before you can ever apply for finally registering it.
Among the range of company registrations that are available in India, Private limited and LLC are the most common. When you are looking to establish a business that is scalable right from its inception, it is recommended to go with a private limited company listing.

In India, the incorporation and establishment of any company are governed by the Companies Act 1956. This single law empowers the central government to regulate the complete establishment process for any business, size, and niche. There are a lot of other legal procedures and guidelines that need to be well understood and stored for future operations. These laws will help in the formation of the company.

Step 7: Getting the business TAX registered
Keep all the legal protocols aside and focus differently on one major task, i.e. getting yourself and the business registered with Taxes that are levied by the state and the central government. Through after the incursion of the GST, there is not much complexity remains to be understood. The one tax structure of Goods and Service Tax will do the major job of registering your business with the income tax department of India.

Also, don't forget to get yourself a Permanent Account Number (PAN) as well as the Taxpayers Identification Number (TIN) first before everything else. Getting these documents are easy through the online portal of the Income Tax Department of India. Just download the forms, fill it up, attach the necessary documents required for verification and submit. Your PAN and TIN will be ready within 30 days of application.

Now, it's time to get your trade license done and register your business into the legal dairies. First, you can get your trade license from your local municipality or the local government website. The basic steps remain the same. Also, there are a few online platforms that can get your trade license done like a clear tax.
For GST registration, you can easily apply through the online portal of Goods and Service tax, complete the few basic steps required and get your business registered. I guess you must have agreed upon a name for your company! Undoubtedly, you have!

Step 8: Launching a website for the business
Great! Now we have sorted out on the location, done with the registration and legal requirement, and left out on some money as planned for the next milestone.
Digital is the new marketplace for modern trade and the economy.

The current market for online trading and eCommerce is growing at a radical pace in the country. The number of people preferring to shop for everything online is increasing. Even if not eCommerce, a simple presence in the online market is enough to spread your name across.

While your new office looks ravishing in the city, but we need a website to be a virtual office for your business. Follow the simple steps to gift your business with its first virtual presence.
Register a Domain name for your website. Best advice, research some more on the most trending and faster extension for the name.
Decide and agree upon a hosting provider and platform such as HostGator, Weebly, BlueHost, etc.
Now create a website from WordPress from BlueHost. You can take the help of professionals or try doing it from website builder platforms. Do ensure that your website is mobile responsive.
Next, prepare the content of your website.
Finalize the design of your website and make it live.
You are now done with building your online shop. Here you are done with the first half of the milestone.

Step 9: Building a market position
"You can't just open a website and expect people to flood in. If you want to succeed you have to create traffic."-Joel Anderson, Walmart CEO

The online market can be a great place to reach out to the maximum number of the target audience with minimal effort. But the trick is of an ace digital marketing strategy to support your branding needs. Here, your work as an individual can be restricted and the need for a professional touch is required. Invest a considerable sum of your money in hiring a social media and digital marketer with the knowledge of the latest trends and tools for marketing.

At this stage, we can plan the marketing roadmap for both digital and physical business presence. Planned social media posts, connecting with peers in the trade and learning the trends that are widely accepted are some of the tricks that can be focused on. For offline marketing, banner ads, Live demonstrations, Guerilla marketing, Telemarketing, Email marketing can be of most fruitful.

Building a brand image is a matter of time and earned value from your customers. It is important to keep in mind that every customer or client is important and needs equal attention and a better quality service/solution. This will trigger the brand value and spread through word of mouth.

Here you complete a milestone of building a portfolio for your enterprise and take the initial few steps for your business.

Step 10: Hiring of staff at low wages
How small or big the business is, it needs extra hands to improve, enhance and grow. Once you start handling a lesser number of clients and customers, in the beginning, the business grows slowly but steadily. Though most of the entrepreneurs start their small business as a one-man business, as the customer base grows, it becomes necessary to get some extra hands.

Try hiring some staff who are willing to work for low wages and are ready to be a part of your venture. It's obvious that you might not find loyal, efficient and persistent workers at the first go, but can look to connect with people over social media who have the same zeal to work for a budding business and looks forward to a long term working relationship.

Also, you can put your ads in job portals like LinkedIn, Indeed, Shine, etc. and hire fresh graduates looking for experience in the professional world.

Step 11: Focusing more on sales and customer service
Well, by now you have built every block that would be the backbone for your business. Now it's time to operate and run the business. Focus on sales. No business can grow without sales and marketing. It is the only way to earn and get your desired ROI.
With ace and expert marketing solutions, potential leads will start flowing into your business. At this point, it's your turn to convert those incoming leads into your loyal customers.
Present the unique selling proposition and the value but never forget to put yourself in your customers' shoes before you approach for sales.

But this is not where it ends. Converting your target audience into your customers is one side of the coin. The other side of the coin is the service that you provide after the sale is done. It is crucial to provide the best service to your customers to retain them and make them loyal to your brand. This will ensure that your business is on steady flow and the number of potential leads is converted letting you capitalize on your investment.

Step 12: Stay focused and publicize your business
This ends the circle of steps that we have started. In the final stage of the bidding process, your business is now set to run in its fuel of build strategies, hired employees and quality customer service.

Having a vision and a mission is an important part that will drive the small business in the future and will help you design the roadmap to make your business big. To make it to the competitive edge in the market, it is crucial to keep on advertising and publicizing your business. Publicize your small business and maintaining a constant over various social media platforms will help gain more brand recognition and attract more target audience. Traditional ways do work in terms of bringing you leads.

Above all, every business must have moral and ethical values that will guide the business in every step. It is important to focus while framing the roadmap for your business that will grow. To become a fully established businessman, starting small from ground zero, it requires an ample amount of time, dedication and a lot of other skills as mentioned in step 2.

It is never wise to take your steps in trade with limited knowledge of the current market situations.
Some of the most fruitful and potential small business ideas
In the current market scenario, it is not possible for every business to reach the mark and excel in performance. It mostly depends on the market fluctuations, customer demand, political factors and the ups and downs in the share market.

Based on the market scenarios for 2019 and the as estimated and predicted for the year 2020, the following businesses have the highest potential to gain the maximum profit.
Solar Energy Setup at your home
A small microgrid of energy can be a good option to start with while promoting the development of green energy. As emerging technology and concept to give up on non-renewable fuel sources, the renewable energy industry is steadily picking up its pace. Coming up with a small power grid running from the power of sunlight does pose high potential.
Community energy supply control
Opening a small scale energy control business can be of great success. It depends on the location of operation, this business idea is better suited in the semi-urban and rural areas.
Internet Infrastructure builder
Internet connectivity is among the basic needs of many major and uprising cities in India. Starting up a small business for maintenance, installations, and servicing of Internet infrastructure, small cells, and DAS can be a good option too. It's not too far when every city will have a mass internet connection and your proposition to the internet infrastructure and telecommunication will be valued high.
A travel agency
India is known for its booming tourism sector. Coming up with a profound, customer-focused travel agency promising the quality tour and travel guidance can be quite beneficial. Don't you think? You can cover the major tourist spots in India, to begin with, in collaboration with local government, hospitality vendors and tourism providers.
Breakfast Joint
No one wishes to miss out on their food and the first meal of the day is the most important one. Open up a breakfast joint in the busy working and corporate sectors in the city. Hungry office goers can be quite a good customer for your business. Also, shared mutual understanding will support the growth of the business. However, do keep in mind the legal and regulatory protocols to open up a breakfast joint in a corporate tech park or IT hubs in the city.
Become a tutor
Education is needed by all. If you are still quite good at what you studied the most, try passing on the knowledge to newbies and novices. Becoming a tutor and then continuing further to establish a coaching center or an institute can be of a great roadmap to becoming a successful entrepreneur. Be it mathematics, science, language, music, art, dance or anything, people will surely come to learn. This can be a good idea for your entrepreneurship.

Who doesn't love donuts, pastries, and sundaes? If you are good at baking then you must surely give it a try. To start with, the first step would be to set up the location and finish off with all the legal procedures. Also, don't forget to make your business online. Try aiming your marketing strategies to the local market, be a local star and let the word spread out.
Event Organizer

Indian festivals and events are never running out, rather today there is a hype for every festival and life events people get chance to. This is a great prospect for those who can use their creative thinking space and create the event people want. Becoming an event planner is an easy one and will show you results. Do keep in mind to connect with local vendors for better service and business.
Digital Marketing Agency
One of the fastest moving and rising industries in modern India where every business trying to be a trade king over the internet need professional hands for developing their marketing strategies and executing them. If you have experience in the field and have enough knowledge of the latest trends and tools in the current market, try out helping out business in building up their marketing roadmap. But before you can even step in the marketplace with a small business aiming to assist other businesses at a competitive price tag, do not forget to build your portfolio of experience and knowledge to showcase. This is the only way to gain the trust of your buyers.
Food Truck
Right here is one of the dream ideas for every food enthusiast with an entrepreneurial mindset. A food truck that runs down to every part of the city is a trending way of reaching out to other foodies. With ace social media marketing strategies, it is possible to maintain the hype for your grand entry every day in their locality. Try selling out the basic recipes that are preferred by the people but with a little twist of your own. And don't forget to design your truck just like someone saving a hunger roar.
Advertising agency
Well, every business needs advertising. The traditional ways of digital ads are not out of trend. You can surely try opening up your advertising agency that aims at curating and tailoring the best ads in the market driving customers to your clients. Try practicing with small businesses and curating small video ads and social media marketing. This is a great business idea that later has the potential to broaden itself into different fields of marketing.
Hospitality
As we know, people love to travel and while they do so, they need comfortable places to reside for the night. If you are ready with a lot of funding and have an infrastructure ready plot available in a great location, do not wait to establish a beautiful hotel. A hotel or resort can be a great idea to generate a steady income.
Entertainment/Games
Here we come down to another great idea for a startup in the city. People crave for both indoor and outdoor games where they can play, or pass their time with friends. Snooker, pool, table tennis, badminton, chess, theatre house, opera, etc. can be better options to start with.
We all want to be the master of our trade. Being salaried and corporate slaves with a 9 to 5 job doesn't suit everyone. But the path to becoming the master of your ain't that easy. Several options can be started as a startup but the steps that will guide you through the entire establishment process remains the same.

Your hardest times often lead to the greatest moments of your life. Keep going. Tough situations build strong people in the end." – Anonymous

You will inevitably fail, or face challenges that are even harder than you expected. But the trick lies in facing the challenge and rising above to overcome every hurdle. It is often said that when you can control your own emotions and mind, it is easier to control every other entity in the world. So be determined, persistent and never fear to fail. Follow the steps mentioned in the article because it is impossible to build and grow a small business in India.

Conclusion
We hope you do good in the future and your small business idea disrupts the marketplace to achieve the heights of success.
Share your startup experience with us in the comment section below.