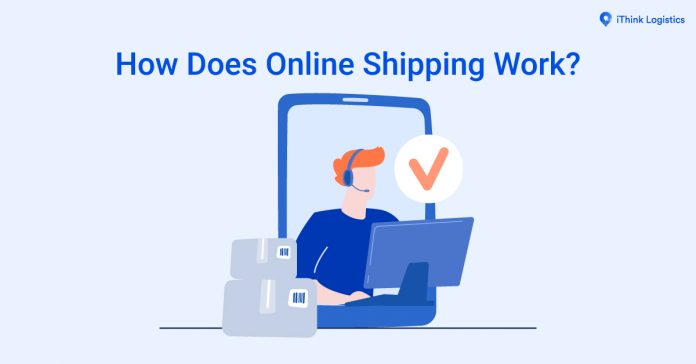 The touch and feel of a product can often be your bestseller or a deal-breaker. However, e-commerce doesn't offer this advantage. As a matter of fact, it is one of the main reasons why shipping is crucial for an e-commerce business owner.
With more and more competition, consumers are hoping for their product to arrive faster than the due date. And with each passing day, their anxiety slowly turns to resentment which may drive them away from your product or brand entirely. The golden word namely, 'free shipping' may seem like the obvious approach to your shipping strategy for winning over the hearts of your consumers. However, this is just the tip of the iceberg. 
Read on to know more about online shipping. 

How does online shopping delivery work?

List your products
First and foremost, list your products on a third-party marketplace or your own e-commerce website for your customers to see. Make sure that you mention the right titles, visuals and product descriptions. Don't forget to set up a payment gateway for easy checkout. And most importantly, decide whether you're offering only pre-paid orders or also providing cash on delivery. 
Research on shipping strategy
Most high-priced products have larger margins which allow the seller to offer free shipping. However, with products that are reasonably priced, this may not be possible. If you are sure that your product is unique and worth it, people are usually willing to pay a small shipping fee. You can also offer free shipping across all orders, free shipping on orders above a certain price, partially-free shipping, and completely paid (additional fee) shipping. 
Define your delivery radius
The most thing you have to do before signing for a shipping company is defining the radius. Depending on whether your products are possible to be delivered pan-India or internationally, pick a shipping partner. While there are companies that provide quick cross-border delivery, there are some that deliver even to the most remote areas of the country. 
Store products in the fulfilment centre
Once your customer places an order, it's a ticking clock till the product is delivered to their doorstep. And as an e-commerce entrepreneur, you need to ensure that this process is as quick and smooth as possible. For starters, always prefer to have your products stored in a warehouse that is closer to the fulfilment centre of your shipping company for faster pickups.
You can also choose a shipping partner that provides storage in its fulfilment centre itself and save you the hassle. However, if your product has special needs, like perishable commodities, you may need to look at cold stages. 
Packing and Processing in the fulfilment centre
Once the shipping company gets an update of your product being sold, it immediately gets the order transferred, processed and packaged, all under one roof.  Check that you're not overspending on the packaging and choose a shipping company wisely. 
Order is delivered
Finally, once the fulfilment centre gives its go-ahead, the shipping company is all set to deliver it. Most shipping companies have a large fleeting service including bikes, cars, scooters, planes, etc. Thereby leaving the hassle of delivery to them.
How to calculate shipping costs for an online store?

You might want to consider a few important points before finalizing the shipment part of your business model.

Delivery area
To calculate the shipping cost, first zero down on the delivery radius. If you're in the business of perishable commodities, it is advised that you keep your delivery radius small to prevent the product from getting spoiled in long transit. You can also deliver only within the city limits, state limits, country limits and even internationally.
However, the more inter-state and international your ship, the longer the transport and the more documentation you will need. All of which comes at an additional cost. However, one of the advantages you can get is that when you ship to a larger radius it is when you usually have a lot of orders, which can help you bring down your overall shipping costs. 
Skillset
Shipping is a complicated thing. From the storage to the processing to the packaging to the final shipment and delivery, your product will be passed through several hands and probably even machines. Ensure that you hire and train the staff efficiently to reduce discrepancies and mishandling of the product. The last thing you need is your product getting damaged or worse, destroyed in the fulfilment centre when you've spent all that money on marketing and advertising. 
Choose the shipping strategy
'Free shipping' is indeed attractive for a customer but not always the most viable option for a seller at all times. Always remember that digging too deep into your pockets for free shipping may end up costing you enough to shut your business down. So the most reasonable solution here is to offer paid shipping or a 'shipping charge.'
This charge can range from nominal rates for closer distances to slightly higher rates for further deliveries. You can also offer a surge charge when a customer opts for express delivery. Because even this way the customer knows that you are keeping your word as well you are not increasing the cost from your end. It is preferable that you partner with a shipping company that offers you the benefits of large-scale shipping to further reduce your cost. 
Product type
The bigger the product the more packaging material and storage space it will take. Considerably, for smaller products, they can often be packaged with another one of the same kind as a bundle and save you some cost. However, small products may not always have the same value as a product that is larger. One more crucial thing to consider is the type of product.
Fragile products may require layers and layers of buffer space and airbags for safe transport, which in turn increases the cost of shipping. Therefore, first, determine the ideal way to package and ship your product and then decide where to cut costs. 
How to ship products from home in India?
If you're a home business owner and require shipping, you can now do so in 5 easy steps. 

Finalize your product offering
Like we mentioned before, the size, weight, dimensions and fragility of your product determines how elaborately you need to package your product. 
Measure cost of product vs cost of shipping
If it's a product of less value, shipping might get expensive. Therefore, reduce the cost by offering mandatory orders of a certain number of units to avail free shipping. For individual units, consider charging a shipping fee. 
Buy packaging material
From foam boards to cardboards to bubble wraps to scrap cloth, the biggest benefit of packaging at home is that you are in control. Depending on the nature of your product, choose the right packaging material, buy it in bulk and use it to manually package your product. By doing so, you will save the cost of additional labour but you will have to spend more time on your business.  But being a small business owner, that shouldn't be a problem, right? 
Choose your shipping carrier
Big shipping companies are reliable and efficient. Smaller ones have more room for customization. Big companies often reduce costs because they ship multiple products in bulk. Small companies on the other hand tend to be budget-friendly in order to break even in the market.  To put it simply, each side has its advantages and drawbacks. Pick one that works best for you according to your delivery radius. Look for shipping companies that provide same-day deliveries, express deliveries, and next-day deliveries so that your customers don't have to wait for long. 
Start shipping
As a small/home business owner, there are going to be ups and downs on the learning curve to successful shipping. So make sure that you convey in advance that shipping will take a certain number of business days. Do not provide express shipping unless you're sure that your product is packaged and ready to be shipped. 
Conclusion
No matter how big or small your e-commerce business is, there is always a shipping company that will suit your needs. All it takes is taking your time, measuring your costs thoroughly, and not hurrying into the process. Timely and budget-friendly deliveries play a major role in building customer trust. So, choose wisely.