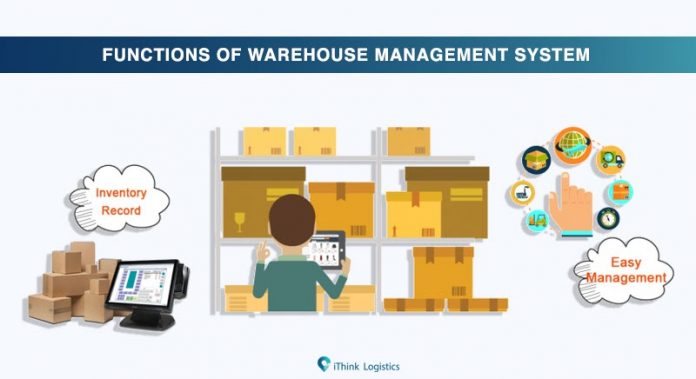 The world of transportation and logistics has turned into a dynamic one with the digital progression infusing and blending in it perfectly. Gone are the day now of old ways of working in the transportation and logistics industry. With digital advancements paving their way into this industry, excellence is reaching many boundaries globally. One of the most fundamental digital advancements mapped in the last few years is the invention of a warehouse management system. Here are some of the major functions of the warehouse management system.
The warehouse being the core stem of the transportation and logistics sector, managing its operation effectively was always the prime focus. Keeping this notion in mind, data engineers have brainstormed on discovering a better ad seamless way of managing warehouse operations. This is what we call today a warehouse management system.
What is a Warehouse Management System?
A warehouse management system can be defined as a software application that is chiefly devised for the purposes of monitoring and controlling warehouse operations. This includes a broader spectrum of actions that initiate from auditing and tracking the materials since it is received into your respective warehouse to the moment it was being stored and finally reaching the end-customer as the final step of the process.
As a primary functioning element, a warehouse is a designated place of storage functions and integrating a warehouse management system contributes to ensuring the materials located in the warehouse. Adding more boon to this, a warehouse management system also enhances and is accountable throughout the whole system of supply chain processes.
With the assurance of data transparency, it reduces manual errors and also looks after the stock control management as well. In today's competitive and digitally advanced world, being one of the major transportation and logistics brand comes with greater responsibilities, which are the essential advancements that must be made to ensure the business running smoothly and efficiently. 
Functions of Warehouse Management System
To understand how effectively and productively a warehouse management system can accelerate your transportation and logistics business, here are a few of the core functionalities that are executed by a warehouse management system. 
Tracking Stock
One of the primary functions of warehouse management systems is the effective tracking of the stocks that are coming into the warehouse and later dispatched to their respective places of order. This function gives the manager the perfect insights to measure and know the availability of stock and exactly when it will be the optimal time for restocking in the warehouse. 
The utilization of minimum and maximum levels of stock present and required respectively in the market aids the business in managing their stocks and ordering them in the right amount at the right time. With this, challenges related to shortages in stock can be effectually eradicated and also overstocking is not required. It also allows qualitative space to enable other materials to be accumulated in the warehouse.
Picking and Shipping
The second most important function of a warehouse management system is to look after the picking and shipping activities of a warehouse. This being said, it means, that the assurance of the correct product being received and shipping is taken care of by the WMS alone. With the presence of a manual system, quite often the missing data and inefficient tracking led to the confusion of missing or wrong receiving and shipping of products.
With a warehouse management system, you can now have the leverage of tracking it all down superiorly and managing it in your record books. It ensures that the orders are being received by their respective right clients within the targeted time frames. This also brings on basic retrieval strategies and makes the whole process much easier. There is no more incurring costs on wrong stocking up of order and shipping to its mismatching clients thereby again sending on transporting it correctly.
Layout Design
As a warehouse, it is very essential to keep its layout design very much in order. A warehouse management system helps you to draw your warehouse's layout design in its correct way. It enables placing your products within the designed layout in a much more efficient manner with a logical setting working in its algorithm. The factors that are responsible for creating this systematic layout design are accessibility, demand, and weight. This allows smooth operations and looks after a seamless way of managing your products being correctly placed in the warehouse. 
Managerial Information
Being one of the biggest fundamentals for making the foundation of warehouse management strong, WMS is designed dedicatedly to give productive insights. Being a cornerstone to the transportation and logistics industry, a warehouse management system offers a bountiful of essential business information that can be accumulated in the form of reports. These reports are vital for managers who are managing the warehouse to help to analyze the current wave of operations and locate the improvements that are on the highest priority to be adopted.  
A few of the essential managerial information offered by a warehouse management system is giving out customer order data. A customer order data assist warehouse managers to forecast and strategize business plans in an effective method. This also casts light on certain kinds of alternatives while making important decisions in accordance with the whole supply chain process. As a core objective of a transportation and logistics business to meet its trading objectives, a WMS can play a pivotal role in the same.
Real-Time Insights
As being dedicatedly designed software that highlights giving essential information, a warehouse management system is integral to obtaining real-time information. With the facts and figures acquired in real-time from different types of warehouse management systems, managers and supervisors get the leverage of adding a significant boost to the business. More than enabling real-time inventory processing, it measures the enhanced accuracy that can be a potential factor in levelling up the business revenue thereby diminishing excessive expenses. To do this, what is essential to note is to integrate a warehouse management system that has advanced hardware and software programs.
Labour Management
Since a warehouse is being controlled, managed and supervised by a variable number of persons, staff management becomes very crucial to be talked about here. As an advanced mode of managing warehouse operations, a WMS can look and monitor the various performances shown by the warehouse staff. This can be potentially considered as a key performance indicator and using it can be effective in terms of labour management in the warehouse. 
Having the benefit of real-time data about each employee's efficiency and performance is vital for looking after the operations being right processed in the warehouse. What warehouse management further contributes to staff management is by making it easier for logistics and transportation brands to formulate incentive policies that focus on enhancing employee productivity thereby effectually eliminating workforce burnout issues.
Conclusion
Thus, being so crucial to such vital functionalities of the logistics and transportation industry, running out still on integrating a warehouse management system will be a big loss for your brand. In this right age of competition, being left out in the race is not something your business can't afford to see at such a stage. An advanced warehouse management system can definitely pinch your capital investment, but at the same time, this is definite to say that you are making the best investment for your business that will be responsible for maximizing future ROIs.