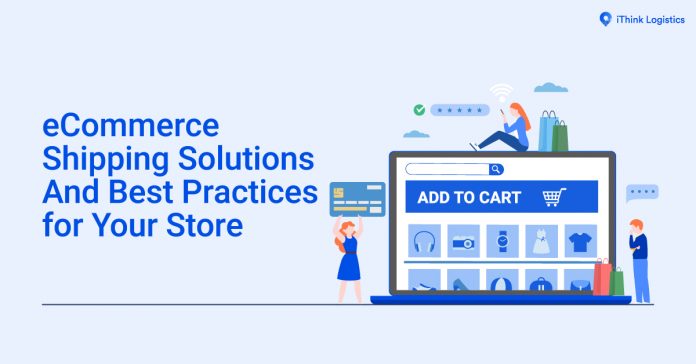 Having powerful ecommerce ecommerce shipping solutions is a crucial step to help your online business grow. An impactful shipping strategy would allow you to reach new heights in your business.

Many brands enter the ecommerce industry by putting minimum effort into shipping and focusing on the other aspects. In contrast, successful brands invest in an excellent shipping strategy that helps them increase their margins and differentiate themselves from their competitors.

For an effective and successful shipping solution, everyone in the organization, from the marketing to the sales team and everybody else, should know what part they play in this strategy.
This helps in the smooth running of the business without any hassle which directly adds value to the business growth.

Let's dive into some of the best shipping practices that will help you to boost your business.

ECommerce Shipping Best Practices To Boost Your Business

These practices will help you build a solid shipping strategy that will help boost your profit margin and also make your customer happy through all the great services provided by your brand.

Shipping Rates and Methods need to be Set
Firstly, you will need to decide the pricing strategy for your shipping way before you ship the products. There are various methods; let's have a look at the following methods.
Offer Free Shipping – Free Shipping is not free. You read it right. Someone always has to pay something to make it work. To make this free shipping method work, below are some options that you can apply.
Increase your product price, which includes your shipping prices, and the customer will pay for it.
You pay the whole amount of shipping from the margins that you gained.
Increase your product price slightly, through which the customer and you both pay the price of the shipping, and neither one has to bear it.
Offer discount coupons or codes to specific customers for free shipping.
Charge Flat Rates to your Customers – By charging flat rate shipping ensures that you don't drastically overcharge or undercharge your customers on the product. It works best when you have a standard product line where your products' size and weight are similar. It doesn't work on products that have different sizes and weights and it's probably less effective.
Calculate Shipping Cost – The shipping cost is calculated taking into consideration the following factors –
The weight and size of the product
The origin and destination country
Additional shipping options like tracking and insurance
Display Shipping Costs at Checkout
Displaying the shipping cost reveals the final amount. This will help the customer trust you because you have no hidden charges for your services.
Offer Different Shipping Speed Options
This helps your customer select their desired shipping speed so they can receive the product at their expected dates.
Send Timely Notifications
Receiving timely notifications of the product will help your customers sit back and relax until the order arrives at their doorstep without any worries about misplacing it.
Offer Tracking Services
Everyone is eager to know where their order has reached. Offering tracking services will help the customer to be up-to-date with their orders.
Offer Estimated Delivery Dates
Customers will always want to know when they will receive their orders. So, they find it easy if they get an estimated delivery date.
Don't forget to Consider your Margins
For a successful e-commerce business shipping strategy, you need to consider your profit margins too. Shipping cost refers to an expense to ecommerce merchants; therefore, if not done correctly, you might end up having a loss through shipping. And to prevent this, map out all your costs and make decisions accordingly.
Packaging & Marketing
Packaging and marketing is crucial part of the orders. Elegant and eye-catching packaging elevates the experience of your customer receiving a product from your brand. Marketing tools also help the product catch the eyes of the customer. Nowadays packaging of a product defines the brand's identity and is a great way to boost your ecommerce business.
These are a few key shipping practices that you should incorporate in your strategy to boost your ecommerce business.

iThink Logistics – The One Stop Solution For All Your ECommerce Shipping Needs.

Yes, you read it right! We at iThink Logistics will help you with all your shipping needs and provide solutions all through your shipping journey. Our various products, features and services will help you keep track of and monitor your ecommerce business by At iThink Logistics, we make sure that your orders are in safe hands while shipping and will be shipped to the appropriate location in a fast, reliable, and affordable manner. We make sure that you don't have to deal with the day to day hassle of your orders and data because, in just a few clicks, we take care of everything related to your orders.
Let iThink Logistics provide you with the best shipping solutions so you can grow your ecommerce business.
So what are you waiting for? Sign up to join our vast community of sellers today!