Imagine going to a restaurant to enjoy your favourite dish. How will you feel if the food comes after an hour? You will be pretty bummed, right? Now imagine your customers having to face this when they shop from your website. While ecommerce websites cannot deliver products immediately, they can definitely improve their shipping speeds by choosing the right ecom shipping solutions.

Being an existing or aspiring ecommerce business owner, you probably already know that no matter where the customer shops from or what they shop for, it all comes down to how fast the product reaches them. And to do so, you need the perfect shipping solution for ecommerce. A shipping partner is essentially a third-party logistics company with its own fleet of vehicles and delivery personnel that is in charge of picking up products from your warehouse/manufacturing hub, packaging the products, and finally transporting them to the customers' doorsteps.
Importance of Choosing an Ecommerce Shipping Partner
Ecommerce shipping solutions in India are many, the key is to choose the best one for you. Without an ecommerce shipping partner, there is no business and most certainly no growth. You not only need shipping partners to deliver locally and save your own personal time but also to expand your delivery radius to the rest of the country or even the world! 

Allows your customers to touch your products
Usually when it comes to shopping, holding the product in the hand or in front of a mirror, trying it, and testing it is something that greatly helps customers make the final buying decision. However, ecommerce doesn't allow that. Therefore the time period between the customer placing the order and receiving it becomes extremely crucial. It's best to deliver the parcel quickly and make them feel valued, important, and heard. It is only when the customers physically touch the product (and like it) they are determined to buy it again and trust you with repeat orders.

Aids processing and packaging of the products
While customers enjoy their seamless shopping experience on your ecommerce website, it only increases their excitement to finally touch and feel their product. And for the products to reach top condition, you need proper processing and sturdy packaging. You need your ideal shipping partner from a multitude of ecom shipping solutions to process your orders, pack them, shift them, and transport them to the customer.
Also, fragile items require extra packaging so as to not break in transit. This is where a shipping partner comes to save the day. Being experts in the field, they will know exactly what material to use for packaging your products and making them reach your customers without any damage. More so, it will save you the hassle of incurring more cost on packaging material.

Helps expand to a larger delivery radius/spurs growth
The more you sell, the more you make. It's as simple as that. And a shipping partner is just what you need to make more. With a shipping partner, it gets easier to expand interstate as well pan-India. More so, when your business takes off, you can also expand internationally. With a shipping partner's network and expertise, cutting through the red tape and legalities becomes easier. Sitting in a small town, you can have your products reach all over the world, or for that matter reach even the remotest places.

Saves time and effort
Shipping isn't just another step in your product's journey from the warehouse to the customer. It is a whole different domain that requires patience, coordination, expertise, and most importantly constantly being on your toes. So while you utilize your time and energy to run your website, manufacture quality products, and do the right marketing, it is best to leave the hassles of shipping to the experts and i.e. shipping partners. They manage the packaging and delivery and help address return requests and customer queries better. 

What to Look for When Choosing an Ecommerce Shipping Partner

Now that you know how important it is to onboard ecommerce shipping companies, let us help you find the right one.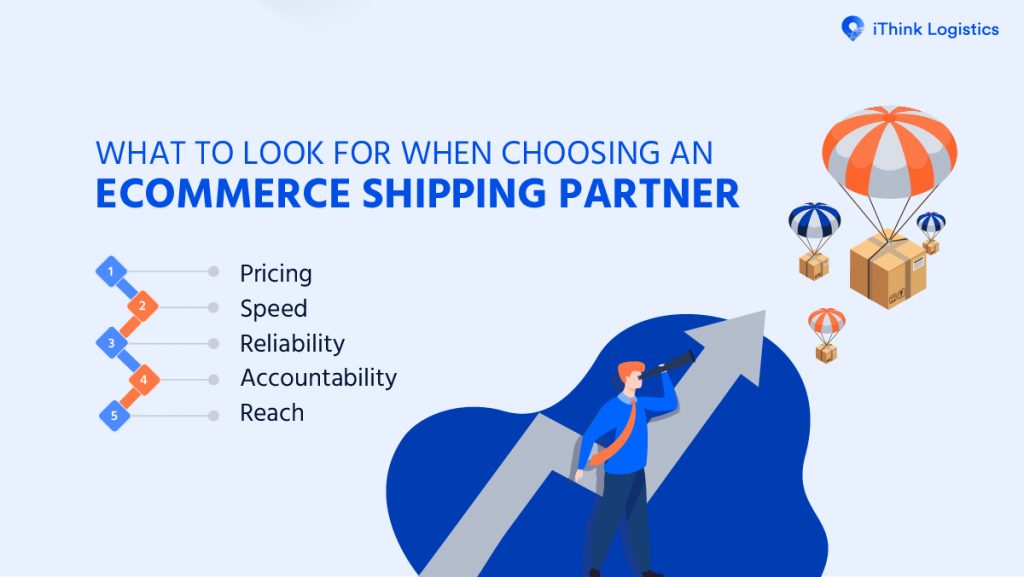 Pricing
Indeed the first and foremost thing to consider when choosing the ideal shipping solution for ecommerce is the cost of delivery. Shipping is an added cost to your roster and can eat into your profits a lot if not done carefully. While 'free shipping' is very popular and a favourite among customers, it is not always ideal for you. Because if it's free shipping for customers, it's not free for you. Therefore it should only be borne if you have higher margins and a minimum order quantity policy.
More so, analyse the prices of competitors before choosing a shipping partner. Even if you're just starting out and delivering locally, confirm the delivery rates of interstate and pan-India beforehand so that you never lose a customer. Also, many things can go wrong in transit. Therefore, it is a must to have an insurance backup either done by you or provided by your shipping partner. And most importantly, double-check for hidden costs before locking down on a shipping solution for ecommerce.

Speed
The moment an order is placed, an invisible stopwatch starts in the customer's mind. The anticipation to receive a product is at an all-time high. And the happiness goes through the roof if the delivery comes early. By doing that you've most certainly earned a repeat customer. But if things go wrong, then you've not only lost a customer but also gained bad word of mouth publicity.
There is no more powerful advertisement than one customer convincing another. In the case of international orders or custom orders, customers tend to be slightly more patient. However, in the era of Amazon's same-day delivery service, customers are expecting shorter waiting times.
Therefore, it is a must that your ecommerce shipping solution has a large fleet and a large network of delivery personnel that ensure superfast delivery. Express shipping may incur extra charges. To clarify that in advance before choosing a shipping solution for ecommerce.

Reliability
What good is a ripe red apple when you open it to find it rotten? In the same way, if the customer's package turns out to be damaged in transit, what is the point of providing express delivery? You need ecom shipping solutions that are dependable. Not only should they package the product well, but also provide damage-proof transit in their fleet. Harsh weather and infrastructural gaps are always going to be there. Therefore your ecom shipping solutions partner should be equipped to deal with it all.

Reach
Ecommerce opens a vast field for you to sell your products in. All you need now is a shipping partner that delivers to every corner of this vast field. Check the geographical areas the shipping partner covers so as to suit your decided delivery radius. While the likes of Blue Dart and DHL serve internationally, there are players that are only servicing locally and domestically. Choose a shipping partner according to your needs.

Accountability
Most often the shipping company's warehouse is outside the city. Which in turn makes the already long journey to the customer even longer. It is in such times where simply providing tracking solutions can save the business owner and customer from a lot of anxiety.
Many ecommerce solutions like Myntra and Amazon show the order's shipping journey from pick up to delivery on the app itself. While it is optional to show this to the customer, as an owner it is a must for you to know the whereabouts of your package at all times so that you can appease your customer if required. Therefore, choose a shipping solution that provides ecommerce shipping tracking services.
Find The Perfect Ecommerce Shipping Partner For Your Business With iThink Logistics

So when it comes to shipping partners, you also need someone whom you can depend on when things don't go so well. For eg: Non-delivery of shipment. Deliveries cannot happen sometimes for a multitude of reasons. But, in those times you need your shipping partner to track the package, find the reason, reattempt the delivery, and finally successfully deliver the order. At iThink Logistics, we do all of this and more with automation.

First things first, we have a dedicated NDR team. No need to be passed on from one customer service personnel to another for hours on end. Our dedicated support staff is not only hands-on but also efficient in giving quick responses.

We have a comprehensive dashboard. Call it our master computer, one that tracks your package every step of the way no matter where it is, in what weather conditions it is, why it did not get delivered, how many reattempts happened, how fast did the package get delivered, auto-generating reports on the same, and more real-time.

Furthermore, AI-driven operations make us a trustworthy choice. From 4-step verification through IVR, Whatsapp, SMS, and manual processes to automated reattempt of delivery in 48 hours, we offer hassle-free and risk-reducing solutions.