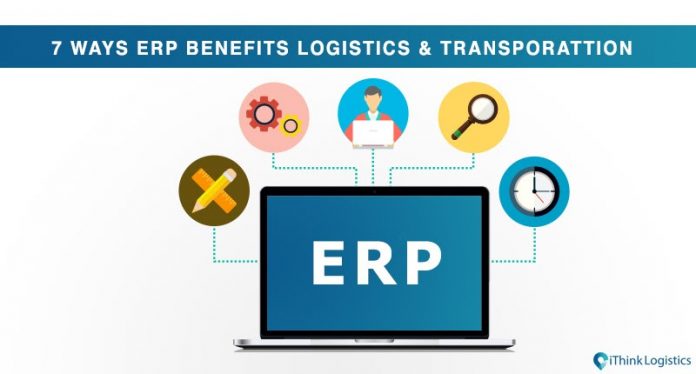 The radical growth in the logistics and transportation industry is undeniable, visible to everyone. With the rise of eCommerce and opening up of the global market allowing a convenient flow of supply and demand, the logistics market takes a leap towards being one of the important industries contributing to the world economy. Here is how ERP benefits logistics and transportation Industry. 
The supply chain and the eCommerce are the major sources of business for logistics and transportation (commercial) but as days go and the industry continues to grow with business depending on the various strategies that currently exist. When it comes to managing logistics in superior manpower, ERP is a term that becomes very much evident to consider. To understand further, let us clearly define the valuable question of what is ERP.
What is ERP?
As an acronym, it stands for Enterprise Resource Planning and is responsible for seamlessly operate various processes that influence the success of running a business. As software, it looks after accounting, human resources, inventory and order management, customer relationship management (CRM), and much more. For a layman to understand the basics of what an ERP function like does, it is, to say the least, that as the software it deals in integrating various functions compiling them onto a respective system. This allows in process streamlining and dispersal of vital information across the entire organization.
The kernel point of ERP systems operates on a platform that is a shared database. This platform is supportive of multiple functions that are being used by various business units. To break it down, it means that employees in different layers of work divisions, like accounting or sales, can solely depend on the same information for their respective needs and accelerate their business performances. Thus, being such benefitting software, it is a pivotal role to play in the domains of transportation and logistics.
Benefits of caring for ERP in the logistics and transportation industry
ERP software generally has the ability to integrate easily into many industry domains with various application purposes bringing all the major attributes of a business under a single dashboard to monitor and command. Here are seven best ways in which an ERP software can help accelerate transportation and logistics operations:
Get secure access to your vendor portal
The very first way in which ERP benefits logistics and transportation is getting secure access to the vendor portal. Every ERP software installed into business operations comes with a secured login account for registered people. This allows secure login into their account for knowing the status of the logistics and other important details. All communications are integrated through email or secured SMS systems that allow the user to receive updates in their personal profiles.
Optimized inventory control and stock visibility
One of the most vital tasks to ensure operational fluency in logistics and transportation is having complete control over the inventory. The most important things to keep a note are the current requests, stock, current deliveries on the route, and the sales tally. An ERP software brings all the notable works under one single dashboard allowing business heads to keep a keen eye on the current status of their inventory.
This can bring a much need to influence the logistics and transportation industry leveraging them with essential tools and the right information to handle inbound or outbound orders, determining the number of items present in the inventory and out of stock items. Having complete information of the inventory status allows leaders and managers in the logistics industry to make better and faster decisions at times of dispatching or placing orders.
Easy maintenance and transportation schedule
In the logistics and transport industry, the biggest assets are the vehicles and the person in charge of the vehicles. As the logistics network becomes complex maintaining and planning for the transit schedules becomes more difficult. With time such complexities in managing the schedules can hamper the logistics and transport business to a great deal. ERP software solutions make it much easier for the business while handing over total control and complete visibility to the complete logistics or supply chain network. This ultimately enhances the operational fluency of the business.
Improved distribution management and business intelligence
Another major advantage of using a single dashboard ERP software allowing suppliers, distributors, drivers, and managers to keep an exact track of their inbound and outbound logistics. This makes the entire logistics operational process more fluent and transparent in the hands of the shipper. They can easily track the live status, have access to customer details, distributor's information, and a lot more. Once business leaders have all the necessary information right in front of them, it becomes easier to make a decision, understand ordering trends, comprehend the reasons for any delay and effectively handle customer escalations.
Real-time shipment tracking
Tracking of shipments while in transit can be challenging. ERP software platforms integrated with real-time tracking features allows the shipper or the distributor to have access to the current location of the vehicle, have direct communication with the delivery person and a lot more. This enhances the overall customer support system for the business and also allows the business leaders to leverage real-time and accurate data. This helps the logistics industry in developing better business plans with better business intelligence.
Staff Management
ERP platforms are considered to be an excellent tool when it comes to workforce management also indulging their applications into the logistics industry as well. An integrated ERP platform allows the managers in the freight operations department to track the working hours of the employees, break timings, leave tracking and other indicating attributes. With key performance indication feature installed with the ERP software, leaders can have access to ready-made reports on employee performance allowing them to make better workforce decisions.

Remote location access to your business
Another flexible benefit of having ERP software installed for the logistics and transportation industry is having remote location access. It might not always be possible for business leaders to keep logged in to their office systems all the time. ERP software allows you to have access to your account from anywhere with an internet connection. This makes it more flexible for managers and operators to keep in sync 24/7.
Now that you know, the multiple benefits of integrating ERP into transportation and logistics, the next vital thing to know about the highly focused areas where ERP integration is indispensable in your business domain.
Focused Areas of ERP Integration
Data Management
Due to the bulk of data in the different B2B business models and operations, which includes all relevant customer information, shipping taxes, manufacturing costs, shipping taxes, you are bound to face difficulty in managing all of it. A robust ERP integration helps you to manage through all of your data efficiently without any manual errors leading to the loss of it.
What is important here to understand is that ERP data integration systems are not simply responsible for capturing data; they are used in a much broader sense that talks about integrating the same. To clarify the above-mentioned statement, it can be said that the ERP integration system is competent to eradicate duplications in the data collection. It can also contribute effectually in interpreting the data in such a way that your business's bottom line is not affected by any error and can run seamlessly.
Access of Data by Various Departments
The data stored in an organization's ERP system is so valuable that it can run pervasive to the entire community of staff working there. This means, that the data stored in the ERP system can be useful and accessible to multiple departments and can be taken into consideration in regard to their respective usage reasons. With more customizations added to your ERP systems, you can trim down the same as per your business needs. Giving access to your ERP to the right personnel in your organization can help a lot in its contribution to improving efficacy and allowing various teams to designate their problems and locating solutions for the same too.
Reduction of costs
To help the organization incur maximum profits, the areas of cost reduction can be manipulated with ERP systems. With the evolution of advanced ERP systems, its ability towards higher stages of automation can enhance efficiency and makes the working environment more dynamic and competent. With furthermore informed decisions, this becomes seven more evident.
Aiding the Organization's Forecast Team
The heightened level of ERP systems' efficacy can be told by its competency to tell who your customers are, what they are purchasing and from which references they are coming from. This data can facilitate you in driving your strategy formulated of marketing and enhancing the decision for the same. The more valuable insights you fetch from the ERP system, the better your forecast team will be able to give you personalized and feasible future goals and objectives. In other words, it works like your personalized market researcher.
Conclusion
Thus, with so many advanced features and benefits you gather from integrating an ERP system in your business domain of transportation and logistics, you have already accelerated ion chasing maximum profits. With the competition in the market getting more stifled, being prone to the delay of an ERP integration can cost you high. So get started today.