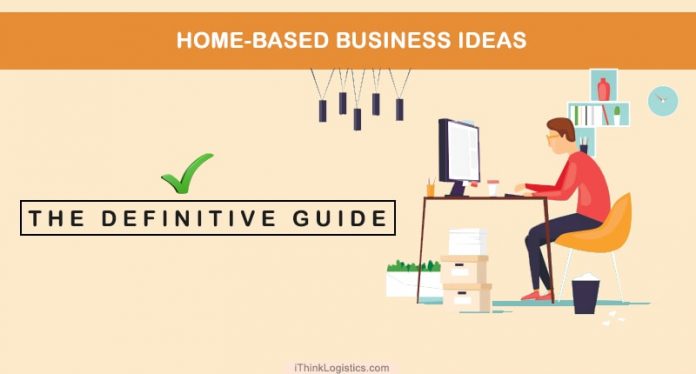 Looking for home-based business ideas in India? Well, you are in the absolute right place. Whether you are a student, a retired person, a housewife, or a person like me who got frustrated with their 9 to 5 job, I am writing the answers for everyone.

The possibilities are endless. There is no one particular reason why 90% of the population is not happy with what they do.
Being a middle-class girl who travels on public transport every day, I get to hear multiple rants from people of multiple age groups and gender. Either it is how bad the job market is, or how they are not happy with the one they have.
Leaving a secure space and going after building one's own brand takes a lot of courage. And here I am to give a thumbs up to everyone who is taking their first step and getting started on researching various home-based jobs.
So without further ado, let's get started.

1. Freelance writer
If you have a good grip on your writing skills, then this is the job for you. The demand for good web or SEO writers is on the higher side right now. And the best part? You can sit at home and get clients from ALL over the world.

Of course, you need to have a good grasp of grammar and current SEO knowledge to be able to fit into this job. You can work for clients, work on building your own brand, apply for copywriting works and many more.

You can sit in a cafe, or go on a country hop around the year. But remember, whenever you are opting for a writing job, you must have a good analyzing skill. You must do every bit of research that you need to do, to pin down just the right things.

Freelance content writing requires effort and dedication. Getting a loose end with this might lower your impression in front of your valuable clients.

Other than this, if you have expertise in any particular niche, you can sell your own e-book over amazon and other similar sites.

2. Advertising consultant
There are thousands of businesses across the world, who want to sell their products, but don't know how to market it. If you have good knowledge of marketing strategies, you can definitely go for this home-based business.

You can start your own advertising consultancy and make it a good business option for you. There are a lot of companies who look for good advertising consultant. You can campaign your service and build your reputation among some of the big brands across the world.

Being an advertising consultant you can plan out creative and effective online campaigns for your clients. Proper platforms like social media, online apps, email newsletters, SEO are some of the most popular forms of marketing right now.

Helping brands to acquire business through these platforms can be a good business option for you.

3. Affiliate marketing
This is a good business that can bring you a good amount of money. Setting up an affiliate marketing program for different brands can get you a good amount of commission.

It is a process of promoting a product or service, where you get a commission every time the company gets sales from your end. From every sale that will be initiated from your personal blog or page, you will earn a percentage from that.

This is a convenient business option where all you need to have is a computer and an internet connection.

4. Researcher and Fact checker
The need for a proper researcher and fact-checker is vital than a business can realize.

Not every business understands that they need fact-checkers, but as meer, it might sound, properly researched facts are more than important to run a proper business.

You as a professional fact-checker that provides service to all sort of business professionals, scholars, academics, lawyers, etc and make people aware of the importance of the job.

This can be a really good profession. But you need to stay organized and open to communication. Lack of proper communication can lead to confusion, and you might lose potential clients.

5. Social Media expert
Yes. You heard it right. The platform that you are crazy about and scroll through the whole day can become a legitimate job for you.

All the famous business tycoons all across the globe spend thousands of bucks for marketing their product on social media.

People hire social media managers on a regular as well as a freelance basis to take care of their business page. If you know how to stay updated with brands and their competition, post relevant content and reply to customers properly, you can actually get 40% of your business from there.

So if you are familiar with a thing or two about social media marketer, then just ahead and get your name out there.

Trust us. It will be worth it.

6. YouTuber / Vlogger
You would be lying if you say that never in your life have you thought about leaving your job and becoming a YouTuber.

Being a massive superwoman fan myself, there was a time when I actually aspired to become a YouTuber and just forget about taking up any 9-5 jobs.

Well, I gradually ended up becoming a blogger. But If you are passionate enough to capture your own experiences, then go ahead. Make people fall in love with your experience sharing capabilities. Make your own youtube videos, become an influencer and make the best career for yourself.

Even though you can't expect to earn money from the very first day, but this will help you to build your online presence.

You can put forward your platform as an advertising page and ask people to collab with you. This will eventually lead to money coming in and you will have a good authority established for yourself.
7. Graphic Designer
It is true that there are a lot of people who work as freelance graphic designers, but there are far more website designing and marketing companies that require graphics on a daily basis.
So if you are a designer with a creative mind, this field has an ample number of opportunities for you. Be creative enough with your business model and do something nobody else is doing.

8. Freelancer Website DESIGNER
If you are a creative person with web design knowledge, then this is a wonderful job opportunity for you.
Either you can start your own company, or you can approach clients who need a website of their own and work as a freelancer.
This is a highly trending sector and you can market yourself through online advertisements.
Over time, you will have a good grip on the work and you will be able to create a strong identity as a website designer.

9. Online tutor
If you are someone who adores educating and have an interest in specific subjects, you can begin your very own online tutorial classes. With a small personalized classroom, you can sell online courses that will benefit hundreds of students across the country. There is a high demand for good quality notes and recommendations over the web. You can grab this opportunity and start with your own home-based source of income. You can undoubtedly support students via telephone or video communicators like Skype.
10. Data Entry
Well, this might not be the most lucrative job for you, but if you are a newbie trying to make it to foreign education by earning some bucks then data entry is really worth a try. By sitting in your own comfortable space you can start earning as much as you want. If you already own a good laptop, you're pretty much all set.

11. Language Interpreter
If you know multiple languages, then this is the job on our list of home-based business ideas for you. As an interpreter or translator, you can support organizations and customers in various ways. You can interpret articles, official statements, digital books, or other composed work. You may likewise decipher recordings, digital broadcasts, or add to global shut inscriptions for an assortment of visual items. Additionally, you may interface with global organizations to fill in as an interpreter for gatherings or telephone calls.
With involvement in more than one language and access to the web, you'll be astounded about how expansive your home deciphering business can broaden.
12. Travel Planner
If you are a regular reviewer in sites like TripAdvisor and Yelp and are a well-traveled person yourself, then you might extend your travel expertise to others as a home-based travel planner. You can use your experience and help people to plan and book trips. You can help people in managing hotel reservations, flights, excursions, create itineraries, offer tailored recommendations and many more. You might even start a travel blog while you're at it.
13. Phone Case Printing Business
There's a huge growing market for mobile phone accessories and plenty of handmade sellers are earning thousands of bucks through this phone case printing business. The various sites that you come across on Facebook were at one point some individuals who decided to invest his/her time and money in this. So if you think you can do it, then you can definitely to look forward to establishing a successful business in the future.
14. Pet Sitter
Are you an animal lover? Then you can definitely try being a pet sitter.
Through this profession, you will get a lot of time to spend around animals and will also be able to help families who struggle to keep their pets in creches while going out for vacations. It's an easy way to get paid, especially if you're an organized and trustworthy individual with a reputation for or history of animal care.
15. Interior Decorator
Always love to keep things in their place? And have an eye for composition, organization, and feng shui?
You can start by contacting your local furniture stores and other shops and then gradually move on to get good deals, in designing apartments and other commercial interiors.
16. Event Planner
Are you the planner in your house for every social event? Do you love coordinating food, drinks, invitations etc? If that is so, then maybe you can take this talent of yours to the next level. Think about it. This can be a great home-based business idea. Start exploring and no one can stop you from being your own boss.
17. Photographer
Have a passion for photography? Then what are you waiting for? Take out that DSLR and start hitting the road. Hundreds of photographers all around the world are earning in millions with their photography business.
If you want to venture into this, you can market your services and look for clients who need professional photography for weddings, graduations, engagements, or other events.