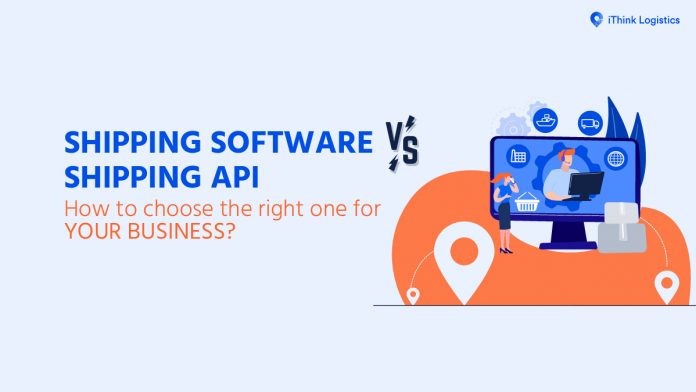 The only thing that is constant in the ever-changing world is change. That is why it is important to keep track of every detail possible, be a step ahead all time possible and take into consideration every little detail. Similar to any establishment which requires to be dealt with a different aspect and In this blog, we are going to take a brief review of such aspect. Shipping management software and API, and check whether you should choose shipping software or API for effective and efficient workflow in your establishment. 
What is shipping software?

A shipping software program helps you connect your promoting sale channels and provide the tools and assistance to prepare and control your orders in the vicinity and create transport labels. Beyond this, the shipping software also provides:
Shipping optimization
Rate and route tracking
A variety of other tools help in the smooth completion of the shipping procedure without any hindrance
Features of shipping software are as follows
Label generator
Real-time shipment tracking
Comprehensive shipment report
Shipping details with charts
Shipment type, volume, and mass
Integration system with organizational software
The benefits of shipping software are

Easy to keep track of shipments
Understanding the work field
Shipment record
Ease in labelling
Minimising the wastage and optimization of resources.
What is a shipping API?
API refers to Application Programming Interface. Shipping API is another shipping management software that doesn't have an interface past its login portal (wherein you may join vendors and examine reports).
A shipping API connects your present internet site or order control device to include vendors' transport functions into your ongoing tasks and events. It has the same function as shipping software to create labels for shipments. However, it is more suitable for the customers due to the availability of customization values.
On the other hand, the shipping API does not have any particular user interface to perform their tasks as it directly connects the server to the portals. In other words, the shipping API performs its functionality in its existing application or plugins.
Some examples of shipping API are FedEx API, UPS API, Gooten API, EasyPost API, Uship API, DHL API, etc.
Features of shipping API
Label creation
Shipment details
Shipment live time location
Accurate measure tactics
Address generation and validation
The benefits of using API in business organizations are as follows
Lower shipping charges
Easy comparison
Real-time tracking
Efficient and effective
Easy to operate
Similarities and differences between a shipping software and shipping API
Both Shipping API and Shipping Software have their standard core operation as tracking and creating the tags and labels for the shipment, They also share the same features as optimum logistics management, measures of operations, and providing routes available for the shipping management and covering up the distance in the estimated time.

Many of the features and functions of both shipping software and the shipping API are homogenous in nature. A user can compare prices, rates, routes, and tactics with the shipping software and shipping API.

On the other end, shipping software is commonly used by smaller and middle-size establishments whereas shipping API is generally optimized and used by larger merchants because of the effective control and specified nature of performance maintained and elaborated. Also, shipment API does not have a User Interface, whereas the Shipping Software has an inbuilt User Interface that helps users accomplish and achieve their desired tasks.
Does my business need shipping software or a shipping API?
This depends on the various aspect of the company as size, nature of work, workforce efficiency of the establishments. Smaller and middle-size firms should optimize their shipping standard with the help of Shipping software as the Shipping standards somewhat requires a handful of assistance whilst operating on masses.

Larger producers and merchants should optimize their shipping standards with the help of API, which will help in simplifying the bulk delivery process, keeping track, and organizing the transaction for account maintenance.
Find the right shipping platform for your ecommerce business with iThink Logistics
iThink Logistics is a prominent logistics company and helps sellers and merchants with their shipment needs. We have partnered with numerous logistics to help you deliver your shipments with ease with standard delivery procedures. Speak to a member of our team today to learn how iThink Logistics can help your business grow!