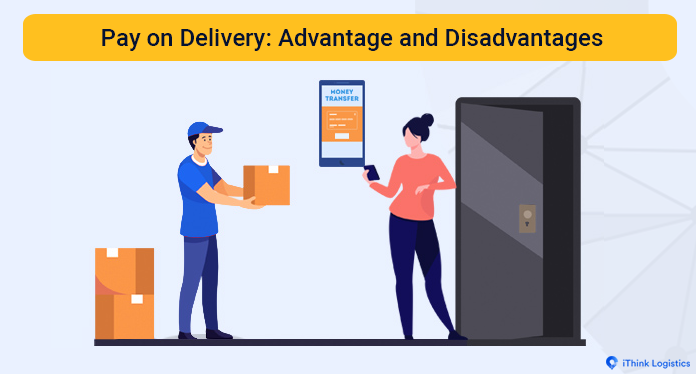 Pay on delivery or cash on delivery?

Confused?

Yes, you read that, right! These are two different things. As an e-commerce owner, what type of payment option should you keep?

Want to know? Then keep reading.

In this blog, we will talk about the "pay on delivery" payment option, their advantage, disadvantages, and how you can implement this for your business.

So without further delay, let's get started.

Overview

Whether it's the advantage of not having to make an immediate payment while buying something or the lack of enough trust for the buyer, the pay on the delivery concept in e-commerce has gained tremendous popularity among Indians in the past few years. The concept increased the percentage of people buying things online and contributed to the rise in popularity of eCommerce platforms.

According to the survey conducted by the Confederation of Indian Industry, it has been seen that despite the low usage of the internet in certain parts of the country from 2010 to 2014, the e-commerce sector has tripled its turnover from 20,020 crores to 83,096 crores during this time.

It can be predicted that by 2021, the turnover might reach about 660,000 crores. There are many factors that make POD in e-commerce one of the most convenient and trustworthy modes of payment. 

In many cases, a parcel is returned, rescheduled for delivery or marked as RTO as the customer doesn't have the cash ready with him or her. 

In such cases, the pay on a delivery comes helpful, as the customer is able to pay via his card, UPI, net banking etc.

This payment option really helps in reducing RTO and thus lowering overall logistics costs.

Who accepts pay on delivery?

As an e-commerce seller, it completely depends upon you whether you want to provide this facility or not. So in short, every e-commerce company can accept payment on delivery.

If you allow POD, the courier service company will automatically keep that provision for you and will take the payment from the customer via digital mode on your behalf.

Should you offer pay on delivery?

Whether you are a new business or an old one, there will be certain products that customers will always be sceptical of buying. So in that case you don't want to lose the customer, you can offer them the POD option. This will help in building their trust and assurance that his/her money is not at stake.

This is a win-win situation for both the seller and the customer. If the customer doesn't like the product he/she can return it. Well if they do, you will get a sale.

Not providing the POD method will completely omit the chances of buying among a few customers and also for a few products. 

No cash dependency

As mentioned earlier, the customer doesn't need to have the cash to receive the parcel. Other digital payment options are available for him/her. So you can stay assured that your product won't be returned due to a lack of cash. 

Great Marketing strategy

Giving out the option of pay on delivery provides a great competitive advantage for eCommerce sellers. This is a great marketing strategy and increases the chances of people buying.

Building trust

Sellers giving out their products without taking up immediate payments are building their trust among potential customers.
Pay only when you receive

Pay on delivery builds trust among the customers. This is applicable especially for the new e-commerce business, which is still not a brand. The POD option in such cases helps in increasing credibility among customers.

The Security

One of the major advantages of Cash on Delivery in e-commerce is the maintenance of security. No financial information is given out and hence the customer can stay assured of being free of any kind of fraud. It also staves off the tension of refund in case of non-delivery of the product. The customer can pay only after they get the product in hand. In that way, there is no risk of any kind of money loss.

Don't need to change

Paying in cash often ends up with the delivery person saying that he doesn't have change. In such a case, you can always grab the card and pay. No hassle of change. No problem with payment. 

Disadvantages of Pay on Delivery
Though the Pay on the Delivery system is a helpful and much more secure payment option, it has its share of vices. Read through to know about the problems you might face through the Pay on the Delivery system.
Loss of Revenue to the Sellers
It may bring loss to the sellers in case a buyer returns a delivered item without paying. The customer might refuse the product or might be unavailable Which results in high revenue loss for the seller and increases harassment of the buyer. 
Extra Courier Charge
The online shopping portals generally deliver a good through the hands of a courier service. The couriers take their share of the charge with the selling price of the item that is being sold, so in Pay on Delivery, you end up paying more when compared to other payment modes.
Minimum Transaction Value
Some online shopping portals also have a minimum transaction amount before a buyer can choose 'Pay on Delivery' mode. This means the buyer has to spend more money which can sometimes lead to customer loss.
Conclusion

If you are setting up a new online shopping portal without a large number of reviews or branding, you might want to add the COD/POD method. It will offer a sense of credibility to your buyers. As said earlier, pay on delivery offers a sense of security and flexibility to the buyers. If you want to give a seamless shopping experience for your customers, you can offer this method.
However, with its share of virtues and vices, pay on delivery is a flexible system and can attract more customers than you can think. It is a comfortable payment method for online buyers. It guarantees increased revenue to the sellers and full privacy of payment to the buyers.