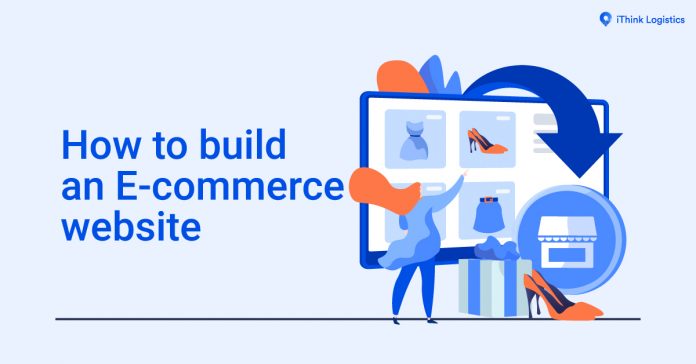 The year 2019 saw e-commerce account for 13.6% of global retail sales. Come 2020, the number saw a whopping rise to 18%. It is estimated that by late 2021, 2.14 billion buyers globally will be shopping digitally.
Needless to say, if you're looking for the best time to start an online store/e-commerce business, now is the time!

Need some more motivation?
A name that consistently pops up in the world's richest person list is that of Jeff Bezos – the founder and majority stakeholder of the world's most successful and giant marketplace i.e. Amazon.
Unsure of how to build your own e-commerce website? Read on to get a clear understanding.
Steps To Build An E-commerce Website

Select your product/service
Be it offline or online, to sell something you need to have something. It could be an innovative product, a new service, a new version of an existing product/service, the rights to sell products of other businesses, etc. You can also decide to be a marketplace that gives other businesses a chance to sell their products online.
Let us give you two examples.
Pepperfry: Pepperfry is an online store that sells furniture of the same brand.
Amazon: Amazon is a marketplace where Pepperfry and many other businesses can list their products and get sales.
Once you do all of this, finalize an estimated price for your products. If you're providing a service that needs human intervention, hire the staff beforehand, preferably on contract to avoid attrition in the beginning stage. Keep into mind their training costs, salaries, cost of travel for business, cost of supplies for business, etc. before putting a price on the services offered. Indian website Urban Company is an example to look up to.

Register your company
To register a company, you need to officially register your business with the Registrar Of Companies. And in order to get a license, you need to come up with a name for your website.
Select your e-commerce platform
Since making an e-commerce website involves more interactive nuances than a normal website, you can choose one of three platforms to get started.
Open Source: Open source platforms are simples to use since their code is open to all. It can be installed by anyone and one can customize it as per their liking. But to make proper use of open source platforms, you must have advanced knowledge. Also, another catch is the concern of security breaches. So select this source wisely.
SaaS: This is basically software as a service. Such platforms have all the tools you need to start your e-commerce website. You simply have to pay the subscription and get started. They are user-friendly, scalable, have integrated payment processing, and have good security. However, they often charge multiple fees like transaction fees, plug-in fees, etc. over and above the monthly subscription fees. Also, sometimes you may have to share your spotlight with them, especially when it is a mandate for you to put their branding too on your e-commerce website.
Headless e-commerce: Every e-commerce website has a frontend and a backend. The only difference here is that both of them are separated. To put it simply, the frontend that displays the products to the customers is separated from the payment gateway where the checkout happens. This allows you to use a Content Management System, Digital Experience Platform, and more on the front end and an e-commerce engine on the backend.
Host your e-commerce platform
Making an e-commerce website is one thing, hosting it is another. So when it comes to hosting, here are the options:
On-premise hosting: This is when business owners host their e-commerce website on their own servers. A preferable amongst businesses who use open source platforms. The likes of Amazon host their website on their own server since their website is mammoth. Just like Amazon, private servers need to have their own separate IT support staff to handle the site and ensure that it stays up and secure.
Cloud hosting: This is when the e-commerce website is hosted off-site. It is something that comes integrated in SaaS and headless e-commerce providers. Here, the platform takes care of the website's maintenance and security.
Buy a domain name
While your parent company may have any name, your domain should be well thought from the customer's viewpoint. Avoid keeping a name that is too common, too similar to the competitor, and too creative for the person to remember the right spelling. The shorter the domain name, the easier it is for your customers to find you.
Develop your website
While SaaS platforms like Wix, Shopify, Oberlo, etc have made building an e-commerce website easier, it is better to have a professional developer help you out. A developer is familiar with all the technical nuances where you may falter. With a developer on board, plan the user interface and user experience properly. From the colours of the homepage to the customer's navigation from 'order now' to 'checkout', make your developer your best friend.
Secure your website
While offline stores are threatened by natural calamities and man-made issues, online stores are often at the mercy of bugs, viruses, and glitches. In the event of a worst-case scenario like an internet breakdown or sudden power outage, you cannot afford to lose your data. So don't forget to install a data backup service that backs up your data regularly and systematically to make recovery easier.
Another very important thing to consider is privacy. As much as customers love online shopping, they want their information to be private. And to give your customers this confidence, you need a green lock symbol to appear alongside your domain name in the tab. This can be done with the SSL certificate. It is a loud and clear indicator to the customer that their information is safe and secure with your website.
This is especially crucial because e-commerce requires the customers to disclose a lot of personal data like name, contact number, address, etc. Besides your customers, these measures help you as a business owner ward off cybercriminals,
List your products
The selling experience on your e-commerce website is crucial. Make sure you add adequate and informative product descriptions. Embedded with the right SEO words are sure to make it a hit. Secondly, upload high-quality photos and videos. Take pictures of the product from different angles and upload them to give the user a complete shopping experience. Don't forget to classify your products into the many categories you choose to keep.
Set up a payment gateway
Ultimately, everything is about closing a sale. And the faster and easier you make it for the customer, the better. Now there are three types of payment gateways you can choose from.
On-site payments: This is when the payments are processed on your e-commerce website itself. Where you have complete control over the nuances. From the checking out to the final debit of the payment, the customer stays on your website only. However, you need to have regular payments by customers taking place online for you to be able to afford this solution.
Redirect: This is where your website is linked to a payment gateway's page. When a customer decides to pay, they will be taken to another web page where the payment will be processed. Here the business owner doesn't have to bother with the security concerns or maintenance of payment gateways. It becomes the responsibility of the third-party vendor.
On-site checkout and off-site payment: This is where the payment gateway hosts the details like customer's personal bank account information, etc. on the front end, but the actual payment happens off-site. However, to go for this option, make sure your website is encrypted properly.
Set up your shipping policy
At the end of the day, the loop of selling and buying is only closed when the product actually reaches the customer's doorstep. Based on your minimum order value, product pricing, delivery radius, and shipping partner choose your shipping policy – Free shipping or pair shipping and/or express shipping. Also, before you choose a shipping partner, determine the details about the packaging and processing of the product. From the warehouse, it will be stored into the packaging in the fulfilment centre to its unloading in the transport vehicle to it reaching the customer.
Run trials
While not mandatory, it is a highly recommended step. When you see other businesses thriving, you can only see their website and your order delivered from home. But when you're on the other side, you get a peek into all the nuances – the order confirmation, packaging, manifestation, pick up, transit, and delivery.
Not just that, you also get to see everything that could possibly go wrong from wrong orders to late delivery to angry customers to broken packages. So once your website is live, ask your friends and family to shop from you. Collect their feedback. Any good feedback used as a testimonial on your website helps boost sales.
Start marketing
What are you waiting for? Go and show the world the kickass website you've just built! Take a dip into the marketing pool. While digital marketing is effective, it is also expensive when you target the right audience. Keep a budget on gathering data of the age group, category, area, and interests of your most common customers and see how many conversions it leads to.
This will help you even recognize the best platform for you to generate leads. From SEO to SEM to Social Media Marketing, digital advertising is a platform that has written the success stories of giants like Nykaa – India's first and premium beauty destination. Also, do a test run on troubleshooting backend problems to avoid making customers angry in the very beginning.
Conclusion
10 Years ago even the thought of starting one's own e-commerce store was scary, to say the least. And in just one decade, making a store not only viable but also super easy. So why wait further, when your dream e-commerce website is just a few clicks away! Start your business venture today!