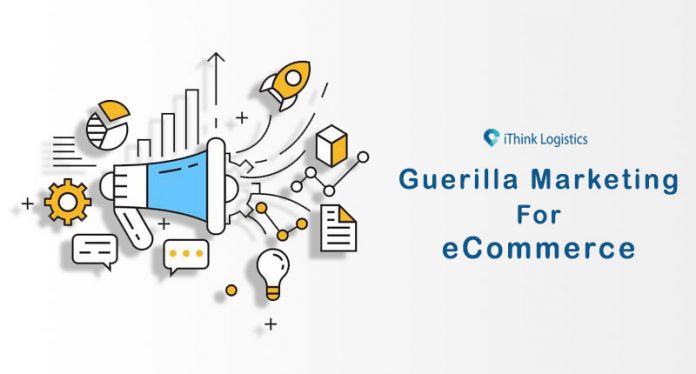 Every business requires promotion and publicity of some form or the other, irrespective of its size and nature. Ecommerce business to needs diverse marketing strategies that help them to connect with the audience. Although the majority of such strategies involve a lot of costs, it gets difficult for every business to bear them. However, there is a helpful yet cost-effective form of marketing strategy known as guerilla marketing for e-commerce.
Guerilla marketing for eCommerce is a marketing strategy that involves the incorporation of unconventional and low budget marketing tactics. A lot of marketing enthusiasts out there are already aware of this concept, which has proved itself as one of the most cost-effective ways of promoting a business. In other words, the risk incurred is low while generating maximum rewards.
Types of Guerilla Marketing
Now that you have a little understanding of the nature of this area of marketing, let us look at the common kinds of Guerilla Marketing for e-commerce:
Viral Marketing
As the name suggests, the primary goal of this type of marketing is to let individuals share and spread a message. The more you share, the better. With any message going viral, it lets you reach out to a larger number of individuals while the company does not need to make much effort. In no time, the message will reach millions without incurring any extra cost. However, the message needs to be quite creative and interesting that would appeal to the audience for them to share across.
For example, a company might start a viral marketing campaign in the form of online guerilla marketing for e-commerce that requires you to share photographs of individuals doing something positive. Netizens today are used to sharing their lives online, which makes it easier for them to share campaigns like these.
Stealth Marketing
This kind of marketing is completely different from the former one. Customers here are not exposed directly to the marketing campaigns, and they remain unaware of the marketing material. Advertorials are one of the most common versions of this technique. It is rather a risky technique as the customers might have a negative approach as soon as they realize that they are exposed to marketing strategies.
For example, in the film, the Devil Wears Prada, two eminent brands Prada and Vogue was on display. The audiences witnessed the marketing, yet being unaware of it.
Street Marketing
Retailers selling different products online do not benefit until and unless the physical form is available on the streets. This is when street marketing fills in the gap and creates a physical presence that is distinct from the online one. The prime characteristic of this type is it being run in public places like shopping centers. Instead of applying direct marketing techniques, the goal here lies in invoking emotional reaction among the potential customers. This helps customers to remember the brand in a unique manner.
For example, we often see costumed individuals in public places distributing fliers and creating awareness of the online forum in a physical form.
Essentials of a successful eCommerce marketing campaign
On knowing the kinds of the eCommerce marketing campaign, the next thing to consider are the essentials that are required to run a successful guerrilla marketing campaign:
The campaign needs to be easy for everyone to participate in
It needs to be highly social and shareable
The campaign also must be extremely exciting, fun and entertaining to attract all participants
Things to consider before carrying out guerrilla marketing
Law
Law is one of the most important factors that highly matters. It needs to be followed by each citizen in order to live a disciplined life. Imagine the impression your brand will get if you falter any law of any given place. Hence, make sure the research is done well before you carry on with any of your strategies.
Clear message
Do not confuse your audience, instead, make sure the message that your marketing strategy is sending across should match with the one your brand stands for. If the message does not have the same idea, the whole purpose will not be fruitful.
Be optimistic and positive
Just like any other plan, the strategy you are implementing might or might not work. It totally depends upon the plan, the creativity, and the manner in which it is carried out. With improved unique ideas, you have a higher chance of success. However, in either case, it is vital to stay optimistic and positive.
Weather conditions
If you have planned outdoor activity, make sure you have checked the weather conditions before setting the plan up. Faulty weather conditions will keep the audience away from outdoors while making your plan fail.
Guerilla strategies for eCommerce retailers
Guerilla marketing for e-commerce, as you must have understood by now, is associated with nontraditional/unconventional marketing campaigns that intrigue people to talk about it. Let us jump upon the primary strategies of this form of marketing.
Go Offline
Guerilla marketing for e-commerce businesses that usually run online has let marketers believe that internet marketing is the only option. Take a step beyond and believe in the offline power to reach out to the target audience. When you take the brand to the real world, it largely helps in building brand recognition. It lets you connect with potential customers and add a sense of personal touch.
For example, a pop-up-shop is one of the interesting ways of establishing engagement with individuals. This physical store lets the audience touch and feel the product. While it requires rigorous planning, it is an innovative way of introducing the brand to the customers who do not have an awareness of it.
Another interesting way of taking business offline is by getting involved with a local event. Events such as fundraisers and charity events allow you to put the brand name in the open and indulge in branding opportunities.
Social engagement
Social engagement is one of the essentials of creating a successful guerrilla campaign. You can perform this not only through physical interaction but also through online views, likes, and shares through social media platforms. Social media platforms such as Facebook, Twitter are popular advertising platforms, especially for business and eCommerce. If you are a regular browser of these social media platforms, you must have noticed the advertisements gaining popularity. Very few of us today pay attention to this kind of social media marketing unless it is funny or heart touching. Moreover, it offers low guerilla marketing costs, which are definitely a boon.
Enhancing the brand image
Are you wondering about how to get people to engage and like your brand? It depends entirely on the way you present yourself. You have done everything needed, from creating an outstanding logo to an impressive website. The website has also been optimized in a manner that suits the company and fits your budget. But now what? How to continue establishing the brand from here? The answer does not lie merely on the way you present the brand image but the manner in which your potential customers engage with the brand and the bond/connection they make with it. The best way to add a personal touch is to interact with the customers on a one to one basis.
For example, you can make your brand go viral by engaging your audience through video sharing on social media. There is no need for you to hire a high budget team; rather, you can create a simple campaign and post it across social media. You will be stunned to witness the views pouring in!
Do a test run of new products
Market research goes hand in hand with introducing a new product to the market to ensure that the product does not fall flat on the ground. Guerilla marketing ideas for startups are an innovative way of testing the products at places such as trade shows, conferences, meetups, along with other events where you can meet individuals from the same industry. This is when you can give the products away as samples, which are one of the most effective ways of acquiring immediate feedback. This feedback can be received from prospective users. Thus, it gives you the best chance to offer your prospective audience a taste of what the brand has to offer.
Creating a social challenge
Do you remember a social challenge involving bucket challenge that went viral a few years ago? This was one of the guerilla marketing tactics that broke the internet like never before. One of the most successful examples of this form of marketing is something we all are aware of, the Ice Bucket Challenge for ALS. The entire campaign was brought to life by individuals all across the world. Not only was it easy to do, but also readily available to everyone.
Moreover, the campaign was completely social, where participants on Facebook called out one another that lead to an entertaining activity. Participants got very excited about calling out each other while enjoying pouring an ice bucket on another person. This campaign became popular in no time, and there is hardly anybody unaware of the challenge. The primary idea of challenging friends and known ones with a fun idea can get the audience involved.
Celebrate uncommon holidays
These low-cost marketing ideas might sound a bit unusual, however celebrating a unique holiday has turned into an interesting opportunity to make branding fun. For example, Krispy Kreme had celebrated 'Talk like a Pirate Day' and offered free donuts to individuals who participated by dressing up as a pirate and ordered one. Who doesn't like celebrating something fun and out of the box? These holidays can also be celebrated with the help of using photo filters or posting messages on social media. Gear up to set your brand apart from the rest by incorporating similar fun activities.
A step beyond the sale
Do you wish to retain your old customers? Retain them by going a step beyond the usual sale process. Old customers are likely going to buy your products again as compared to the new ones. Taking a step further, the sale shows your brand's concern towards them and providing the best possible services. While brands can easily stay in touch with the customers with the help of emails and social media, however sending personalized messages are an effective way of adding a personal touch. Imagine the bond you will create by sending a handwritten card to your customers on special occasions!
Flash Mob
Flash mob is an extremely common creative guerilla marketing for e-commerce tactic where you witness a photographer organizing a group of individuals to pause for the photography and videography campaigns. This is one of the best tactics which undoubtedly seeks to catch the attention of audiences. These are posed with random people and celebrities who enjoy taking part in the flash mobs.
Real Life Guerilla marketing Examples that actually worked
Example 1: Mascot of Susaki
Susaki is a small city located in the Southern part of Japan. People who were not that proficient in the geography of Asian countries were not aware of the existence of Susaki. However, slowly, things changed as a result of the implementation of one of the strategies of guerrilla marketing. Susaki government appointed an otter having accounts on various social networks as the honorary tourism ambassador of the place, named as Chiitan. The official mascot is Shinjokun, the otter which emerged the city into world headlines.
Example 2: Nikon
Nikon performed their major campaign by lying a red carpet down, which intrigued a group of paparazzi to take the photo of the passerby. It easily caught everyone's attention and while forcing people to pay attention to it. What was different here was the unique mechanism of the camera flash working everyone someone passed by. This is one of the best street marketing examples that easily caught the attention of everyone while forcing people to stop by and catch a glimpse of the happenings. This was one such fun guerrilla marketing strategy that worked and was successful.
Example 3: Swiss Skydiving
Imagine what you would feel like if you were in a glass elevator where you seemed as if you were falling straight to the ground? This was implemented as a marketing campaign by Swiss Skydiving, which not only surprised everybody but also gave the feeling of falling down, which is what skydiving is all about. It is the thrill that skydiving makes you experience. This brilliant idea caught the attention of one and all.
Example 4: UNICEF
UNICEF created a vending machine that brought out dirty water. There were distinct kinds of dirty water differentiated on the basis of diseases such as cholera, malaria, hepatitis, dengue, yellow fever, and many others. Individuals were required to pay a dollar for witnessing the dirty water. It was beyond spectacular to see how people were willing to pay a dollar just to view the dirty water. It was also shared across all platforms of social media.
Advantages of Guerilla Marketing in E-commerce
Low costs
This form of marketing is indeed a low-cost affair where, at times, you need not even spend a penny. Irrespective of the costs that are put into this technique, the method will be cheaper than any other.
Creative power
There is no other way of implementing this strategy than using creativity in its utmost potential. It is only by bringing imagination to really play that you can make a successful campaign.
Works with word of mouth
Word of mouth is one of the most beneficial ways of promoting any guerrilla campaign. This low-cost tool will amaze you of its power to spread the word like wildfire.
Disadvantages of Guerilla Marketing
You might witness your idea clashing with the law of a specific place
The message might not be well understood, rather misunderstood
Possible backlash might be encountered which might result in boycotting the brand
Is Guerilla marketing ideal for my eCommerce business?
Retailers that are new to the market who have a very limited budget in marketing can bring their brand to existence with the help of a brilliant guerrilla marketing idea. This strategy too needs to be evaluated with the help of an analysis of cost and benefit. However, it is essential to ask a few questions before the implementation:
What are the risks?
Would it be worth to invest resources in conventional tactics?
Is the idea an original one?
Are the consumers likely to be moved with this strategy?
Will it incur costs if proven unsuccessful?
With social media being the foundation of guerrilla marketing for e-commerce, this strategy is becoming a lot less risky while presenting high benefits when executed properly.
Conclusion
Similar to any other marketing campaign, Guerilla marketing for e-commerce, too, has its share of advantages and disadvantages. However, when implemented by following all necessary rules and regulations of the marketing campaign as mentioned above, it manages to prove extremely beneficial for an eCommerce business while incurring the low cost and maximum returns.