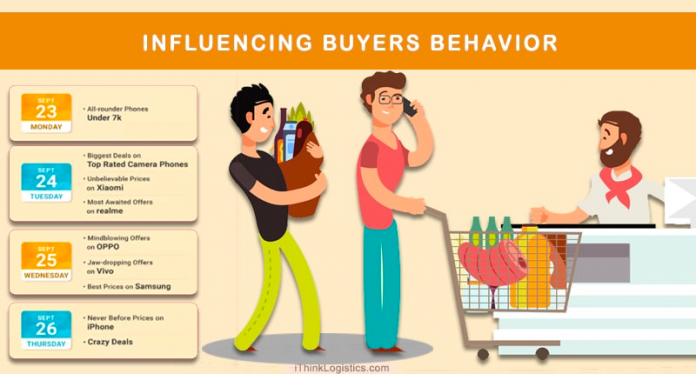 Before I get into details, let me point out the first major factor influencing a buying behavior of a customer.

"THE NEED".
You cant influence, someone, to buy your product if they dont have the need for it.
Over the years, every business model that has ever been created has been solely based on the formula of "supply and demand".
Earlier it was a mostly monopoly setup where there was very little competition among the traders.

Gradually the monopoly structure started to run out and more business owners started investing in similar products. This increased competition in the market and hence came the need to showcase a product as something which is larger than life.

With multiple options to choose from, a lot of factors came into consideration among the consumers.

These considerations became vital factors that started influencing customers' behavior.

Some of the major ones are listed down below.

The psychological factors
Human psychology plays a major role in influencing one's decision. Motivation, perception, and beliefs mold a customer's preference, likes, and dislikes for a particular product. Here are a few examples.

Product specifications
Whenever you are selling something online, it is obvious that your customer can't see the original product in front of him or her. During such instances, it is important that you describe your product properly. This helps your customers to make a decision faster.

For example mention everything like material, weight, height, and warranty of your products. People like to go deep into your product details once they like it. So make sure you have everything covered so that you can provide an improved customer experience.

The shipping cost
Ranking 2nd in the list, it is needless to say that the shipping cost is a major deciding factor among 90% of the online shoppers. Most of the customers leave from the cart due to the additional shipping cost added along with the billed amount.

According to the latest survey of consumers conducted by Jupiter Media Matrix, it has been seen that 60% of the customers who buy products online tend to end up in window shopping because they feel that the shipping charges are too high.
Cash on delivery
It is one of the biggest factors influencing buying behavior in a customer. Over the years, cash on delivery has been dominating Indian e-commerce and highly influencing more people to buy things online.
The easy return policy
Known to be the backbone of any online business, the easy return policy is one of the biggest influencing factors for the buyers.

In fact, 90% of online users consider buying a product considering their easy return policy. Over the years different biggies of e-commerce have been able to size up their sales by providing a no question asked return policy. This has allowed every customer to decide whether they want to keep the product or not.

If they dont like the product, they can return it within 10 days after delivery. The company will come and pick it up from their home.

The user experience
The interface of any website or app plays a major role in keeping a customer engaged in a site. If your interface is too confusing and the customer cant finds his or her product in the first two attempts, then they are most likely to bounce back.

Other than this you also need to make sure that your visitors can easily navigate in your site. Talk to the web development team so that you can present your services in front of your customers in the easiest way possible.

Also, make sure that your check out process is not too complex. If the payment or the check out options involve too many redirections, your customer can most likely dessert you. Excessive complexities in the site increase the page loading time and page hanging frequently. This will lead to a customer running out of patience.

Relevant recommendations
Whenever you buy something from stores like Amazon and Flipkart, you can see that they put relevant recommendations below a product that you are checking. They are often termed as "you may also like" or " frequently bought together". These recommendations play a very important role in a customer's decision making. If you put irrelevant recommendations your visitors are most likely to get distracted and even go back from your site.

Latest Arrivals
People doesnt like to see the same photos and content every day. They are always in search of newer stocks. If you make your presentation monotonous for your customers, they will probably look somewhere else. Showcasing special offers, new arrivals increase visitor engagement and influence them to buy items as well.

Social Factors
As a human being, you tend to be around a lot of different kind of people. These different people have different buying behavior. Being around various types of people often molds a person's buying behavior. Whether it's influential or solely driven by peer pressure, humans often break out of their choices and dont even realize. Here are a few examples.

Through influencers
Influencers, as the term, suggest playing a major role in "influencing" a customer's buying behavior. These influencers can be actors, YouTubers, bloggers and many more. For example, I am more likely to buy a shampoo endorsed by Shah Rukh Khan than an unknown person.

The reputation
Whenever a customer decides to buy something, one of the biggest factors that he or she considers is reputation. Along with some positives reviews the word of mouth also matters as well. For example, I am more likely to visit a restaurant recommended by a friend than a one that I just found online.

People are more likely to get influenced by personal recommendations and experiences rather than a brand that just claims that they are the best.

Exclusive Offers and discounts
Various studies have shown that brands can influence purchase intention among consumers by giving out promotions and offers. Options like "Buy 2 Get 1 Free", "Free shipping on orders above 1000". "Use codes get discounts" increases the possibility of sales and more customer engagement.

Marketing campaigns
If you want people to buy anything from you, then marketing is a must. Promotions through social media, Google and Ads help a brand establish its presence. This also increases recall value among consumers and they are most likely to buy a particular product.

Personal and economic factors
Every individual has their own choices and preference. The buying behavior among people keeps on changing with age, income, occupation, and lifestyle.

So whenever you are marketing a product, you need to decide a particular set of audiences. You cant promote a wedding gown in front of a man. Neither can you promote an Audi in front of a middle-class individual. These factors matter a lot when you want to sell your products both online and offline.

Conclusion
Did we miss something? Do let us know in the comments section below.