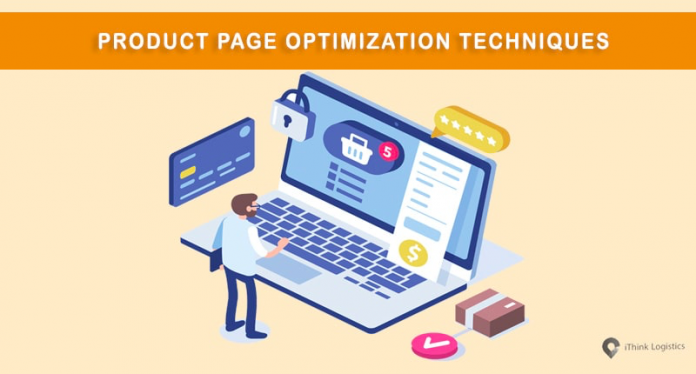 You've launched an online store of your own and aren't quite getting the results you want. When you look at your sales, the numbers indicate how you need to work on optimizing the product page even more.
Why isn't it getting the traffic and buyers as expected? Maybe the abandoning rate is high, maybe people leave without adding anything to their cart.
While your conversion rates aren't great, you can fix that by working to optimize your product page. Don't just invite potential customers; entice them to buy your products! There are a lot of factors that influence buying behavior. So this is what you need to keep in mind while optimizing the product page.
So, What Makes A Great Product Page?
The most high-hitting product pages have things have one ideology in common: they all help the customer with information to buy a certain product and convince them that this product will make a difference in their life.
By boosting the customer's confidence to buy a product because the page has all the necessary information needed to make the decision, you turn your page into a high-conversion rate product page.
Since this is the highlight of the page, you need to check the kind of way you portray your product and its information for the users to be interested in buying it. For example:
If you are selling a mobile phone, the title of the product must contain descriptions about some of its features. (Ex: *Name of the mobile, Memory, Colour).
Followed by this, you must mention the pricing and the intriguing offers that your customers can avail while buying the product.
The detailed product descriptions, payment options, along with the delivery area are a must.
Ten Questions To Ask Yourself While Building A Stellar Product Page:
Does Your Page Have A Clear CTA?
On the product page, your Call To Action is to motivate the user to hit that "add to cart" button. That won't quite happen if the button is placed in an inconvenient area, in an unattractive design and a less than ideal position.
Make sure that your "add to cart" button catches the user's attention right after looking at the product. Place it in a convenient position so that it has the center stage around a decluttered space. In short, keep the area around the "add to cart" button clean without cramping too much of design or words.
Also, don't rename this button into something too smart. If the user is confused, they'll exit your page. Stick to the regular "add to cart" and "order now" prototypes.

Is Product Photography Done Right?
When you're using e-commerce to sell your products, you already have two big advantages.
You're saving on store placement expenses.
You can sell your product globally!
But this is also an obstacle for users who are habituated to checking out a product before they buy it. Touching it, trying it on and walking in them is a long store-hopping ritual that the majority of the population still prefer over the risk of buying something online.
So how do you use e-commerce to your advantage and convince your buyers that your product is top quality? The answer is simple: Product photography!
Your product could be premium, but it won't sell at all if the pictures make it look cheap and shady. Since you're saving up on areas where you don't have to spend on store placements, invest carefully in a good product photographer. If you're still left wondering, yes the investment is completely worth it.
Having a set of amazing photos that show the best sides to your product from every angle possible will build the confidence of the user. Think of all the glam Halloween products people end up buying even if they're of no real use, but just look pretty? You want that effect from your users, too.
Clicking good pictures in different themes with the perfect light and backgrounds to highlight the best of your product is how you capture great pictures.
Getting the right product photography can also pose a challenge. One needs to know what kinds of pictures would work best for your product. For example, herbal products clicked under a sterile white background won't be as enticing as taking pictures of them in a nature-based background does, whereas, a pen needs to be photographed under a plain background to highlight the design and build.

Have You Been Linking Images To The Variants?
Clicking pictures of all the variants of your products and linking them right will help the users understand what they look like. They might not be aware of the color "dreaming in purple" or "soufflé charm".
You need to show them what it looks like rather than just listing the variants without any visual proof.

Are There Enough Details Worth The Price Of A Product?
The difference between selling a low-priced and high- value product is the details mentioned. When there are not a lot of details expected to be given about low priced products, the higher range of products needs enough information and details that justify its price.
Without clarity as to why this product is so expensive, the user may jump to the conclusion of being conned and won't buy your premium-priced product.
You may think that the customers may know and get the product, but this is an incorrect assumption. Even if they did, they need to trust your product to buy it.
Where does that trust come from? Details and certifications!

Are There Enough Details For Customers To Decide To Buy?
On your e-commerce page, your user base will consist of a mix of people. Some will have expert knowledge of your product and know exactly what they're looking for, while the others, may have no clue at all.
The goal here is to provide enough information in a language that is understandable to both sides of the knowledge spectrum. The technical specifications for the expert crowd may turn out to be utterly useless to novice buyers.
So, it is necessary to mention the technical details as well as content in a language that is understandable to a layman.
Pay attention to the tone; make sure it is welcoming and not patronizing.
Points to keep in mind:
A well-structured content with proper titles and subheadings
Answering all commonly asked questions of the users
A video showing a demo or 360-degree view of your product
Attention to UI/UX so that the customer can find the details conveniently if they want to read it.
Do You Have A Well Branded Product Page?
You could be selling the most premium range of products and still have no users converting to purchase because you haven't established a brand to be trusted enough.
We see several examples of such excellent quality brands that don't get the attention they deserve because they lack in the branding department.
In case you're starting from scratch to establish your e-commerce page, make sure that it is presented in the best way possible. Sometimes people may never visit your home page and end up straight to the landing page or the page linked to blogs/articles.
Focus on the content on your product landing page to highlight the best face of your site, since it's your official representative.

Do You Display Ambitious Content?
The point of having content with your products is to not bore the customers but inspire them to buy the product. Your content should be an evangelist for your product and push the users to hit that buy now button.
While developing ambitious content, think about the kind of users would buy the product and why. How is it supposed to make them feel? Take the example of Gillette's tag line, "the best a man can get". When a man reads it, he truly does feel like the shaving kit will pamper him because he deserves nothing less than the best.

Is Your Content Relatable With The Audience?
You could put up the most amazing piece of content and fail miserably if it doesn't touch your audience. With differences in cultures, lifestyles, and habits, formulating the right content with the perfect context will get the users to emotionally relate to your product. If they can't see it in their lives, they won't buy it.
This sounds a lot like trying to advertise a calculator from a scientific point of view to a finance student. They'll skip your calculator because of the assumption of it being a scientific one when the user needs a commerce calculator.
Make your content relatable to your target audience and pull at their strings. How will your product make a positive change and better your customer's life? Mention that.
Content that sounds too robotic will automatically turn a lot of users off and will lead to them abandoning your page. Make the words sound human to draw empathy from the consumers. Keep the tone conversational, inviting and open.

Is There Enough Social Proof Of Your Brand And Product?
Your product is only as good as people say it is. After all, it's their word against yours. Your product page will be your landing page, so a proof that the users are at a genuine site has to come first and foremost.
To show proof of your brand and product, you need to resort to traditionalism. What garners trust and credibility from users? Word of mouth and the experience of others who have used your products before!
Displaying reviews and testimonials are an excellent way to earn trust and build your brand's legitimacy on the landing page.

Do You Have A Good Understanding Of Your Customer?
All the above questions can be answered and applied aptly only and only if you know your customers well. Researching your target audience for their habits, purchasing power, mentality, buying mechanism, and motivations will help you create the perfect environment for your buyer to fall for your product, hard.
If you want your customers to relate to you and the product, you have to first learn what makes them tick. By creating a personality for your site, landing page, and products, using your understanding of your customer base will help you convert those site visits into sales.
Once you have these questions answered you're ready to use the information below to create the perfectly optimized product page that not only draws huge traffic but also retains and converts these users into loyal customers.
21 Tips To Optimize Your Product Page
Optimized Product Title
Make sure that your brand is well through a proper product title. The title must contain enough details about the product.
If your e-commerce site sells other manufacturer's products, make sure the brands are credible. Looking at well-known brands assures people that your landing page is safe and trustworthy selling genuine products.

Reviews & Ratings
Make sure that your products are linked to positive reviews with a consistent amount of users to add to your credibility. For example, a newly launched page having over 100 testimonials on day one comes off a super shady and will be tagged unreliable by the visitors. Add incentives for your users to leave a review or feedback once they receive their products to increase the number of reviews.

Product Comparison
By giving the users a table of similar products where the specifications and technical details are compared along with the price, you help the customer make a better judgment on which product suits their needs the most and which is the best option given in the same budget.
Discounts
Providing discounts on your products is a sure shot way to draw in an audience to sell your products to. By declaring sale days, hourly discount offers and deals, you will receive the right traffic to your site. For reference, visit the most popular e-commerce stores such as Bewakoof.com, Flipkart and so on.
Many of them have deals of the day about one product at a great offer price, which is enough to make a good sale for those 24 hours.
Discounts based on PIN codes, time-bound offers, limited period offers are few more examples to mention.
Assurance
By giving quality assurance to your user, you can convince them that the products you sell are absolutely genuine. Displaying the certificate of authenticity of the brand in the product photographs slide will boost their confidence in you and the product too.

Delivery Time Based On PIN Code
Providing the user with the duration taken for the product to be delivered to their location using the PIN code will reinforce trust rather than giving vague information about standard delivery.

Name the types of delivery available and the time is taken to reach the product according to a location saves the customer's time and removes the factor of uncertainty.
Mention undeliverable locations as per the PIN codes to save the users the pain of going through all the form filling only to find out the product is unavailable for delivery in their region.

Discount As Per Bank Accounts, Mode of Payment And Cards
Discounts based on the bank account, payment modes like Paytm or UPI, and credit/debit cards the users have a huge impact on sales. This acts as an additional motivation for the users to buy more.
EMI Options
If available, mention the various EMI payment options on your e-commerce site. These days, credit purchases are in vogue and the working class indulges in buying products to pay for it later. An EMI scheme puts you at an advantage with the interest they pay on the part payments made.
If you have a 0 interest EMI available, you earn more customers who will buy from you since you offer this payment option without strings attached.

Clear Pictures Of The Product Taken From Different Angles
While attaching product photographs, make sure that your pictures cover every element of your product. Cover the highlights and best side to your products by putting them in the current background and theme.

Try To Shoot A Video To Explain A Demo
Having demo videos of the product along with the photographs is a huge plus point. Since the customer can't touch, feel and try the product, it is assuring to see pictures. But what is more effective than enhanced pictures? A model walking down in your clothes proving it looks just as good as the photographs. Demo videos also give the users an insight into the fitting, realistic appearance and quality of the product.
Proper Product Highlight (USP)
Use the right words to shed light on your product's USP. Why should the customer but your product among so many competitors? What does your product have different from competitive brands?
Cancellation And Refund (If Available)
Making it known on the product landing page or under each product whether an item is applicable for cancellations and refunds, to has the effect of building trust in your site visitor.
Warranty Of That Product (If Available)
Provide the right details about a product being available for repairs or replacement if it has a warranty attached to it. Make sure you mention all the details necessary, such as keeping the original box and accessories/manuals to avail of a warranty replacement or repair.

Perfect Product Description
Including the best features about a product in an easily understandable language, but with finesse acts as the salesperson of your product. Low-end range products won't need a description as elaborate as the premium quality products. Make sure that the worth of the premium products is emphasized to make the users realize why exactly it is a top of the line item.
Include Pictures With Individual Features
While taking product pictures, make sure you have covered the individual features and specs of the product rather than simply covering the product aesthetics.
Product Specifications
Apart from the attractive and enticing product description, there is a separate section called product specifications that are meant to give all the technical details of the said item.
Whether it is for experts to read or for normal users to understand and cross-check, mentioning such specifications helps them compare your product to the competitor's and make the right call.

Installation Facilities Through Seller Or Your Team
When you sell products that are dismantled or electronic, providing an installation team makes your site more attractive to the visitors. This shows them that your e-commerce page is a one-stop purchase place where they don't have to worry about installing their 5 door wardrobe once the parts are delivered.
Product Demo Post Installation
When your products are complicated to use, it is good to give the users a product demo to help them learn the ropes of usage post-installation, if applicable. It is your responsibility as an e-commerce site is to enhance ease of use and provide convenience to the customer.
Sending a demo video or letting the installation team conduct a demo will boost your image and trustworthiness a few levels up.

Manufacturer Details
Big brands are renowned and don't need to be verified by customers, but when it comes to you selling the products of new manufacturers and brands, it is important to display the full details of such a company. Earning the trust of a user needs the availability of as much information as possible. Transparency in displaying the brand's certifications and authenticity will help the customer trust you more.
After Sales Service
A successful purchase followed by the best after-sales experience for the user is a complete win for you. Mention the kinds of after-sales services you provide on your product page to ensure users understand you genuinely care for their purchases.
Customer Support
Providing customer support in the form of Chatbots and FAQs among the email and calling systems will give the customer a better understanding of your page quality, distinguishing it from the several e-commerce brands that abandon their users once a sale has been made.
Conclusion
Ultimately, what works the best is how well you execute the above tips and strategies to turn your product page into a highly optimized landing page. Focus on creating a balance among all the factors and slowly, you shall see an improvement in your conversion rates, sales, and lesser abandoned carts.