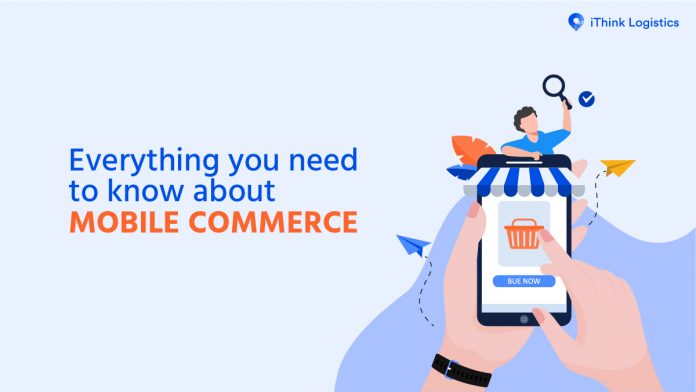 Our way of life has certainly changed as a result of the Internet. Thanks to technology, simple and ordinary tasks may now be easily completed, which is especially visible in e-commerce. Internet-based transactions have inspired the rise of M-commerce, with E-commerce serving as the umbrella term.
M-commerce refers to the business transactions which are conducted on the internet using a mobile phone or cellular device. Mobile commerce includes anything from tablets to notebooks to laptops.
The term mobile commerce was firstly found and used in 1997 by Kevin Duffey at the launch of the Global Mobile Commerce Forum, to mean" the delivery of electronic commerce capabilities directly into the consumer's hand, anywhere, via wireless technology.

After Demonetization, Mobile commerce is the new normal. Mobile commerce refers to the virtual cashless transfer of money from one user's bank to another through mobile phones, laptops, tablets, etc. Mobile commerce has limited the use of cash in most tier 1 and tier 2 cities and it continues to upgrade people with it.
For eg– Paytm enables various payments such as home bills, financial bills, insurance, various ticket bookings, etc. Google pay is a commonly accepted and used app by auto-rickshaw drivers, restaurants, hospitals, cinema halls, etc. Amazon pay allows users to recharge their amazon wallets and process their transactions.
M-commerce is expected to expand even more in the future. M-commerce's sales will treble, according to Forrester. Retailers of all shapes and sizes will continue developing and expanding their mobile platforms to perfect them and attract more customers.
This can be explained by the fact that people have less time to use their laptops or desktop computers and instead prefer to utilize their phones. According to a survey done by Economic Times, an average Indian spends more than five hours a day using a mobile phone.
M-commerce is on the rise and shows enhancing pace, with mobile devices expected to account for the bulk of sales in the coming years. As a result, many businesses have already migrated to the smartphone platform in order to boost revenue, paving the way for M-Commerce.
Types of m-commerce services
Mobile shopping
Shopping with mobile applications is referred to as m-commerce. This is the fastest-growing mobile commerce service. Many apps allow you to make an online purchase. Even social media sites are frequently used as a buying platform.
This is similar to E-Commerce, however, it can be accessed via your iPhone or Android. Online buying is now possible thanks to mobile-friendly websites.
Examples are Amazon, Myntra.

Mobile banking
It is identical to online banking, and certain types of transactions allow users to make transactions with more ease and convenience. Although some banks have begun to experiment with chatbots and messaging apps, most mobile banking is done through a separate app.

Mobile payments
M-commerce payment services and applications such as Google pay, Paytm, BharatPe and several others allow user-friendly access to transactions and make payments easier and faster. These cashless methods have become increasingly popular. It's even being used by vendors.
You don't even need a wallet anymore; your phone has everything you need to complete a purchase or to deposit/receive money. Every business is developing its own cashless transaction concept by accommodating apps like Paytm, BharatPe, Phonepay, etc. Customers are drawn to financial organizations that leverage ease for them to do everything using their phones.

Mobile Catalogues
One of the most innovative forms of m-commerce is this. It provided the retail industry with a whole new perspective.  A lens and spectacles application allows you to try on the glasses in real-time.
You only need to download the app to try any lens from the comfort of your own home. This elevates the client experience to new heights.

Mobile Marketing
If you operate a store, m-commerce can help you gain more customers. You can use an application to notify your consumers about the sale. To entice more clients, you can create online coupons or fortunate drawings.
Mobile Booking
Using your phone, you can purchase tickets for nearly anything.
Do you want to attend a concert?
or even a film?
book a plane ticket?
book a table in a restaurant?
You can do everything with your fingertips. Many apps can assist you in making any form of reservation. It is also a green strategy.

Mobile Entertainment

M-commerce has also stepped into the field of mobile entertainment so that when you feel bored or don't find anything to do, platforms like Netflix and Amazon Prime gives you access to watch movies and TV shows online using your phone.
With the internet on your mobile phone, you can play a wide range of online games which also ensures a revenue stream for online game producers.
if you're bored and don't have anything to do. M-commerce can also be useful in this circumstance. You have a wide range of games to choose from. This also provides a revenue stream for game producers.

Mobile Healthcare
The most incredible service that M-commerce leverages is the healthcare services available through mobile applications. Mobile healthcare apps allow you to buy medicines online and provide you with access to acquiring medications from the comfort of your home.
Certain applications are so efficient that using them you don't even need to visit a doctor for prescribing yourself medication in case of sickness.
This is the most incredible service. You can buy medicines online with the help of some apps. So you may acquire medications from the comfort of your own house. There are even apps that allow you to get medications without having to see a doctor.

Advantages of Mobile Commerce for Business
Now that you have a better understanding of what mCommerce is all about, let's look at the most crucial and mission-critical advantages that mobile commerce applications provide to businesses.
Shortened Buying trip
Many businesses assume that by providing a responsive website, they can deliver a mobile app-like experience to their customers. However, this is not the case.
When it comes to loading data and search results on mobile devices, mobile applications are 1.5 times faster. As a result, buyers can browse and purchase things on their smartphones or tablets more quickly.
Companies who want to provide their consumers with the greatest possible experience and streamline the purchasing process as much as possible would gain greatly from the accelerated buyer's journey.
Accessibility and broader reach
Companies may now explore previously untapped markets thanks to mobile commerce. The number of individuals who own a smartphone is expected to increase to 7.26 billion by the end of 2022 which equates to more than 90% of the world's current total population.
Every person who owns a smartphone is a prospective customer, and with such a wide user base, there are several chances for creating and nurturing sales leads. Users will find it much easier to get your offer if all they have to do is download your app from an app store.
Simply compare it to buying items in the usual manner — at brick-and-mortar stores. A customer must drive, walk, or use public transportation to the store, then wait in line to pay before returning home. Customers may view your offers from anywhere, even on the go, with a mCommerce app.
Engaging customers at the perfect time
Another important benefit of mCommerce for firms in a variety of industries is that it enables customized timing. Brands may use mobile commerce apps to reach out to their customers with the right message at the right moment.
For example, you could send a push notification to app users who are looking for a product to inform them that a new version would be available in a few days. If you spot someone buying at your online mobile business during their lunch break, you can assist them by sending them a personalized promotion.
You may engage with customers during specified times of the day by using geo-tracking and programmatic advertising. If you execute it correctly, you greatly boost the chances of them completing the buy.
Marketing possibilities are expanding
Now let's look at the numerous marketing benefits of mCommerce. The first is the inherent scalability provided by mobile commerce solutions to organizations. When customer interest in your app spikes, you may enhance your mobile app marketing by constantly monitoring and analyzing the traffic in your app.
When consumers are less inclined to buy your items, you can downscale your operations to optimize your resource consumption (for example, during the holiday season).
Other marketing advantages of mobile e-commerce apps include:
● M-commerce allows you to directly access your target audience via a mobile app. You can save money on your marketing strategy this way.
● You can easily encourage customers to spread the word about your company and promote your products with their networks if your app is integrated with social media sites.
● If your app becomes extremely successful, you can supplement your income by adding advertisements within it.
●  Overall, mCommerce will help you cut marketing expenditures and improve the effectiveness of your efforts by giving you access to extensive client data
Customer data is really valuable
A customer will stroll into a business, make a purchase, and exit in a standard retail situation.
We have no idea why they bought it or why they chose that particular product.
Did they look at other choices before making a decision?
What variables played a role in their decision?
Was it the product's pricing or its distinctive attributes that drew you in?
You can receive answers to these and other questions using mobile commerce. This is because mobile analytics allows you to track customer data from the moment they discover a product to the moment they buy it. While doing so, you can gain vital insight into purchase intent signals and discover more about your target audience's habits and preferences.
To make your offer successful, you must first get to know your clients. Companies are putting forth every effort to reach out to their customers with the appropriate messages at the appropriate times.
To forecast trends and analyze customer purchase patterns, you'll need basic demographic information as well as their shopping history and location. This is something that a mobile app can readily give.
Your business plan and the resources you have available for mobile app development will determine the level of sophistication of mobile analytics. By incorporating such analytics features, you may increase sales by reaching out to your clients ahead of time with personalized offers.
Improved customer service through chatbots
Customers are vying for the attention of businesses. Because of the growing competition, providing a one-of-a-kind and individualized consumer experience is now more vital than ever. One of the most important trends in mobile app development is the increasing relevance of experiences.
Here are a few of the unique ways that M-Commerce apps provide an excellent user experience:
●  Consumers' familiarity with how smartphones and other mobile devices work is one of the m-commerce advantages. The majority of customers can navigate to the desired product in just a few clicks. It's enough to develop easy navigation within your software to send visitors in the appropriate route.
● Customers utilize mobile devices to communicate with one another, so keep that in mind. That is why social media integrations are a good idea. Users of the app may then simply express their thoughts, discuss your product, and even seek assistance from the community.
● To improve the user experience with your product, provide a few unique features like personalized discounts and push notifications, as well as a variety of payment choices.
Direct communication
Businesses can interact with their customers in a variety of methods, including email newsletters and social media. Push alerts, on the other hand, are the most direct. While it is simple to ignore an email, this is not the case with push notifications.
One of the main reasons why so many businesses are turning to e-commerce applications is the possibility to build such a direct channel of communication with customers.
Push notifications to have greater open rates (up to 90%!) than email and are an excellent way to inform your customers about new products or seasonal specials.

Does mobile commerce have any drawbacks?
It Necessitates technological access
Customers who do not have a mobile device will not be able to participate in a business's m-commerce experience. For a successful experience, a mobile device must be capable of retrieving corporate information, giving product or service information, and transmitting a sales order.
If an app is utilized, it must be downloaded and updated in order to offer access to information.
It's a Fiercely competitive market
The level of competition you have for your products or services is significant since m-commerce provides a global marketplace. There's a considerable probability you'll be up against several other companies doing the same thing all around the world.
Even if you're the sole provider in your neighbourhood, building up mobile commerce sales can take a long time. Consumers must shift through the white noise of everyone else claiming to be able to perform the same thing to identify your quality.
Get your business m-commerce ready with iThink Logistics
Without a question, mobile commerce is more than a trend; it's a phenomenon that's here to stay. As smartphones become more vital to how consumers communicate, obtain information, and now shop online, mobile shopping will likely become less of an option and more of a must for eCommerce firms.
You must invest in m-commerce if your business model includes internet sales.
For business owners, mobile commerce opens up a world of possibilities. Create easy-to-use applications and websites with responsive design to attract customers to shop your items on their mobile devices.
iThink Logistics can help you turn your dream project into reality with our expertise and innovative team! Connect to us now and get started with your journey of establishing a successful eCommerce!