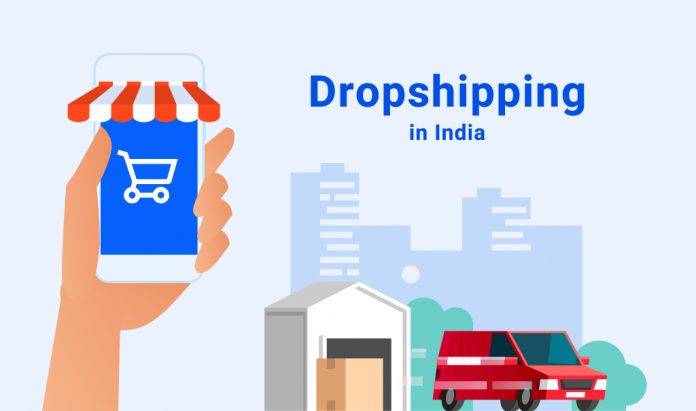 If you're thinking of setting up a new business, expanding your current operations or even starting fresh without an idea or a new product in mind, this is for you. Because dropshipping in India can be done by just about anyone, and as complicated as it sounds, it's quite the opposite. It's a business model that is simple, relatively low-risk and easy to start even with limited resources in hand. And if you want to learn more about the possibilities of dropshipping, this blog is for you.
What is dropshipping?
The world has seen some of the most successful companies built on the foundation of "order fulfilment." To put it in simpler terms, all of these companies are in the business of dropshipping in India.

You've heard of shipping. But what is dropshipping?
It's a businessman's favourite word for selling products that are not made by him, not keeping a stock, not going through any delivery/shipping hassle, and yet making a profit.

It is as simple as selling a product to your customers, handling customer queries and being the best sales manager while having the manufacturers do all the work of curating the order and shipping it to the customer.

And the best part? You don't have to maintain an inventory! Once a customer places an order on your site, you simply have to pass on the purchase order to the manufacturer who will ship the products to the customer.

Dropshipping can be broken down into 5 easy steps

How does dropshipping work?
To understand how dropshipping works in the easiest way possible, let's start with an example from a customer's point of view.
At some point in our lives, most of us have placed an order on a popular e-commerce marketplace. When you open the app, you pick what you want from a large variety of items. And once the order is placed, your items are personally delivered to your house.

Now let's take a look at the seller's point of view.
Mr ABC accepted the order the customer placed. He accepted the payment that the customer made. He sent the order to the brand/manufacturer. The manufacturer curated the order and shipped it to the customer. Both parties, Mr ABC and the manufacturer, enjoyed the profit.
We will answer this question in five easy steps.
What will I sell on my website?
Find your product niche
Whether it's stationery, workout wear, tables, showpieces, gifting items and whatnot, you need to decide what you want to sell on your marketplace. Being a dropshipper, you don't have to manufacture the item yourself. You have to partner with unique manufacturers who make the items that you want to sell.
For example, IndiaMart, AliExpress and JustDial are well-known platforms that connect dropshipping businesses with suppliers.
And if you don't wish to choose a supplier online, you can also partner with a brand/manufacturer of your liking and list their products on your marketplace.
How will I create my very own Brand?
Set up your dropshipping store with Shopify
The answer lies in popular dropshipping companies that have enabled thousands to start their own e-commerce store and manage it all the way from marketing to payments to customer support. Companies like Shopify, Oberlo(a part of Shopify) and Baapstore are perfect for getting you started with your very website in the world of e-commerce.
Some of their benefits include:
Extremely easy setup and minimal configuration
Helps you create a good looking website with easy navigation
Simple for a first-timer to understand and operate
Provides secure and reliable hosting on the internet
Minimal fee for hosting support
Makes it simple to set up a payment gateway
Provides access to multiple apps for marketing, customer support, social media integration, etc.
How will I get users to come to my website?
Marketing!
A dropshipper needs to host an online store. And the best way to get leads on an online store is by marketing online! 'Social media is a place loved by people to unwind and explore. But to people in business, it's a money-making machine. Yes, you read that right.
With all kinds of users on social media platforms, advertising on them is your best chance to get people to come on your website. Being a dropshipper, you've already saved on the cost of manufacturing and stock-keeping. Plus even making a dropshipping store isn't that expensive anymore. So ideally, a major part of your investment will go into advertising, which in turn is going to benefit you only. By running ads on Facebook and Instagram, you have complete control over who sees your ad and learn exactly who engages with your ad, the most 'clicked' products, and what works best for your dropshipping site.

How will I handle user queries?
Be hands-on!
Let's be serious, a low-investment, yet dropshipping's profitable business can't just be creating a marketplace. Because when you have a market, you have customers. And where you have customers, you have questions. From doubts about the product to complaints about quality and delivery, excellent customer management is what will keep customers coming back to you.
Surely, you don't want to spend a massive amount of money on ads all the time. So be quick to answer your customer's questions, solve their doubts and make their buying decision easy with reviews.
When your dropshipping store takes off, you could also hire a few employees to do this for you.
How will I manage payments and transactions?
Set up a payment gateway
Indians have embraced online shopping, like no other. And with increased trust, comes more and more online payment. But there's no need to panic. Just like creating your dropshipping store in the first place, companies like Shopify also help you incorporate a ready-to-use payment gateway in your website. Some of the most common payment gateways trusted by Indians are Razorpay, CC Avenue, Stripe and more.
Key players in the dropshipping industry
Shopify: Not only is Shopify the most recommended eCommerce website builder in the world, but also the best. To put it simply, it's a drop shipper's paradise! With many built-in features and internal apps, everything can be set up with ease. From buying a space on the internet to list your products to setting up a payment gateway to marketing your website, Shopify is the starting point of small ideas turning into big businesses!
Baapstore: Not only is Baapstore India's befitting reply to foreign giants like Shopify, but it is also India's first and dedicated dropshipping provider company! Their belief stems from the fact that Indian retailers have moved past the brick-and-mortar phase. It's no longer about having the biggest shop. It's about having the best marketing, even though the sellers don't physically have any inventory of products! Starting with hosting your e-commerce website to cataloguing the products to packaging to ensuring delivery, Baapstore has your back. All you have to do is spend money on marketing and be an efficient customer manager, while Baapstore will handle the stress of sourcing the products and shipping them to your customers.

Trade India: For a dropshipper, listing the right kind of products to be different from other sellers is necessary. And Trade India helps you do just that. It is one of India's biggest networks that connect retailers with manufacturers so that your dropshipping business always has a moving supply of stock even though you don't have to stress about keeping any kind of stock in your warehouse. Trade India is not only a platform for individuals along with SMEs and MSME for product marketing online, it also has several benefits. You can avail of payment protection plans, easy loans and get all the logistical help you require.
While you are now aware of companies that help dropshippers set their business, let's take a look at a case study of a successful dropshipper in the industry.
Snazzyway is an online retail lingerie store set up by Tavleen Arora. A woman who was tired of her corporate life and decided to be her own boss. While it may have looked challenging to start a business online, the answer was right there. The internet! One can sell just about anything! With her preference and knowledge about lingerie, she started selling the products she bought on Amazon. After initial success, she decided to go all out and set up her own dropshipping business. With hundreds of products to choose from, effective marketing strategies and hard work, she is finally her own boss! With revenues exceeding lacs and over thousands of loyal customers, Tavleen Arora's story is an example of small ideas creating big businesses with the help of dropshipping.
Why should one use dropshipping?
A mall without clothes.
A store without supplies.
How do these businesses even work?
The answer is dropshipping!
Creating a Brand isn't too difficult in a world that loves technology. On top of that, with several templates to choose from, you can get started any minute.

You must also realize that you're not selling something that you're creating. With dropshipping, you won't just be free from manufacturing problems but also high costs! And with no inventory to maintain, dropshipping becomes one of the lowest investment businesses you can start.

While dropshipping has the word "shipping" in it, shipping and packaging hassles are something you won't have to worry about! Depending on the product, the manufacturer will be responsible for proper packaging and shipping orders to the customers.

By far, one of the biggest reasons why dropshipping is a wonderful business opportunity comes down to the fact that it has created some of the largest businesses in the world! E-commerce marketplaces like Amazon, Alibaba and more have built a strong brand name, a trustworthy reputation and most importantly, a growing business, with the help of dropshipping.
Advantages of dropshipping
Every business has its benefits. And to give you an objective analysis of dropshipping as a business model, we have put down the following points.

"How difficult is it to create a Brand ?"…is a question that you may wonder about.
And the answer is, not much. With many website-making options out there, it doesn't take much to start your very own dropshipping business. However,
While dropshipping saves you the manufacturing costs, maintaining a warehouse full of stock, packaging material, and extra employees for fulfilling the order requires you to advertise and manage customers well.. Big players like Amazon and Flipkart have become successful by gaining the trust of their customers. And gaining trust was only possible because they sell genuine products, have a vast selection for customers to choose from, have an excellent customer care team and have met the expectations set by their advertisements. Additionally, competition is high and getting customers to pick your website for shopping requires a good marketing budget.

With no stresses of maintaining an inventory, you can quickly test products. You can run ads to see which products listed gets the highest clicks and sales and which don't. Based on the numbers, you can decide which products to run offers, which products to remove and which products to boost. Also, suppose you're planning to maintain an inventory in the future. In that case, your numbers can help you purchase the highest-performing products and minimize the risk of loss by guaranteeing a certain number of sales.
Learn more about dropshipping risk and advantages.
Conclusion
Businesses involve risk. It's the law of the land. However, having a large sum of money to invest isn't the law. With dropshipping being a relatively low investment business, you can start your online marketplace with much more ease than other businesses. All you need to keep in mind is to be sure of the kind of products you want to sell, the brands you want to list, the audience you want to cater to, and whether or not you wish to maintain an inventory.
Dropshipping has created empires. And with the right vendor partners, you can be the one creating your own successful dropshipping business.