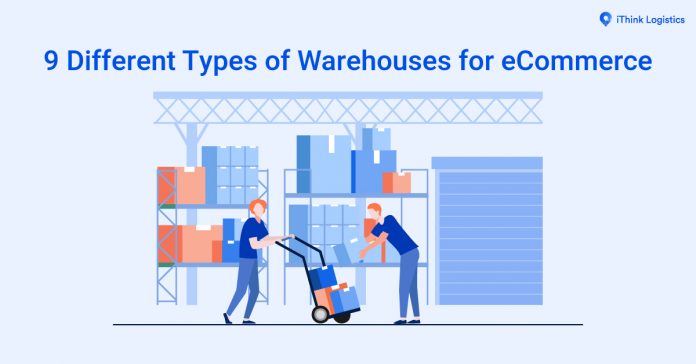 The Indian warehousing market was valued at INR 1050 Bn in 2020. And this isn't it; it is expected to expand at a compound annual growth rate of 14.86% between 2021 and 2025, to reach a value of INR 2028.86 Bn by 2025. "Source: Agribazaar"

These numbers may be exciting, but it is vital to understand the different types of warehouses and how they can be the best fit for your products as an eCommerce seller.

Picking up the right warehouse for your eCommerce business may sound like an easy decision. After all, it is buying and renting a space for all your orders. But the catch here is that not all warehouses are created equal. Many factors make them unique in their facility, and so in today's topic, we will talk about the different warehouses and their use for you as an eCommerce seller. So let's begin:
Different qualities to look for before selecting warehousing:

Various warehouses come with unique qualities. But still, they do have a few general features which are efficient. So every warehouse should have these general features, and they are :

Benefits Of Warehousing

Before we jump in to read about different types of warehouses, let's take a look at the different facilities you can expect from warehousing your products. Here you go:

Allows to meet the customer demand ahead of the time
By being an eCommerce seller, it is vital to meet your customer's demands. Production/ Assembling goods on a large scale require an equally massive place for the finished/ packed goods. To meet the near future demand or a sudden spike in demand. The seller can opt for warehousing goods and benefit by planning their production/ assembling of products.
Controls the risk of damaged products
Opting for warehousing your products is an excellent way to ensure that they're safe. From packing to hoarding goods, warehouses can control the risk for the goods to get damaged. For example, a seller can opt for 3PL and the logistics team can look after packing and dispatching the goods directly from the warehouse with utmost care.
Extra storage for more goods
As a seller, you constantly try to predict the demand and supply of products, but what for the sudden spike in demand? To meet the demand, warehousing plays a significant role. When you choose to warehouse your products, the team always keeps extra storage to meet the sudden demand in case of a spike. With the warehouse facility, you can store more goods without the hassle.
Different Types Of Warehouses
Private Warehouse
A private warehouse is owned by manufacturers or vendors who need a vast space or entire space to store their products. Private warehouses are for those businesses who can afford to keep them maintained with the help of experts. And owning a private warehouse is an expensive option, but it has its advantages. For example, products can stay in the warehouse until they're ready to be shipped.
Public Warehouse
In public warehouses, the storage spaces are rented out to the public. The individual could own this type of warehouse, but most of them are owned by large corporations. All the public warehouses must adhere to the rules and also be fully licensed to function. For most SME's it is a great warehouse option.

Smart Warehouse
In this type of warehouse, the whole process from storage, fulfilment and management is automated using AI. When we talk about automation, it includes the software that manages the task from packing to shipping. Big brands like Amazon, Alibaba use smart warehouses that make order fulfilment less prone to error. When you opt for intelligent warehouses, there is no need to worry about management.
Bonded Warehouse
A government license is required for this type of warehouse. The sole purpose of such a warehouse is to store all kinds of imported goods until their custom duty has been cleared/ paid. These warehouses are under strict custom and need to function as per the regulations set.

For example, a bonded warehouse will hold on to the goods when a shipment comes at the dockyard until the importer has cleared the custom duty. This warehouse type is a lot more complex than you will ever have to face, so it is ideal for working with an experienced third-party logistics partner who can make it look like an easy walk.
Consolidated Warehouse
It is a type of warehouse that has a third-party storage facility. Small shipments from different sellers who want to deliver at the same destination are loaded into one truck. These shipments may go through a regional distribution before being delivered to the end-users. Such types of warehouses are strategically situated to meet the demands.
 Cooperative Warehouses
These types of warehouses are owned and managed by cooperative societies. So the warehouses owned by the societies provide facilities at lower rates. The purpose of running such a warehouse is to drive profits and be a help to their members.
Government Warehouses
As the name suggests, these warehouses are owned, managed and governed by the Central government. There is better safety and security of goods in this warehouse as the government manages it.
They are also considered public warehouses as the government owns them. When any company or seller chooses to store goods in a Government warehouse, you shall be subject to rent and other charges prescribed by the government.
 Distribution Centers
This storage facility has a larger space and enables the fast movement of vast quantities of products for a short period. At the same time, on the other side, the conventional warehouse is a type that holds the products for a more extended period, like 1 or 2 months.
These warehouses connect the dots in the warehouse distribution system, where the goods are picked from the different sellers and distributed to their respective customers. To lower the delivery cost, such types of warehouses are located near the transportation centres.
Cold Storage

Just as the name suggests, cold storage is a warehouse-type that stores items at a low temperature. This type of storage is required for medicines, perishable goods, foods, plants, candles etc., to have a longer life.
How to make a Warehouse Choice for your products?

There are various types of warehouses, and each comes with its advantages. While making a warehouse choice, it is vital to consider business needs, target audience, budget and supply chain.
For example, an eCommerce seller that sells perishable goods may find cold storage as their best choice compared to other types of warehouses. To eye at a long term success, it is significant to know which warehouse would work best for your niche.
As you can see, choosing a warehouse isn't rocket science, but it is vital to pick the right one considering your business needs. You can expect to come across roadblocks as you go through a lot of trial and error. Once you've understood the process of it, all you'll have to do is keep growing your sales.

Remember: Warehouses can seem exciting, but a wrong choice can clutter the logistics, which will impact your customer service. This requires a lot of planning before making a choice. 
Have you made your choice of warehousing your products?