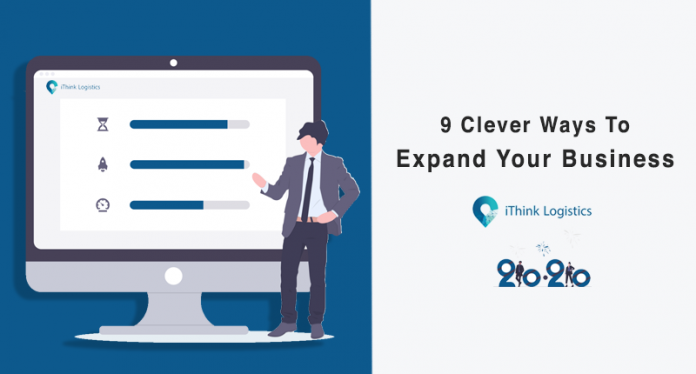 As the times have changed, so has technology, customer behavior, and expectations. Clients now expect the best of the best services that can be performed with ease by such new budding companies while they create new contacts and build capital quicker than their older competitors in the logistics market of India. New entrants in such ways have managed to capture their niche and so will the ones that come after them. As a budding industry, increasing competition is just a side effect you learn to deal with. How does one stay afloat and thrive in such challenging times? We have a list of 9 clever ways to expanding business in 2020, which will not only help you become better among your competitors but also, thrive in a constantly evolving environment. Our tips consist of online marketing and conventional tactics to help you become the best in the game.
Without wasting much time, let's dig in.
Smart Content Marketing
Your website takes care of your online presence among other factors. Being one of the most important ingredients to online success, does it reflect who exactly you are and what you represent? High quality content that resonates with the core values of a logistics company is the key when it comes to business expansion. Your team of content creators needs to be top-notch to add value to your website such that it encourages the visitors to spend time on your pages. Good content ensures that the potential clients interact with your webpage, which plays a big role in generating leads and their conversion and expanding business in 2020.
A very useful tip for small businesses that cannot afford to hire and maintain their own content department is to outsource their jobs. Digital marketing experts have stellar quality content developers who understand the unique requirements of your organization. Outsourcing is not only a smart move but would also look after your budgeting. Content can consist of regular blogs that are released daily, weekly, bi-weekly or in a frequency that is best for your business requirements. Content marketing strategies address problems faced by your target audience, know-how, and informational blogs are incredible topics to increase traffic to your website.
Attention to Search Engine Optimization
As the name suggests, Search Engine Optimization is exactly that; this is a tool used to optimize your website in a way that it shows up in the top search list of Google and other search engines and expanding business in 2020. By using tactics such as keywords integration, backlinking and others, your company can divert the online traffic to your website and thus generate several leads. This also works in the form of organic and local SEO.
Organic SEO generates the results you want to bring traffic to your website by using the most searched terms related to your business in the content you publish on the site. Local SEO focuses on the audience situated within your establishment's range to give them location-based suggestions of your business when they search for logistics companies around them. This is an excellent step towards expanding your business because it not only increases awareness but also helps you gain the upper hand in your local marketplace.
Partner With The Right Parties
Logistics can become a very competitive affair if faced alone. As small businesses, it is difficult to expand your reach due to the lack of storage space, staff and delivery operations personnel. In such instances, it is highly advised that you partner up with parties who have similar goals. This will help you spread your services over a larger geographical area rather than sticking to only a local zone. Collaborating with more delivery partners, a combined warehousing facility and a packing agency to run joint operations is the new smart in 2020. Don't think of it as sharing your customers. When you share your client base, not only are you capable of picking up large-capacity orders and bulk orders that you couldn't due to your previous limitation of staff and space, now you can cater to a larger audience and make it to the big leagues.
Collaborating with other smaller organizations in the logistics industries gives you a fighting chance in the face of rapid technological advancement. By joining hands to work together, your incomes increase exponentially and so does your ability to take bigger orders from farther locations. A bigger organization or a bigger logistics group, in this case, get greater discounts and better rates to purchase machinery, technology, and packaging items as well.
Conversion Rate Optimization
Conversion Rate Optimization or CRO refers to getting more value out of every site visitor. Once you have your website and amazing content ready, you're prepared for the next step. CRO is the time taken to convert unresponsive or passive viewers into converted leads. Remarketing is an art when it comes to improving your CRO. You can also use tactics to bring old and existing customers to make repeat orders at your logistics company by putting them in the repeat sales funnel. The higher your conversions, the higher the CRO, and hence, the better your ROI. Ideas for CRO optimization would be planting your call to action button on pages that get the most traffic in your website. Using heat mapping tools, too, help to pinpoint the location where your browsers spend most of their time on your website.
Maintaining Consistent Quality
Quality assurance teams and timely audits to check the staff's efficiency is fundamental to your expansion as a logistics business. By keeping regular checks on the quality of the work being put into packaging, transportation and other processes, you can keep business operations consistent. One of the most famous tactics used in successful logistics companies is the concept of individual accountability, where the personnel feels a personal responsibility to the work they do, thereby putting in more value and precision into their jobs. Maintaining a consistent quality of work rather than having random bursts of excellence in a mediocre trail of services will serve you longer and better in the long-run of your business.
Don't Shy Away From Email Marketing
Using white hat marketing techniques to improve your mailing list can help you go a long way. By investing in a good digital marketing team or hiring an agency to do the work for you, you can sort and find several leads through email marketing. This involves sending useful content to people who have shown an interest in businesses similar to yours since random mailing lists often lead companies into the spam box. Several logistics companies get blacklisted by the mailing lists because they do not send content that provides any help to the potential customers. By creating newsletters to provide information both useful and essential for the audience, you can stay at the top of their inbox. By sorting the types of audience by bifurcating them into categories such as organizations and individual, their industry, geographic location and other factors, you can curate content to specifically target a solution to their pain points and individual requirements. Emails that sound more earnest and personal are the ones that get clicked on the most, which will deliver viewers straight to your landing page, thus giving your website a chance to convert them. You can use your emails for effective sales funnel wherein you pitch to a new prospect to convert them to customers, and remarket to them to make repeat purchases.
Social Media Marketing And Image Management
The social media represents your image online. By having a team of experts or hiring an agency to handle your social media accounts such as Facebook, LinkedIn, Twitter and Instagram among other popular platforms, you give your business a world-stage where they can present their best skills to invite investors, customers and business partners. Actively posting good quality content to make the audience engage with your page, monitoring reviews and attending to client grievances on social media will create a strong image of an organization that takes responsibility for their work and works towards creating a positive experience for their customers.
Upgrading Technology and Training
Technology keeps changing and getting better as the times change. This means that your organization will have to do away with older and obsolete machinery and technology that no longer serves your company's highest good. Business owners who wish to expand their logistics companies must understand that upgrading does a lot more good than the expenses they pay to acquire it. Older technologies will not be as efficient as the ones that have been created to replace it, thereby decreasing your productivity. If you hold on to old machinery because they work alright, you're creating a loss for you because your competitors are leagues ahead with the benefits of acquitting the latest upgrades. Training your staff to operate machinery by calling a member from the machinery's origin company will similarly benefit your team rather than incurring losses while mishandling and damaging expensive equipment.
BONUS TIP: Streamline Your Business Operations
This may be an old school step but it always shows a hundred percent results. It is always worth streamlining your business operations by running through drills over and over again so that you have a seamless transition between processes. Try to focus on reducing the time wasted between processes by working on the reasons for minor and major delays and create a plan of action where your turnaround time reaches its best results. In the logistics business in India, timing means capital for all the companies as even a delay of seconds could go ahead and create an hours-worth delay in the big picture. By keeping in mind disturbances, breakdowns, roadblocks, and other problems, creating an alternative for every problem becomes easier. Once you have a plan B for every step, your operations will have lesser chances of hitting any major nerves in motion.
Conclusion
By putting into action the steps above, any small or medium logistics company in India can soon gain the success they aim for in their 2020 business expansion. Now that you're well-versed with the steps of your new and effective business strategy, which aspect of your logistics company needed the most improvement? Let us know.