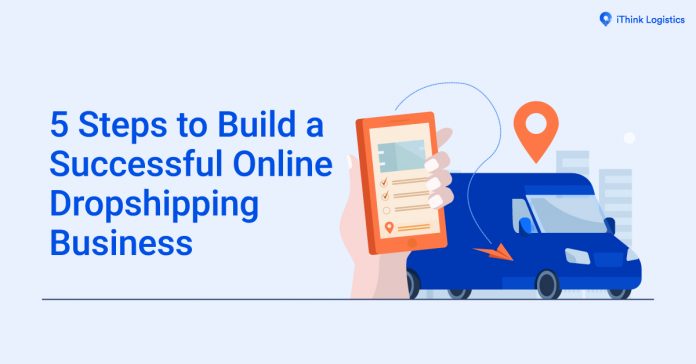 To start your own e-commerce business, you need to manufacture/buy original products, store them in your warehouse, list them on your website, host your website, integrate a payment gateway, manage customer care, handle the marketing to ensure traffic, and provide shipping.

Seems like a lot to handle? We can understand.

But what if you can simply manage the hosting, marketing, and payments and still reap all the benefits of an e-commerce website?
Indeed you can with the dropshipping business model!
Dropshipping is an e-commerce business model that has gained massive popularity over the years. It basically involves hosting a website with products listed on it and not worrying about the rest. All it requires you to do is to make a platform that the customers can visit – similar to a display tile. Once a customer places an order, a dropshipper simply processes it and sends the request to the third-party manufacturer. Then it becomes the manufacturer's responsibility to ship the product safely to the customer. 
And the best part is that the dropshipping business model doesn't require you to have a large warehouse. All you need is a tie-up with a seller/manufacturer and they will deal with the shipping.

Some other benefits of starting your online dropshipping business in India include investing minimal capital, the freedom to run it from anywhere in the world, the freedom from maintaining an inventory or renting a warehouse, no shipping hassle, the flexibility of adding/removing products based on performance, and the ease of starting a dropshipping business in the first place.  

Steps required to start a Dropshipping business
Decide on what to sell 
In a competitive world, finding your niche can get tough. Especially after the pandemic, people's love for online shopping has made e-commerce skyrocket. What started off as books being sold by Indian player Flipkart, grew into a multi-million dollar business of selling everything under the sun.
Not only marketplaces like Amazon and Flipkart, but businesses have also started making their own e-commerce websites. Therefore, before you decide to make a website, do your research and due diligence to search for unique products that will set you apart. 

Partner with a seller/manufacturer 

To get your website running, you need good products in the first place. And to do so, you need to secure your supplier after careful consideration. Check proposals from multiple manufacturers/sellers. Calculate the cost of their products, estimated shipping charges, packing charges, etc. before finalizing one because it will affect your profit margins. Remember that in a dropshipping business, the profits are split two ways. The first part is for you and the second for the manufacturer/seller. 
Nowadays with the popularity of e-commerce, many businesses are wishing to go online but can't handle the hassle of operating an e-commerce website. In such cases, it is advised to bring your inclination of running a website and their desire to get their own platform together. It is best to partner with them and become the owner of a successful dropshipping business.
Make your E-commerce website 

After securing your product supplier, get your e-commerce website up and running. Choose between open-source codes, headless e-commerce, and ready-to-use SaaS (software as a service) to make your website. A low-budget and hassle-free option is Shopify – a SaaS provider that enables you to make, host, and operate your e-commerce website with pre-integrated plug-ins. It's like a plug and play system where you can make your website within minutes.

Marketing all the way

This is where your salesman of the year skills need to come out and shine to make your dropshipping business a super success! But don't worry, you won't have to go door to door. The internet has much more than e-commerce websites. With search engines and social media, you have easy and effective access to not just a local but national and international pool of customers.
Opt for search engine optimization services to get your website ranking on Google's first page where users are most likely to click and convert. Define your target audience and run ads on social media platforms like Facebook and Instagram to increase visibility and encourage buying. To put it simply, it's like having your shop window displays but online. While this is just the tip of the iceberg, there is a lot to explore in the realm of digital marketing. 
Tips for successful dropshipping business
Find unique products
Dropshipping has been around for a while now. It's an overused business model but definitely very profitable when done right. To give you an example, take a look at some of the well-known skincare brands. They started off by listing their products on e-commerce giant Nykaa. Then they started making their own online stores too.
So for you to decide to sell those same skincare brands will be a rookie mistake since you will be competing with the brand within itself as well as its competitors. It is recommended that you partner with a business that is original, authentic, or at least brand new. 
Find hassle-free products
While finding unique products, don't chase something that is going to be a logistical problem. Something too big, too fragile, or too easily perishable will not only limit your delivery radius and customer base but also not be very profitable. Also, it involves high-risk as its chances of getting damaged are high. Go for products that can be stored for quite some time since initially, your website will take time to pick up. You can always go for food items also provided your manufacturer/supplier has adequate cold storage solutions in place. It is ideal if your products involve minimal packaging, and fewer shipping costs to increase your profit margins. 
Find reliable suppliers
Dropshipping is based on trust. Since you are not manufacturing the products or let alone storing them, you need a supplier that is dependable. A delay in their production will be seen by your customers as of late delivery or bad customer service. Make sure your suppliers provide quality products at all times to avoid unnecessary returns from your customers. 
Starting a dropshipping business in India is easier than it looks. Take a good look at our tips and get started with your own venture today!
FAQs
Is dropshipping a profitable business in 2021?
Yes. Dropshipping business model is most certainly profitable provided you make a user-friendly e-commerce website, find a reliable supplier/manufacturer, and have a good marketing strategy. 
Can dropshipping start with no money?
No, but you can still consider it. While every business involves some capital, dropshipping business model relatively requires minimal investment. With SaaS solutions like Shopify, making your e-commerce website is easier than ever. Even your marketing budget can be low since you can clearly define your audience and target only them on social media. More so, creating a social media page is free. There is no manufacturing and shipping cost. So the capital required isn't that high.

Is dropshipping an online business?
Yes. Dropshipping is an online business model. The very basics of dropshipping involve you making your own e-commerce website which is the online version of a brick-and-mortar retail store. Even your customers are acquired online, and in most cases so is the payment processing as well.

Which is the most successful product for dropshipping?
Hassle-free, nuisance-free, and easy to ship products are hot sellers among dropshipping platforms. Anything in the lifestyle and beautiful space that has a longer shelf life and easy storage solutions is ideal to sell. For eg: Books, clothes, bags, stationery, etc.