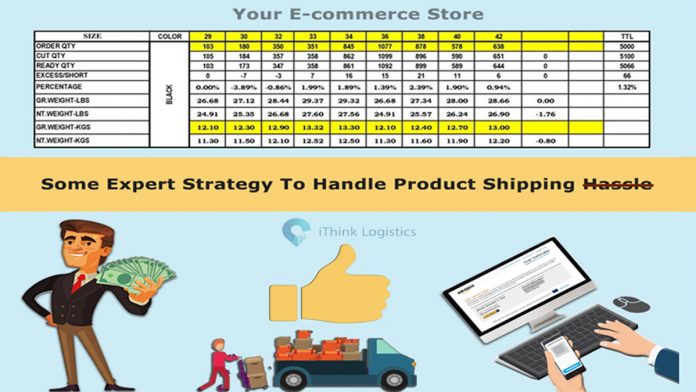 Technology is booming, and so is the e-commerce industry. As an e-commerce professional it is important to know that acquiring new customers is not the only way to sustain a business. There are quite an amount of other factors to it.

Even though building a loyal customer might help you stay in the competition for long, but not forever. With the competition increasing every day, it is needless to say that as a business owner you must opt for new strategies to keep your business going.
Therefore along with the growing technology, there are other players that you need to consider as well. One of the major ones is logistics. So here is a detailed blog on how to boost your e-commerce logistics strategy in the years to come. Read on…

Understand the difference finances and costs generated from the shipping as well as the fulfillment
Even though e-commerce has come a long way, but there are still retailers who are looking for new ways to expand their business. In such an event it is crucial to understand and differentiate the cost generated from the e-commerce shipping strategies as well as from the fulfillment.
Over the number of years that passed, it has been proved that customers prefer online shopping more than a physical visit. Hence it is important to address all the logistics drawbacks and work on it. This will also help you determine the various cost involved including shipping and maintenance.

It is also important to consider the fulfillment costs as well. In this way, you will be able to figure out the refund and return rates and make an overall calculation of the expenses. Logistics often face a lot of challenges with warehousing and other technical operations.
By considering the above-mentioned factor you can add a new strategy towards the betterment of the functioning of your logistics.
Use the subscriptions to your advantage
One of the best ways to improve logistics strategy is by using the user subscription to your advantage. People often subscribe to a particular thing, when it is inclined to their advantage. They like receiving a lot of offers and gifts quite often.

So if you want to improve the functioning of your logistics, you must make use of different subscription boxes to intrigue your customers. This will decrease supply chain friction and will help you work better.

You can plan out the number of subscription boxes in advance and coordinate with your logistics company to make a separate space for the extra boxes. In that way, there will no risk of delayed delivery, nor there will be any backorders.

Invest in delivery procedures
E-commerce is a highly competitive market and this competition often forces companies to stretch beyond their boundaries in order to excel in their work and stay in the competition.

As an owner, you must invest a significant amount of time and money in order to deliver the product to your targeted customer. To boost up your e-commerce shipping strategy, speak up with your logistics partner in order to prevent delayed or damaged delivery.

Many similar companies are now emphasizing on autonomous delivery in order to cater to all last minute orders. But it often happens that certain companies can't afford multiple distribution centers. In such an occasion, the third-party logistics comes to the rescue. They have their establishment in different parts of the country. So you can invest in one particular company, who will take care of your entire delivery process.
Take control of your shipping

In order to establish a strong base in the e-commerce field, you must take control of your e-commerce shipping strategy. Different companies provide one-day or two-day delivery. This makes the customer's happy and they become willing to order again.

This process is done to create a business barrier and to make customers stick around to a particular service. This is carried out in a company-owned logistics and rarely in a third party logistics.
Understand the customer's preferences
While being in an e-commerce business it is very important to understand the customer's choices and preferences. Since e-commerce is an easy option for everyone to get access to things without going somewhere, it is important to keep their choices of goods handy.

More than the delivery timing a customers care about the quality of the product. You can give more offers and discounts on the most visited sections of a customer and retain them through reseller marketing.

Customer's preference is very important because if a customer loses faith, it becomes very difficult to gain back their trust. So by creating a good product delivery service you can make your customers happy, and grow your business.

Keep everything prepared
Preparation is the key. Talk to your logistics and keep your inventory and warehouse prepared for all types of orders. If your warehouse is unorganized it gets difficult to sort out during delivery. It causes and disappoints your customers.

Whether you are outsourcing or logistics or owning one, you must also keep your logistics updated about everything. Keep it sorted and organized. This will prevent unnecessary confusion and an unexpected disappointment.
How is eCommerce changing logistics?
Over the last few years, e-commerce business has taken up a massive growth speed and are not slowing down. Something that seemed to be unsustainable at some point of time, is now a part of the world largest economic sector. Going alongside, the logistics are also blooming.
Coming to the customer's point of view, online shopping has created a simple virtual space for every person, where they can get access to anything by sitting at a particular place. Whether it's from the nearby market, or something from abroad, owning something is not impossible anymore.

The idea was completely unique when launched in the market, and standing in the 21st century we can't think of a world without e-commerce and logistics. These e-commerce businesses are allowing different logistics to come up with new ideas every day, that is catering to a mutual growth for all.

This blog talks about how different e-commerce is catering to significant growth in the logistics business. Read on…

The betterment of the transportation
With an increase in demand from these e-commerce businesses, different logistics have come up with a lot of advanced transportation facility to deliver products. There are now multiple channels, and no place is impossible to reach.

Right from the order placement until the delivery, these logistics have catered to every requirement and have made transit easy by placing a uniform distribution chain. When an order is placed, these logistics transport the products within short distances as well as long distances.

The orders are split as per the delivery location and sorted to different distribution centers. Then the orders are divided into small quantities and handed to the delivery person.

These delivery people handle their individual responsibility and deliver products to the doorstep of the people. This has increased efficiency and has also made business easier like never before.

There is no particular distribution model
The growth of e-commerce has made logistics to let go of their fixed distribution model. The process is now a whole lot flexible and is convenient for both the seller as well as the customers.

The delivery timings have reduced to a significant amount and the inventory and warehouse services have enhanced as well. This modern distribution model has also increased transparency and has allowed in establishing a better relationship between the customer and the seller.

Initially, the services were mostly on the favor of the business. But now, it has become an area of mutual benefit. The customers nowadays hold the power to change the way modern retailers work. These logistics made the collaboration of the retailers and the customers much easy.
It has allowed warehouse automation
Different logistics are now making use of artificial intelligence to automate their work process. The warehouses and distribution chains are becoming automated and are reducing human labor. Not only that, but it is also reducing maintenance cost and increasing efficiency.
There are also some logistics who have introduced a virtual calling system, an NDR team to confirm the product specification before it is out for delivery. This AI-driven technology over the past two years has significantly reduced the refund and return rates.
The introduction of custom rules
The introduction of custom rules has helped the logistics business to contribute to a significant portion of the country's economy. There are two types of customs that were laid out. The DDP and the DAP. DDP stands for Delivery duty paid and the DAP stands for Delivered at Place.
The DDP entitles an e-tailer to pay a certain amount of money to the central government after the work is done. The DAP, on the other hand, entitles the customers to pay the amount which is most likely during the delivery.
The role of the distribution centers have changed
Over the years the distribution centers have also witnessed growth in their role. The area is now much more sorted. The organized work framing has allowed people to concentrate on their work and avoid confusion and errors.

Other than this, they have also modified in terms of reverse logistics handling. The distribution and sorting are much more decent and organized.
The reduced return rates
Probably one of the biggest achievement, the modern-day logistics through their unique methodology have been able to reduce return and refund rates drastically. The way these logistics handles their work ensures a right and safe delivery of the product.

They have implemented a lot of ways to reduce the logistics return of the product and also to handle reverse logistics in a much more efficient way. Logistics is acting as the middleman between the customer and the retailer. Improper management at this point is what creates different blunders. So technology is innovating the way of how the modern-day logistics work and helping different businesses to grow.

What India holds for the future of logistics? Is the logistics business profitable?
India is a country of various culture and religion. India having a population of 1.2 billion people. therefore, it is needless to say that it is a pretty good platform for an e-commerce business to flourish. With technological advancement, e-commerce and logistics have taken a massive leap and has become the backbone of the country.

According to the latest survey, India despite being a third world country, it portraits an average turnover of 38.5 billion dollars a year. This is a huge ratio as per the global competitors are concerned and are likely to cross the USA by 2020. An estimate of 64 billion is what makes it most likely for India to cross America and bag the second position in the e-commerce business.

India has crossed a number of a milestone in providing courier service for online business and is growing every passing day. On average, it has been seen that near about 243 million browses through online sites. These e-commerce logistics providers are constantly working hand in hand to cater to everyone's need and reduce the culture barrier among people.

The introduction happened back in 2004 when eBay launched itself the first time in India. They started out by partnering with different courier companies like the blue dart and delivered products at people's doorsteps. After that, various e-commerce stores started coming into the market including Amazon, Myntra, Flipkart, etc.

This was just the beginning and the rest was history. The concept is seen to skyrocket and people were intrigued by the unique idea.

A logistics company is the backbone of the country. Every trade or transport is almost impossible without it. They not only carry out and smooth and cost-effective flow of goods, but also adds significant value towards the country's economy.

It is a complex bond between technology and service providers. By using up different artificial intelligence-driven methods, these logistics are setting the benchmark in the different business sector.

The industry is showing a good future growth that is coming with a promise of steady improvement. All the service-oriented industries out there, have already pulled up their socks to go beyond the horizon and give birth to a new way of business.
The current scenario
The sector of Logistics in India is comprised of different inbound and outbound segments. It caters to different manufacturing and service supply chains. It has gained much popularity and boost from different business sectors and are effectively competing with other industries.
Every logistics has a set infrastructure, which is sometimes not enough. There are still a few logistics that don't have a proper infrastructure yet. Lack of enough infrastructure is still keeping a few logistics behind the line.
But they do hold the potential to overcome different disadvantages and provide high-edge competition to several other companies in the industry.
Certain drawbacks faced by logistics in India
Even though logistics sectors gradually coming out of their drawbacks, but there are still certain drawbacks that are yet to overcome. The list is given below.
Poor integration
The poor integration of transport networks is still quite a problem in Indian logistics. The lack of enough truck maintenance leads to poor transport service. This causes a delay in delivery and reduces customer's trust.

Poor warehouse management
Sometimes poor warehouses manage leads to damage to products. These products finally get thrown away causing a loss for both the logistics and the retailers. Even though the management varies from city to city but this is a serious issue and is affecting the overall logistics network.
There are problems that often arise due to lack of pieces of equipment. There are still few sectors that are not explored yet, and with proper research and development can be overcome.
The solutions to different problems
Different low-cost courier services in India often provide a lot of commitments, which they sometimes fail to deliver. You can overcome these above-mentioned obstacles by taking a few steps. Some of them are as follows.
Building proper infrastructure
By building proper infrastructure, these logistics can bring a significant change in their functioning. Logistics are the backbone of the country. By creating a high-class road network, and organized distribution centers, all the above-mentioned problems can be staved off.

Emphasis on research and development
By doing proper research and development, these logistics can come up with a lot of innovative ideas. By implementing different technology they can reduce all the manual drawback and have smooth logistics functioning.

India's future in the logistics industry
The domestic courier service in India is moving towards massive growth. They are setting up various infrastructure for better logistics functioning. These logistics are implementing various AI-driven technology and are improving their services to a great extent.
India's fast-paced economic growth is really showing and the country is soon to surpass America and reach the second position by 2020. With an estimate of 10-15% annual growth, the sector is all set to create a great impact on the country's economic structure.