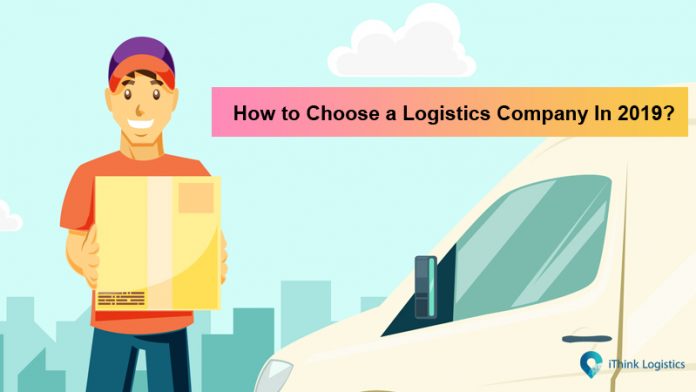 Choosing a logistics company in 2019
Moving goods from one place to the other may sound easy enough, but it is far harder than many people imagine. So standing in 2019, here's how you can choose the right logistics company for your e-commerce business.
If you are looking for a logistics service provider, you probably know this. Choosing a 3rd party logistics company in 2022 is no easy task. Making this choice in the right manner will require careful research, thorough consideration, and some extensive number-crunching. 
This is because a modern logistics service provider does much more than just moving products from place to place and making deliveries. A logistics company is responsible for planning, controlling, implementing, and tracking the movement and storage of products and information from point A to point B.
The 3rd party logistics company must also bear responsibility for the safety and security of the goods being transferred within a supply chain. In fact, everything that happens to a product within the point of manufacturing and the point of delivery falls under the purview of the logistics service provider.
Why You Might Need a 3rd Party Logistics Provider?
Choosing the right 3rd party logistics company in 2019 is of vital importance for e-commerce and FMCG businesses. The logistics service provider that you choose will have a profound impact on the level of customer experience and satisfaction that you can generate. Moreover, the efficiency and cost-effectiveness of your entire supply chain will depend heavily on the logistics service provider company that you opt for. It is a major 3pl logistics selection criterion for any e-commerce business.
There are various types of logistics companies that handle either the entire supply chain process or a certain part of it, such as warehousing, transportation, or tracking software. So, depending on your needs, you can either go for a company that handles all of the logistics functions or just a few of them.
In India, the need and demand for logistics service providers have grown by leaps and bounds since the emergence of e-commerce and online selling. Online sellers have extensive and complex supply chains and hence need reliable and efficient logistics companies to coordinate the movement of products and make timely deliveries to customers.
In 2019, the e-commerce sector is on a growth path and the need is greater than ever before!
The elements of a proper supply chain can include shipping, transportation, security, storage, product handling, management, tracking, packaging, distribution, and deliveries. Not only that, the logistics company also has to take care of the additional corollaries to the supply chain process, such as regulations, taxes, and licenses. Coordinating all these functions in an efficient and timely manner, without exceeding the budget, is what the best logistics providers are known for.
Plenty of Options, But Only One Right Choice
This is why choosing the right 3rd party logistics partner is such a critical decision. Performing all of these functions in-house can be very costly and time-consuming, as you will have to hire and maintain an entire logistics department just for this purpose. This can be hard to do, especially for smaller online sellers or startups who have yet to become established players in the market.
This is where outsourcing certain supply chain functions can be supremely beneficial. Many providers of logistics for e-commerce startups offer very economical rates as well as efficient and timely service.
There are many options when you think about how to choose a logistics company for your business. But you need to know that not all of them will be the right fit for you. Below is a list of some of the things to consider in logistics. When when you are planning to outsource the process to another firm you should do it right. Keep track of these factors and you will grow your business further.
Characteristics of the Best Logistics Providers
When you choose a logistics company to work with, you want someone who will be able to deliver your products to the customers on time and in perfect condition, while upholding the standards of your business.
They are your representatives when interacting with the customer, and they must do you credit and uphold the reputation of your firm. The long-term success of your business and the loyalty of your customers will depend heavily on this one business decision or choice you make.
Mentioned below are some of the factors that you should consider when you set out to choose a logistics company.
Capacity and Coverage
Different companies have different needs and requirements when it comes to capacity and coverage. So in order to make the best choice, you have to analyze exactly what your needs are in this area. What amount of goods do you need to transport, and to what areas do they need to be transported? You must match your needs with the right logistics provider who can meet them.
If, for instance, you need to make weekly deliveries to certain cities in the western states of India, then you should pick a logistics provider that has an established transportation network in those states and a fleet of trucks that can effectively make the deliveries.
If, on the other hand, you make deliveries around the country, then you'll need to choose a logistics company that has distribution networks in all parts of India. The number of goods you need to deliver and the frequency of the deliveries will also affect this decision, as capacity requirements will vary with every business.
Customer Service
You also need to determine the type of customer service that the logistics firm is willing to provide. This is perhaps the most important 3PL logistics selection criterion because of the quality of customer service they provide. It will profoundly impact your relationship with them. This is not something that is easy to understand from the outside, but you must do the necessary research. The company should be responsive and has effective problem-solving mechanisms in place. They also need to manage fluid lines of communication and prioritize customer service above all else.
Doing your homework in this regard will definitely pay off in the long run. So be sure to ask for references and testimonials from past customers. You can prefer those who operate in similar industries as you and have some of the same needs. After talking to some of their old clients, if you find that their customer service has been excellent, then you can decide. You can understand that they have an efficient and well-documented process that will most probably continue for years to come.
Experience and Stability
Another important factor to consider is how much experience the third-party logistics provider has and how stable their organization is. Regardless of the complexity of your own supply chain, it is always better to go with a logistics company that has a few years of experience at the very least.
Not only will this ensure that they thoroughly understand the industry and can deal with any problems that crop up unexpectedly, but it will also mean that the organization is relatively stable and not likely to shut down or go out of business at a crucial time, leaving you in a difficult predicament.
Moreover, the logistics company will be liable for the safety of any goods or products it is delivering on your behalf. If any high-liability incident takes place, and the logistics provider is unable to withstand the financial blow, the liability will in effect shift to you, thus jeopardizing the financial prospects of your own business.
Speed and Reliability
Customers these days are less patient and more demanding than ever before. Earlier, we had to dress up and walk to the nearest store to buy something that we needed. Now, all we need to do is click a button on a screen, from the comfort of our bedroom. E-commerce companies around the world are competing to make consumption easier than ever, and it is the job of logistics service providers to make their promises a reality.
Hence, choosing a 3rd party logistics company in 2019 is all about the speed and reliability that they can offer. You need to opt for the fastest e-commerce shipping to ensure on-time deliveries and always satisfied customer service. The products also need to be delivered in excellent condition, as the cost of replacements and refunds can be very high if any damage occurs en route. Hence, you must take this into consideration when choosing the right logistics firm for your e-commerce startup.
Price
Price is, of course, a huge factor when it comes to choosing a third-party logistics partner for your online business. However, it is important to keep in mind that the price should be commensurate with the services being provided. This means that the lowest price doesn't always entail the best service.
No business is going to run at a loss or give you something you haven't paid for. So, if the price being quoted is exceptionally low, you must rethink. It might result in subpar service, low reliability, and transparency, or other problems down the line. Cutting corners in terms of price may cost you later in the form of damaged goods and angry customers.
Other than this, you should ensure to never pay more than the value you are getting in terms of service. Compare the prices quoted by different logistics to find the one that fits both your requirements and your budget. 
Conclusion
The most important things to consider when you choose a logistics company are mentioned above. Other factors that you should keep an eye on are the technology used by the company, their area of expertise, and their overall safety record. Making the right choice will help you keep your customers happy and your business profitable for years to come.
Which logistics company do YOU use for your business? Do let us know in the comment section below.